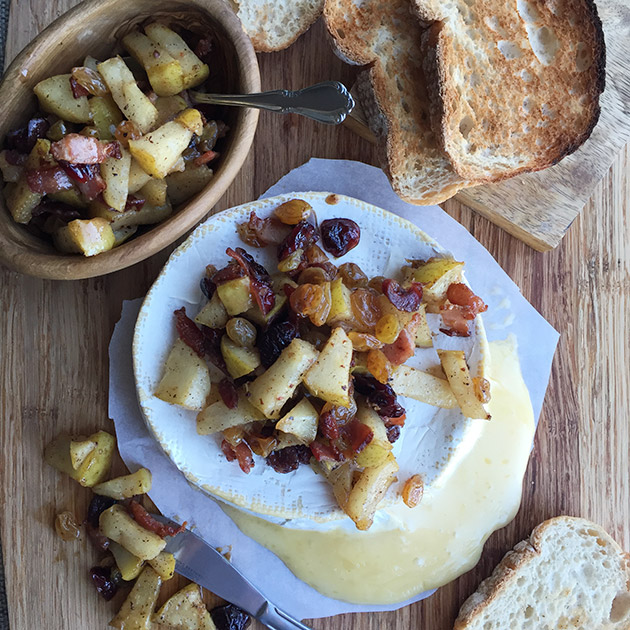 It's the end of November which means entertaining season has officially begun. I have decided to share a lot more entertaining recipes and hints for the next month.
Being gluten free can mean a bit more of a challenge when hosting events or socials but it should not stop you either. I will be sharing lots of hot and cold appetizers as well as things to keep in your pantry and fridge to help in hosting last minute guests.
I am also going to share my love for antipasto platters and will show you how you can do it yourself.
Last year I shared a new cookie recipe everyday for 21 days and I will still throw in some new sweet recipes.
Today I am sharing a new gluten free appetizer recipe which involves crispy bacon, sweet and spicy pears and melted Brie cheese.
Need I say more?
This recipe is quite easy to put together too and you only need a frying pan, a cookie sheet or Brie baking dish and gluten free crackers.
Here is the recipe:
Pear and Bacon Compote Brie Cheese
Ingredients
4

strips bacon, finely chopped

1

large pear, chopped

1/4

cup

raw walnuts

1/4

cup

raisins

1/4

cup

cranberries

1/2

tsp

cinnamon

1/4

tsp

cayenne pepper

1

large Brie round
Instructions
Preheat oven to 350 degrees.

Heat frying pan to medium high heat and fry up bacon.

Cook until almost crispy. Remove bacon from frying pan and put on a plate.

Drain bacon fat from frying pan.

Add walnuts to pan and cook for 1 minute being careful not to burn walnuts.

Turn heat to low and add chopped pears, raisins and cranberries and sauté for 3 minutes.

Add cayenne pepper and cinnamon and stir.

Add bacon back to pan and continue cooking for 2-3 more minutes.

Turn heat off frying pan.

Place Brie round in a Brie cooking dish or a parchment lined cookie sheet.

Place Brie in oven for 5 minutes.

Remove Brie and top with 1 cup of the pear bacon compote and place back in oven for 3 more minutes.

Remove from oven and top with walnuts.

Serve the hot Brie with gluten free crackers.
You will have pear bacon compote left over which you can serve on the side in a small bowl.
Enjoy!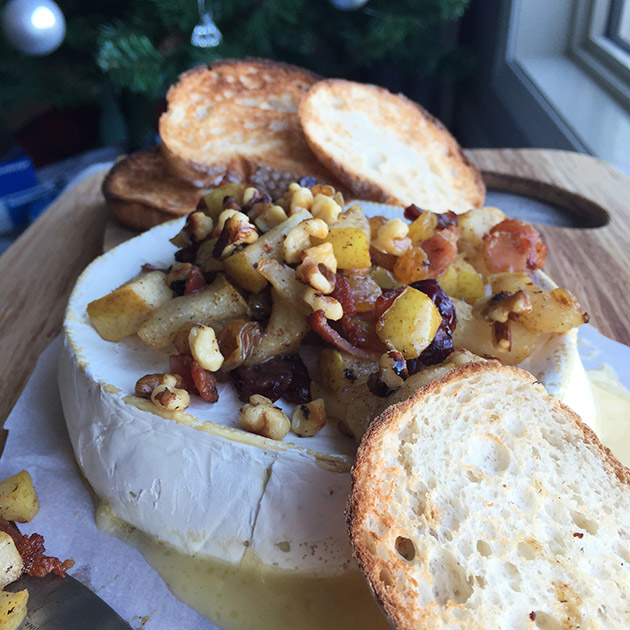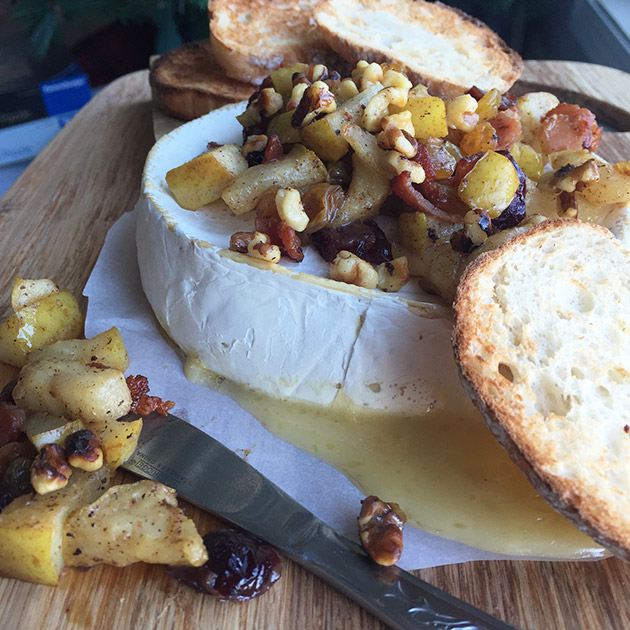 Looking for Gluten Free Salad Recipes?
In my Gluten Free Salads Cookbook you can find 27 other delicious recipes your friends and family will love, including: Cucumber Herb Salad, Roasted Strawberry Goat Cheese Salad, Sesame Noodle Salad and many more. Purchase yours today.