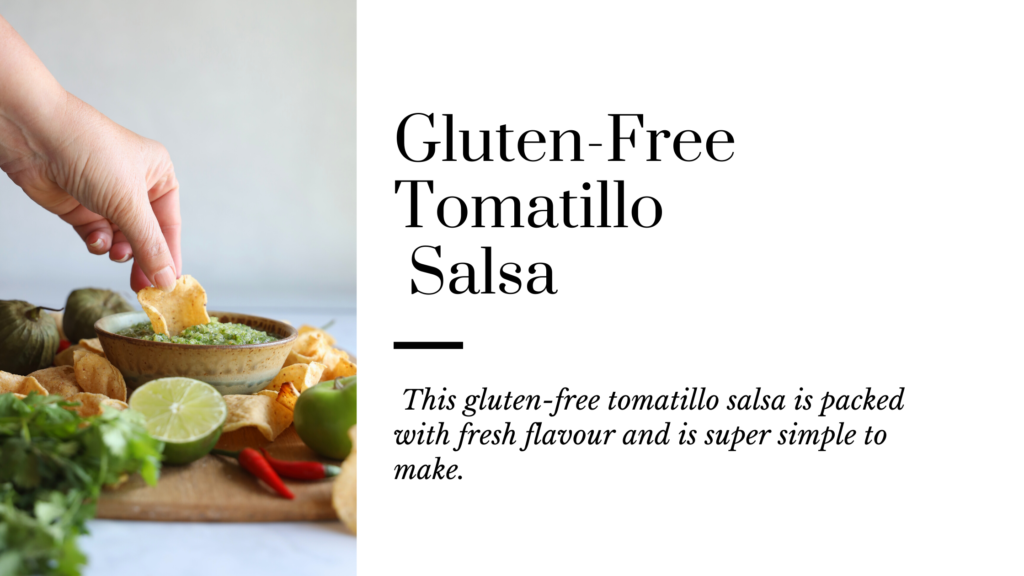 This gluten-free tomatillo salsa is packed with flavour and is super simple to make in the food processor. This recipe is gluten-free, vegetarian and vegan. The first time I had green salsa was when we were in Santa Fe New Mexico. I experienced Christmas salsa when we ordered our meals. What is Christmas salsa? You get a bowl of red and a bowl of green salsa with your food-thus Christmas salsa. I had never had tomatillo salsa until then and now I'm hooked on it.
I discovered making tomatillo salsa is so easy to make at home and now you can usually find tomatillos in most grocery stores. The recipe uses jalapeño and a small chili pepper but feel free to switch things up and try a poblano pepper. Poblano peppers are not as spicy, but their flavour is so unique and delicious. Especially if you roast them first.
Use this salsa as a dip, or sauce with bbq chicken, beef and fish or in your next taco Tuesday dinner.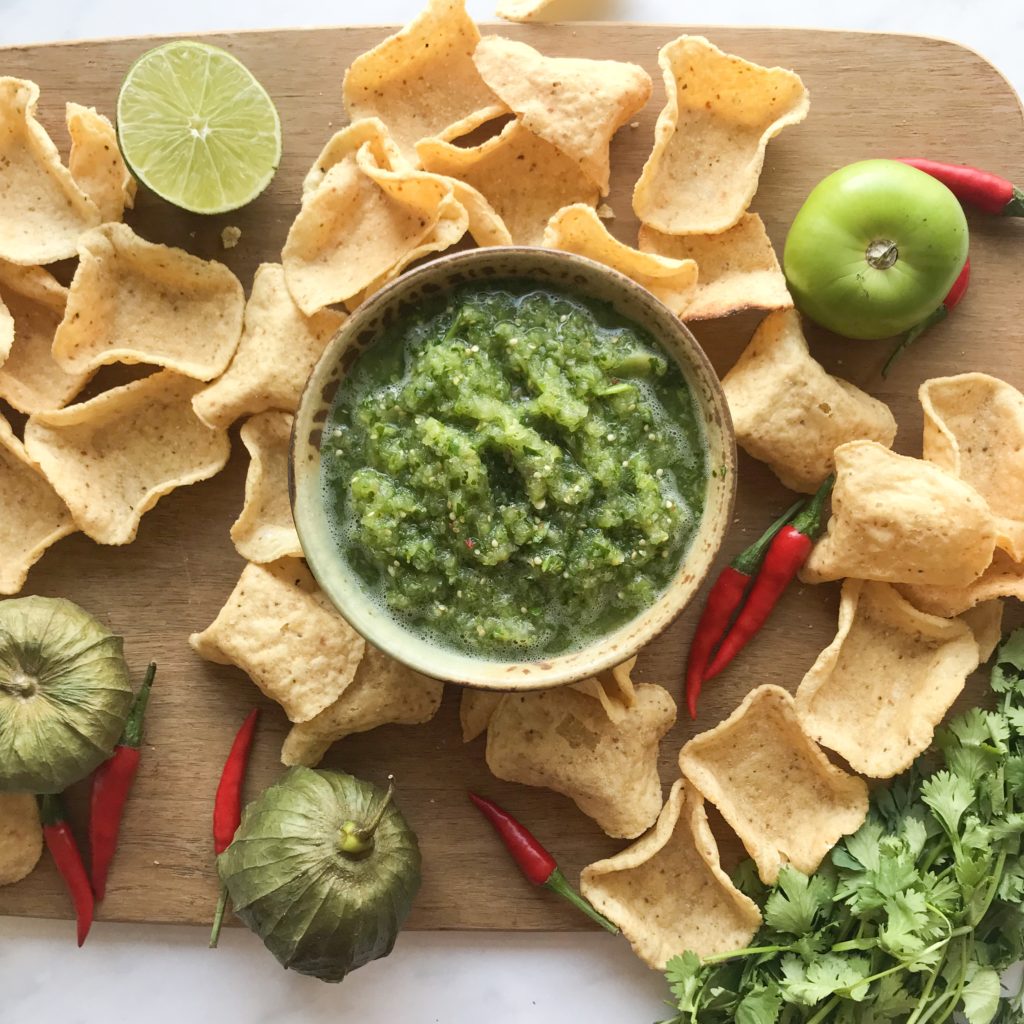 WHAT YOU NEED TO MAKE THIS SALSA:
Tomatillos
Jalapeño
Red chili pepper
Shallots
Fresh cilantro
Juice of 2 limes
I like to make a big batch of the tomatillo salsa and pour it into 500 ml mason jars and give it away to friends who then also can enjoy it. There is only 2 people in the house now (hubby and myself) so rather then freezing it, I like to give it away while it is freshly made. This gluten-free tomatillo salsa recipe is super easy to make and is a must have in your refrigerator.
Once you have made it you will wonder why you haven't made it before. I originally posted this recipe over 10 year ago and even thought I have taken new photos and updated the written words in the blog post, the one thing is still true-this recipes is so delicious!
Take a look at the before and after photos. I think my food photography skills have definitely improved over the years. What do you think? Have I improved?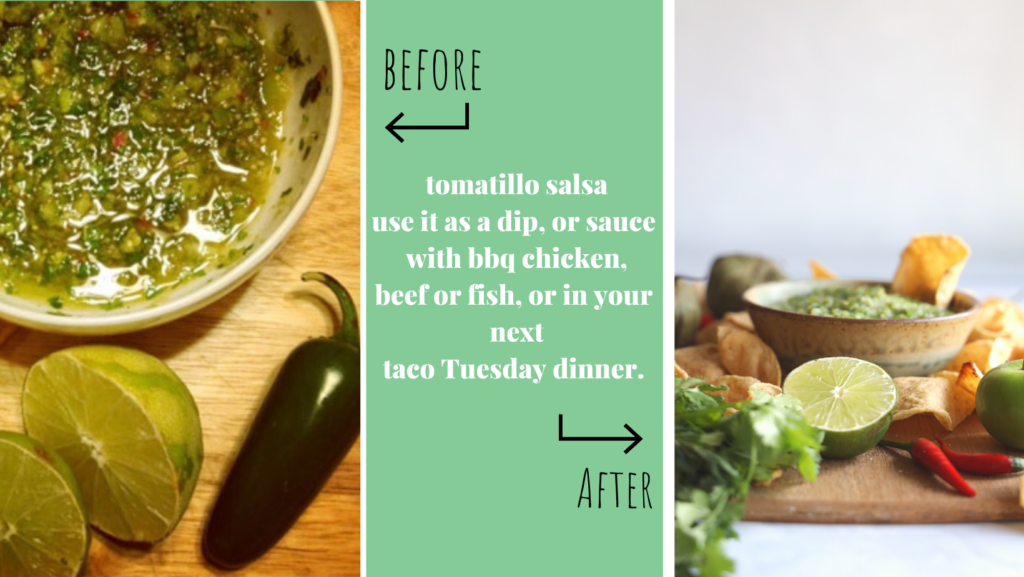 WHAT ARE TOMATILLOS?
Tomatillos are actually a fruit and not a vegetable.
Tomatillos look like green tomatoes but they are really the fruit from a nightshade plant. Closer to a gooseberry than a tomato.
They are also called husk tomatoes and are a bright green fruit native to Mexico.
This gluten-free tomatillo salsa is quick and easy to prepare at home. It looks impressive and takes less than 20 minutes to make. You can roast the tomatillos before making the salsa, but I tend to make it easy for myself and use them in their raw form. Fresh jalapeños, shallots, cilantro and the juice of limes is all you need. Blend them all together in a food processor with the tomatillos and you've got a great salsa.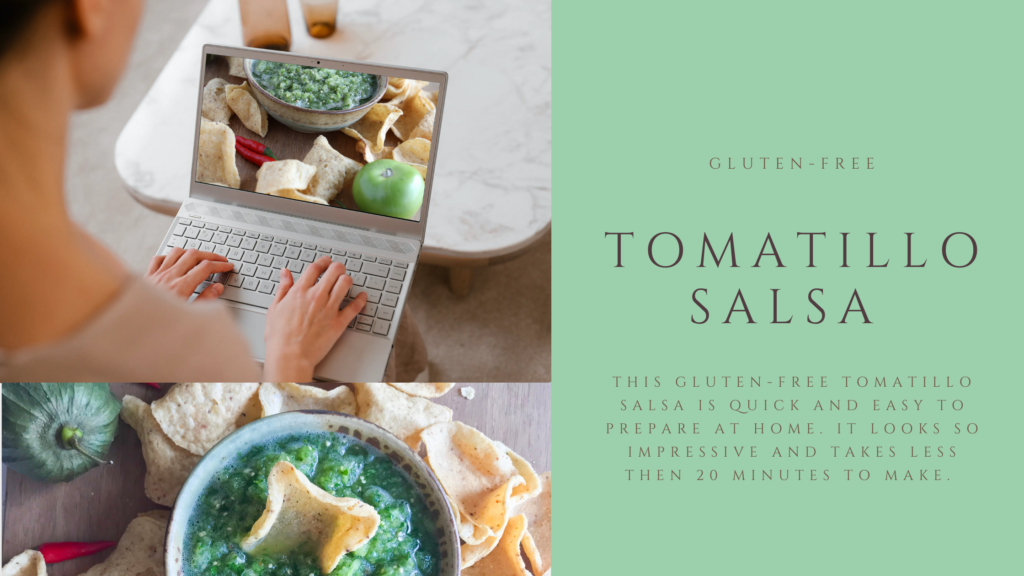 Here are some appetizer recipes to try:
Gluten-free air-fried spicy cauliflower wings
Strawberry goat cheese crackers
Speck wrapped pears with manchego cheese
Gluten-free shrimp cocktail sauce
Pear and bacon compote brie cheese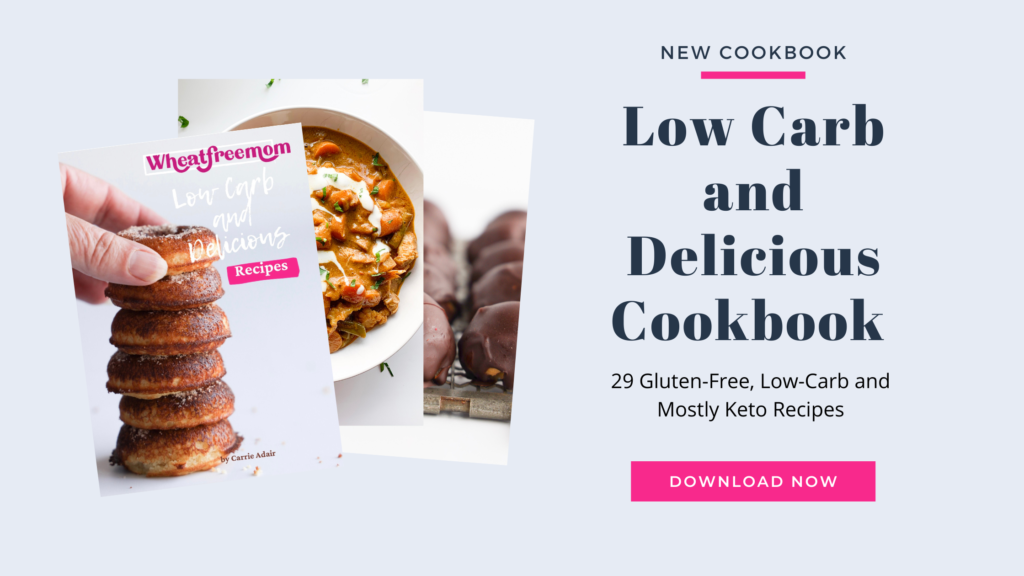 29 gluten-free, low-carb and mostly keto recipes in my latest cookbook. Recipes like keto bagels, instant pot crack chicken and slow cooker pho soup. Get instant access now!
Want more recipes? Subscribe to get new recipes delivered right to your inbox. And be sure to stay in touch on Facebook, Twitter, Instagram and Pinterest. I really would love to hear from you. Any gluten-free questions? Send me a DM on Instagram. Make sure you tag me #wheatfreemom or @wheatfreemom if you try any of my recipes.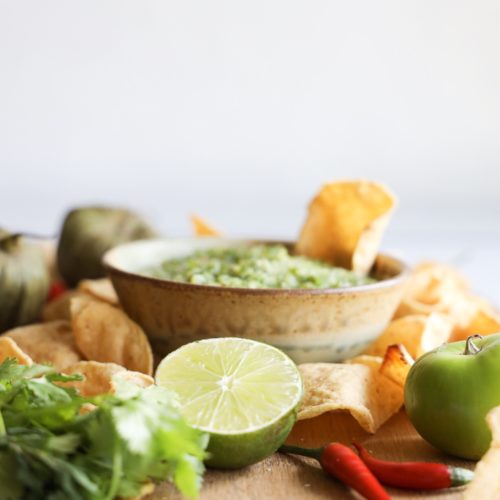 Gluten Free Tomatillo Salsa
This gluten-free tomatillo salsa is packed with flavour and is super simple to make in a food processor.
Ingredients
10

tomatillas

1

jalapeno, roughly chopped

1

red chili pepper, roughly chopped

2-3

large shallots, chopped

1/2

bunch fresh cilantro

juice of 1 lime

1/2-1

tsp

maldon sea salt
Instructions
Remove papery husks from the Tomatillos.

Cut Tomatillos in to wedges.

Place Tomatillos, chopped jalapeno, chopped shallots and chopped red chili pepper into a food processor.

Pulse until finely chopped.

Add cilantro and the juice of the lime into mixture and pulse again.

Stop when finely chopped.

Add Maldon sea salt to salsa.

Store salsa in refrigerator.