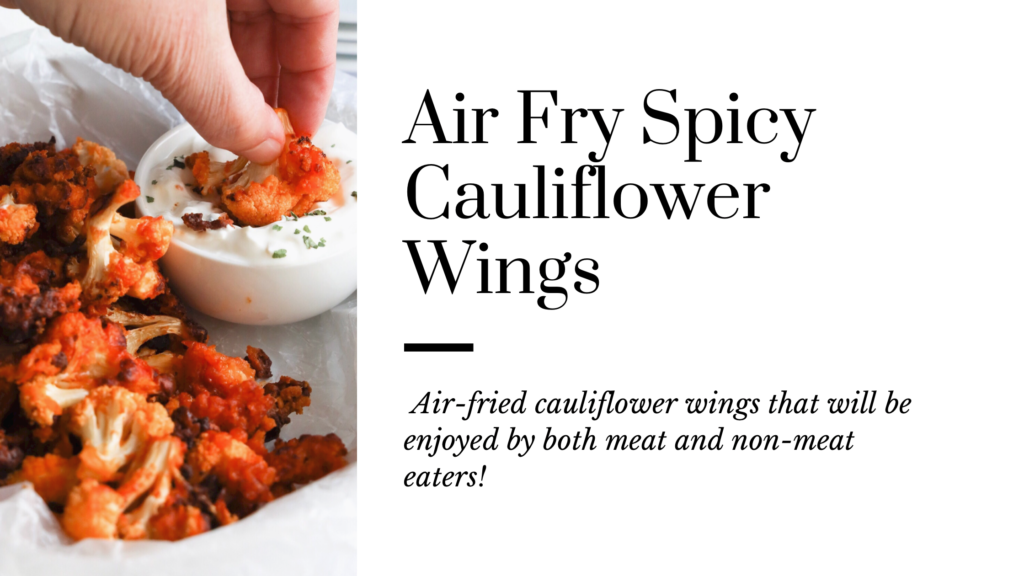 Air fry spicy cauliflower wings that will be loved and ate by both meat and non-meat eaters. These wings are crispy and spicy and are great hot or cold. The gluten-free cauliflower wings are tossed in panko style gluten-free breadcrumbs and hot sauce then air-fried. They are suitable for vegans and as always are gluten-free!
These air-fried cauliflower wings are full of flavour and is a recipe I know you will be making over and over again. I love all things spicy and I could eat a whole head of cauliflower prepared this way. If you are trying to get your family to eat more vegetables, these gluten-free air-fried spicy cauliflower wings will definitely be a hit!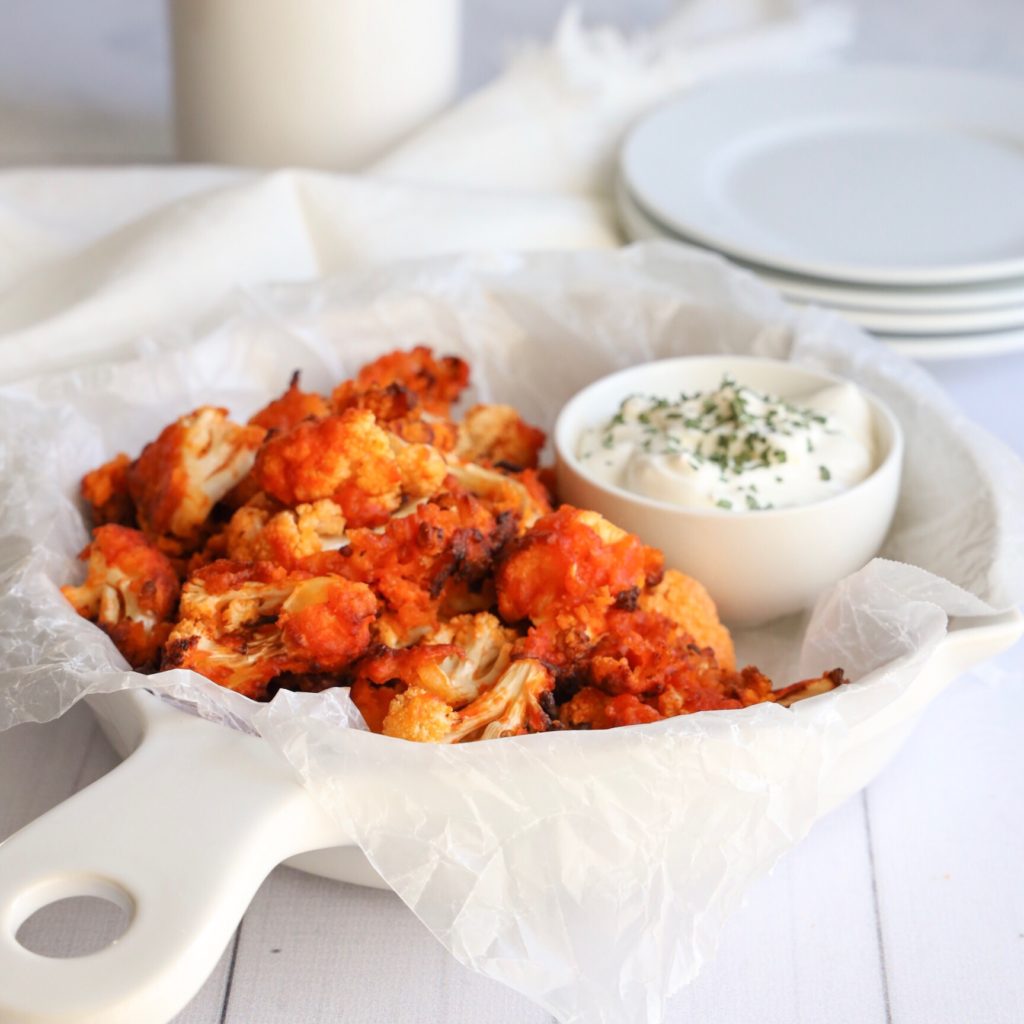 WHY IS CAULIFLOWER SO POPULAR?
Cauliflower is a very popular vegetable right now. One of the reasons is it has a similar texture too potatoes, but without all the carbs. You can find cauliflower rice, cauliflower pizza crusts and cauliflower crisps in grocery stores now. With so many people eating low-carb and keto now, cauliflower has become the IT veggie!
When I first got my air-fryer I decided I wanted to make gluten-free cauliflower wings. I had seen so many photos on social media of cauliflower wings that I needed to try them myself. Wow were they good! Now you too can make air-fried spicy cauliflower wings.
I have a Philips XXL Air Fryer and it is one of my favourite small appliance purchases. How does an air fryer work you might ask? An air-fryer cooks food by circulating fast moving air around it. The movement of the air results in crispy food much like you would get if you traditionally fried something in oil. The great thing about an air fryer is that you use little or no oil. You can use no oil but I like to brush a bit of oil on the foods when I air fry them.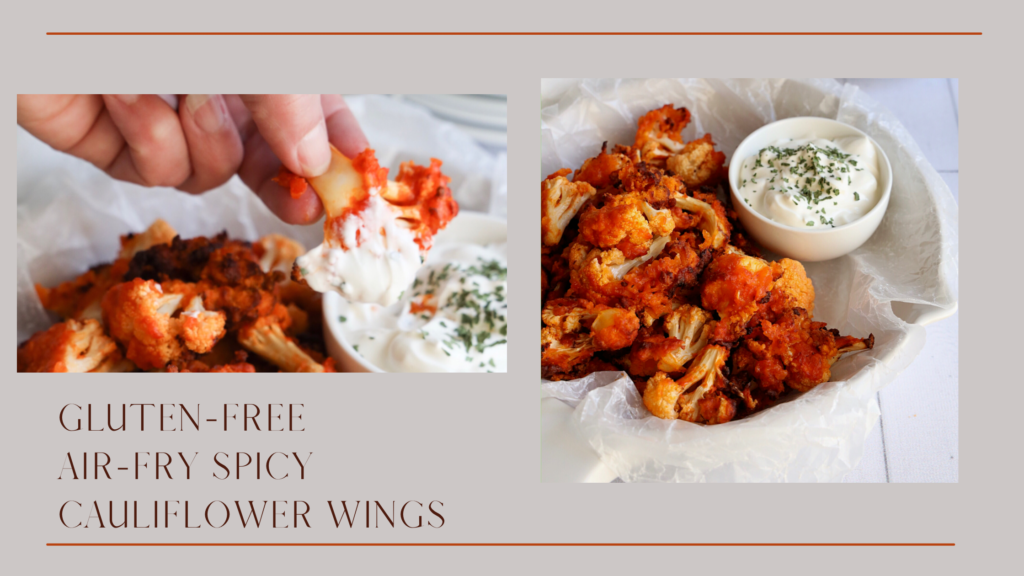 IS CAULIFLOWER GOOD FOR YOU?
Cauliflower is an excellent source of vitamins and minerals like Vitamin C, K and B6 as well as minerals like potassium and manganese. Cauliflower is quite high in fibre, which is a benefit for overall health. Over 3 grams of fibre in every cup. Because cauliflower is a good source of fibre it then slows digestion and promotes a feeling of fullness. It is also a great source of antioxidants which protect cells from inflammation and reduces the risk of cancer and heart disease.
Cauliflower is also high in choline. Choline is an essential nutrient that supports metabolism, brain development and a healthy nervous system. Cauliflower is low in calories and is a great substitute for rice, potatoes or pasta.
These gluten-free air fried spicy cauliflower wings are a simple, delicious an easy to make snack. I love them with a creamy ranch dressing and a bunch of celery sticks. I really do have a hard time not eating the whole batch when I make them. These cauliflower wings are a healthy snack for movie night rather than the typical bowl of popcorn or salty chips.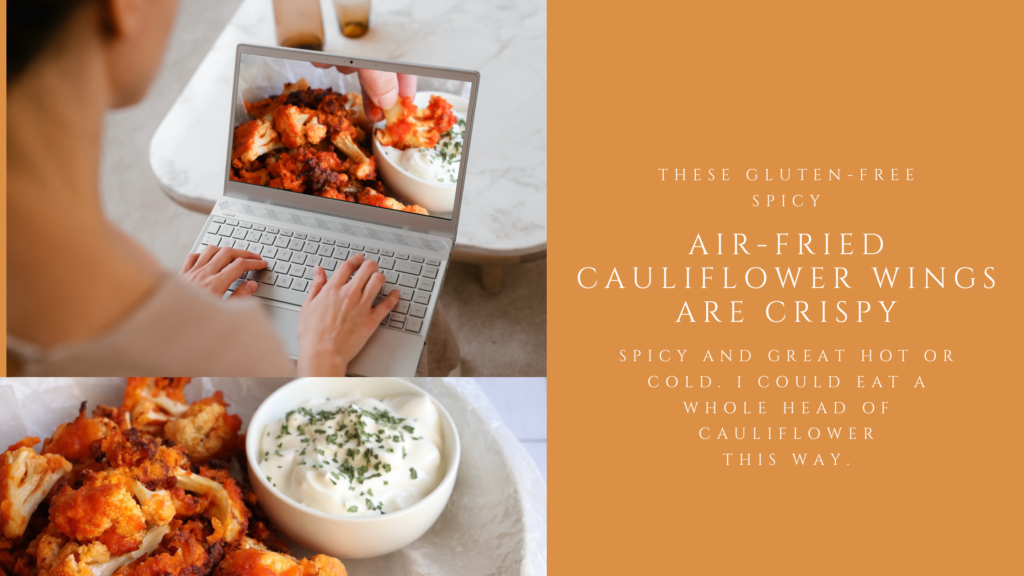 Here are some more air-fried recipes to try: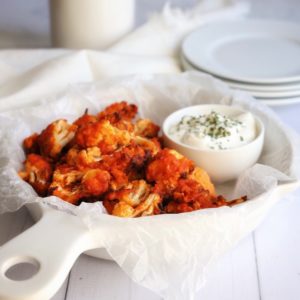 Gluten-Free Air Fry Spicy Cauliflower Wings
This gluten-free air-fried spicy cauliflower recipe will be loved and ate by both meat and non meat eaters. The cauliflower wings are crispy, spicy and great hot or cold.
Equipment
Philips XXL Air Fryer

flat bowls

Tongs
Ingredients
1

medium head cauliflower, cut into large bite sized pieces

½

cup

Franks Red Hot Sauce

1

Tbsp

avocado oil

¼

cup

vegan butter, melted
Instructions
In a medium bowl add the chopped cauliflower.

In a small bowl whisk the hot sauce, oil and vegan butter.

Pour hot sauce over cauliflower and toss very well.

Add the panko bread crumbs and toss again.

Spray basket of air fryer with a bit of oil and place 1/2 the cauliflower into air fryer.

Cook for another 7 minutes.

Remove and continue with the other half of the cauliflower.