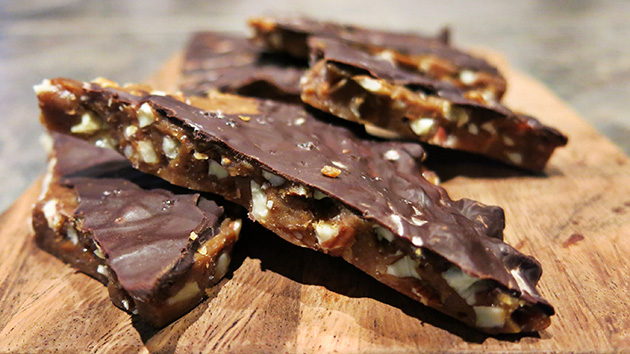 Do you like Almond Roca?
Do you wish you could make it yourself?
Wishing for an easy gluten free recipe?
No problem!
I have an easy gluten free recipe for you today that tastes just like Almond Roca.
Excited?
I should warn you though: You will have a hard time not eating it all, so I would suggest you give it away as gifts.
Your friends and family will love it.
Gluten Free Almond Butter Crunch
Ingredients
1 1/4

cups

brown sugar

1

tbsp

white corn syrup

3

tbsp

water

1

cup

butter

1/2

cup

gluten free dark or milk chocolate chips

1

cup

finely chopped almonds
Instructions
Line a cookie sheet with parchment paper.

In a large heavy saucepan add the brown sugar, corn syrup, water and butter.

Place a candy thermometer into saucepan.

Increase heat to medium-high and cook until mixture reaches 150 degrees C or 310 degrees F.

Remove from heat and add chopped almonds.

Pour mixture onto cookie sheet.

Sprinkle the chocolate chips over the hot candy.

Chocolate chips will melt quickly and smooth out with a spoon.

Place cookie sheet into refrigerator to cool.

Once cooled, break into pieces.