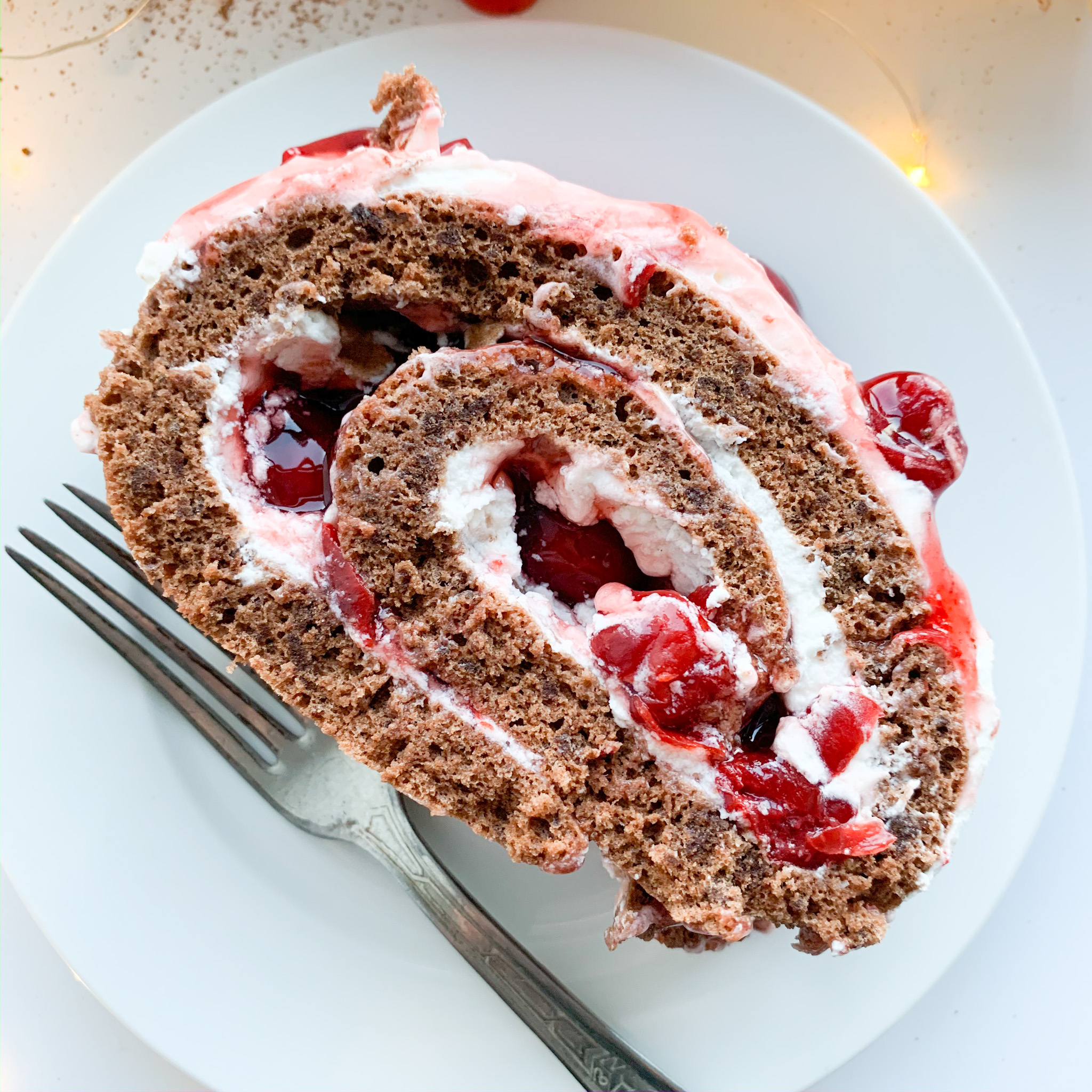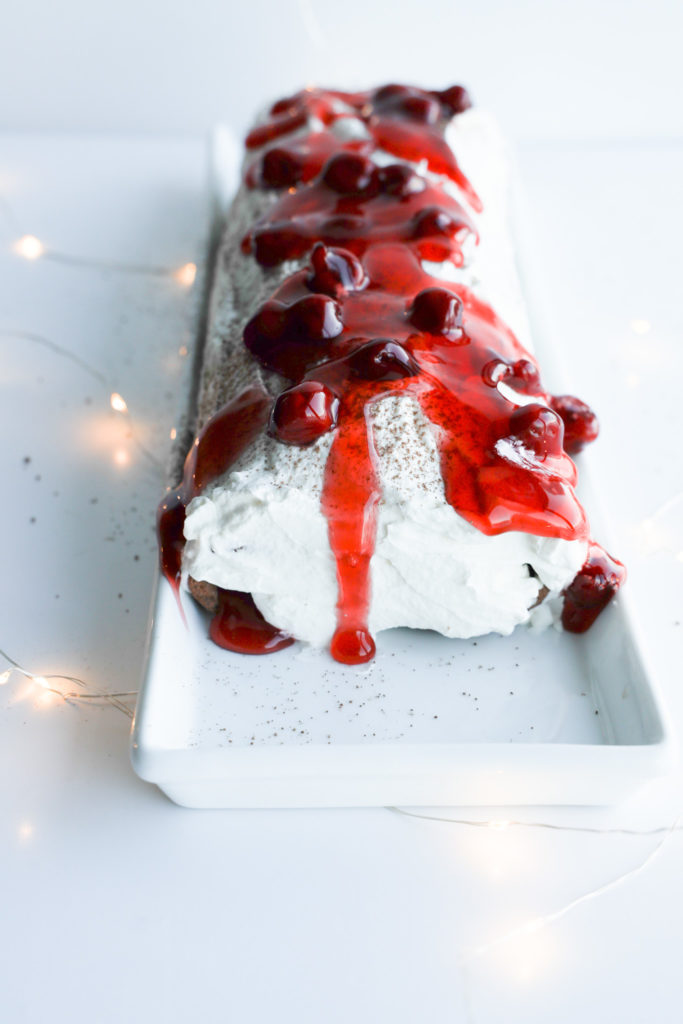 Cake roll. Jelly roll. Jam roll. Log cake.
What were they called when you were a kid? What do you call this spongy cake that you bake on a cookie sheet, roll up and fill with jam, whipped cream, or a fruit filling?
I have been playing with cake roll recipes lately. These cake rolls or jelly rolls were something I grew up with and I've been trying hard to perfect a gluten-free version to share here.
This time I worked on a gluten-free chocolate cake roll. One that you can fill with cherry pie filling and whipped cream for a holiday dessert. Or just simply raspberry jam and enjoy it with a cup or tea or a glass of milk.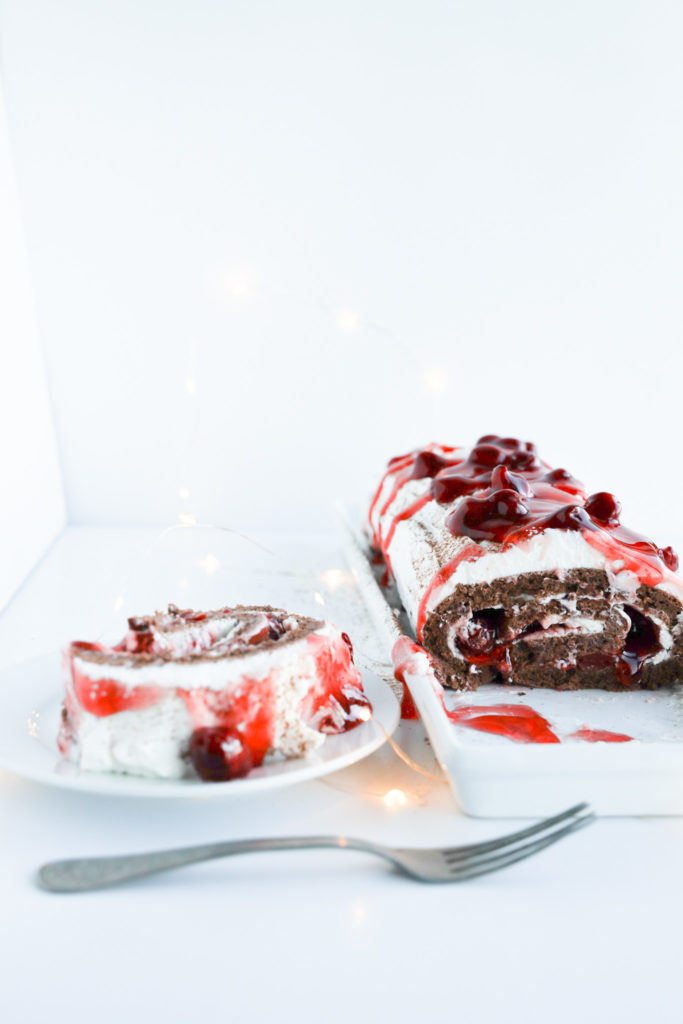 I will be sharing more cake roll recipes this year. I've made a keto/low carb matcha cake roll that is light and perfect for dessert. I have also made a classic gluten free version of a vanilla jam roll.
I can't wait to share more baking recipes here.
Gluten-Free Chocolate Cake Roll
Instructions
Preheat oven to 325 degrees.

Line a cookie sheet with parchment paper.

Add egg whites to a stand mixer and beat until soft peaks form.

Add 1/3 cup sugar and beat until stiff peaks form.

In a medium bowl beat the egg yolks and the other 1/3 cup of sugar until it is thick and creamy.

Add the oil, hazelnut flavor and cocoa and beat well.

Fold the egg whites into the egg yolk mixture as well as the gluten free flour until blended.

Pour batter onto lined cookie sheet and bake for 12-15 minutes.

While baking take out a few towel and wet it so it's damp.

Sprinkle cocoa powder over towel.

Remove cake roll from oven and invert it onto tea towel.

Gently remove parchment paper.

Carefully roll up cake roll.

For filling I whipped up cream until thick with a bit of sweetener.

I also made a cherry filling using frozen cherries, sweetener and cornstarch.

Spread a bit of whipped cream all over roll.

Gently roll up and place on a serving plate.

Cover roll with whipped cream and cherry filling.