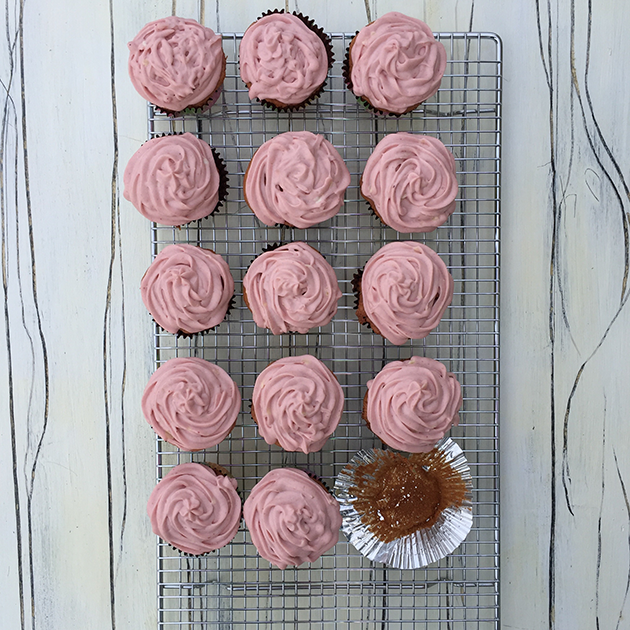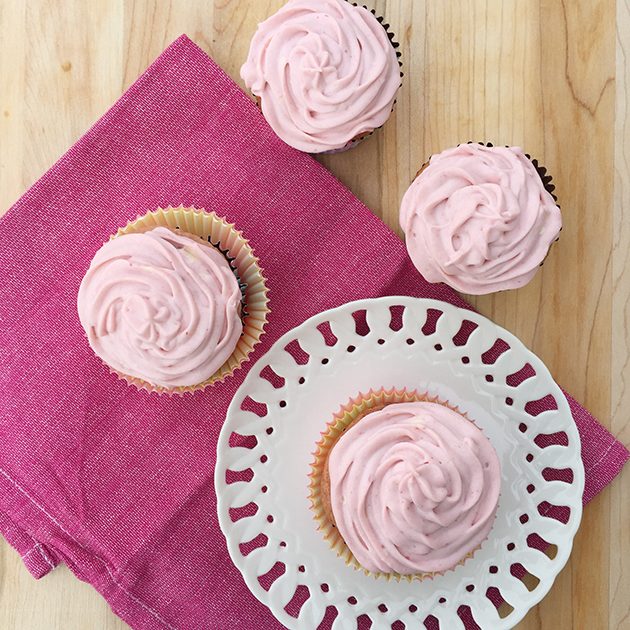 Ahh the cupcake.
There seems to be 3 different types of cupcake eaters.
The ones who eat the icing first.
The ones who eat the bottom of the cupcake first and save the icing for last and the ones that take a bite out of the bottom and top no matter how much icing is piled on.
Which are you?
I will share a secret with you all.
I like my cupcakes cold. I like to put mine in the refrigerator and enjoy it after it has cooled for a bit. Maybe because the butter used in most icings firms up and I can taste the cold butter more, really I am not sure why.
It is just the way it is.
Even though my kids are all grown and I no longer make cupcakes for kids birthday parties I still like to bake cupcakes at times. Especially if I know I am getting company and know we will share one or more pots of tea, cupcakes can be a fun item to share with company.

I am really pleased with how this recipe turned out and I hope you give it a try!
Gluten Free Strawberry Cupcakes
Ingredients
1/2

cup

butter (softened) or use Earth Balance vegan "butter (softened)

3/4

cup

white sugar

2

large eggs

1

cup

strawberry jam

1

cup

buttermilk or use 1 cup goat milk with 1 Tbsp apple cider vinegar added

1

tsp

good quality vanilla

2

cups

gluten free flour blend (I like to use Compliments gluten free flour blend available at Sobeys and Safeway)

1

tsp

baking soda

1

tsp

salt
Instructions
Preheat oven to 350 degrees.

Line a 12 cup muffin pan with paper liners.

In a stand mixer add the butter (regular or vegan) and the white sugar and beat.

Scrap sides of bowl and beat again.

Add the eggs and jam and beat again.

Scrape sides of bowl.In a small bowl whisk the gluten free flour, salt, baking soda and baking powder.

Alternately add the buttermilk (or sour goat milk) with the gluten free flour blend.

Mix on medium speed until batter is smooth.

Divide batter evenly into the muffin liners.

Bake in oven for 18-20 minutes.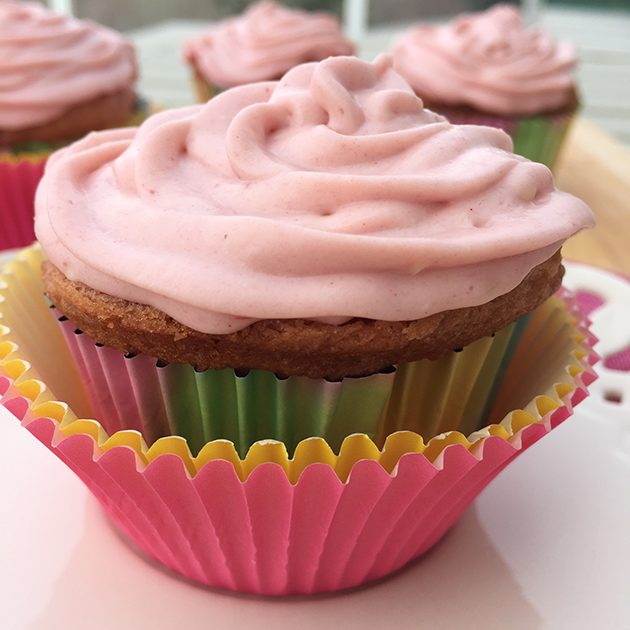 Optional Strawberry Icing
Ingredients
1 1/2

blocks

of cream cheese (or use 1 1/2 containers of vegan cream cheese

2

tbsp

softened butter (or Earth Balance vegan "butter"

1 1/2 – 2

cups

icing sugar

Start with 2 Tbsp milk (or goats milk) until you get the desired thickness for the icing.

I like mine a bit thicker for piping.

1/4

cup

strawberry jam
Instructions
Add cream cheese and butter to stand mixer and beat until smooth.

Add strawberry jam and mix again.

Add icing sugar and mix on low first then increase to medium.

If needed add a bit of milk to thin the icing.