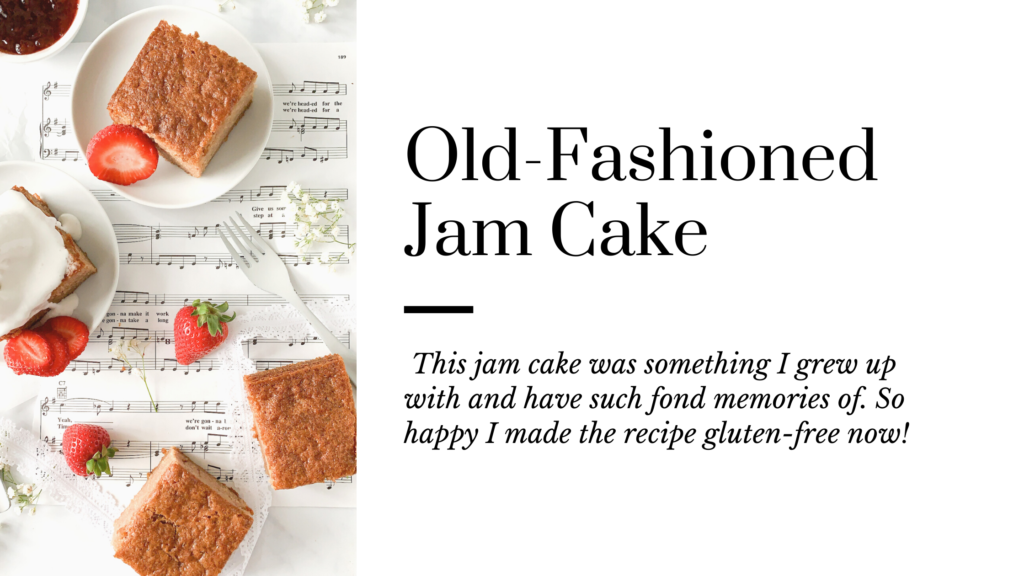 This gluten-free old fashioned jam cake is easy to make, super moist and filled with strawberry jam. I love this cake warm, almost right out of the oven and topped with vanilla ice cream. The ice cream slowly melts and makes the perfect topping. Homemade jam cake is a moist and tender cake that is infused with strawberry jam. My favourite is strawberry jam but you could easily substitute with raspberry, apricot, fig or cherry jam in the recipe.
Gluten-free old fashioned jam cake is a favourite of mine. It was a cake that always showed up at Sunday family dinners. My grandma always hosted so there was never a shortage of incredible food and desserts. I am so happy I was able to create a gluten-free version os this childhood favourite.

I love to make desserts with fruit in them: cakes, cupcakes, muffins, bundt cakes and squares. I will link to all these yummy gluten-free recipes at the bottom of the post. But I have to say, this jam cake is a real winner I think.
Use strawberry jam rather than fresh strawberries in the recipe. I find the fresh or frozen berries made the cake more wet and not as moist. You can use a low-sugar strawberry jam and it will still have the right flavour and sweetness.
INGREDIENTS TO MAKE THIS CAKE:
Eggs
Softened Butter or Vegan Butter
Coconut Milk
Apple Cider Vinegar
Baking Soda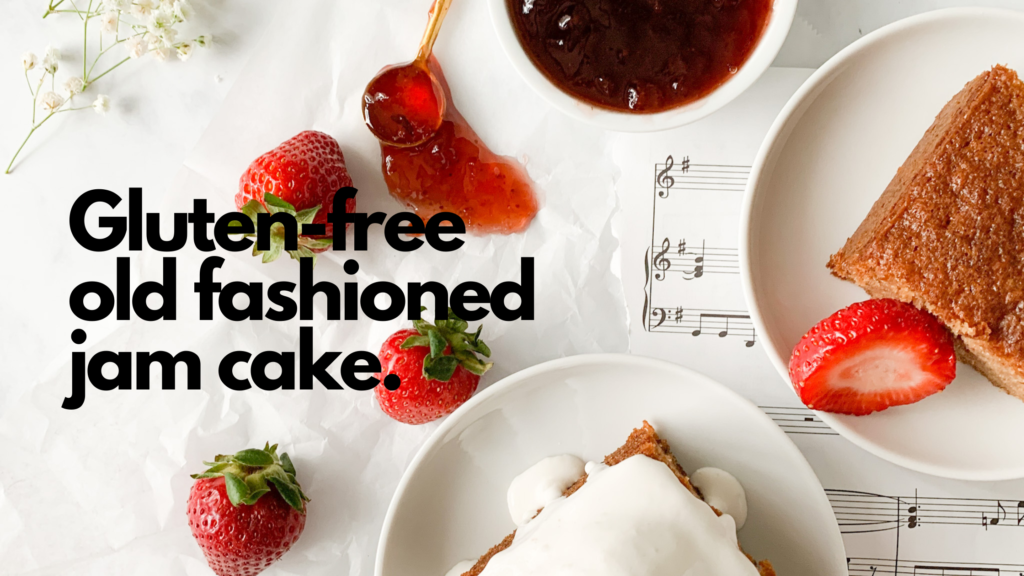 Can you make this square cake into a layer cake?
You could divide the batter into 2 lined round cake pans but the layers would be thin. However, once you filled the layer with fresh berries and cream and then top the cake with more cream, I think you will love the outcome.
What makes this gluten-free cake so special is the strawberry jam that is mixed into the cake batter. It gives the cake a sweet flavour and extra moisture. In addition, this cake is also flavoured with cinnamon and nutmeg. This gluten-free jam cake is fabulously moist from all the jam added and the spices makes every bite perfect.

WHAT PRODUCTS I USED TO MAKE THE CAKE:
This old fashioned jam cake is perfect for summer bbq's, picnics in the park, or a weekend dessert for the family. I you have a jar of strawberry jam in your pantry, trust me, go make this gluten-free cake. The strawberry jam dotted throughout the batter adds moisture and a juicy sweetness to the cake. A simple buttercream, or whipped cream or ice cream is a great topping on this cake. I am a big fan of a scoop of vanilla ice cream on my slice.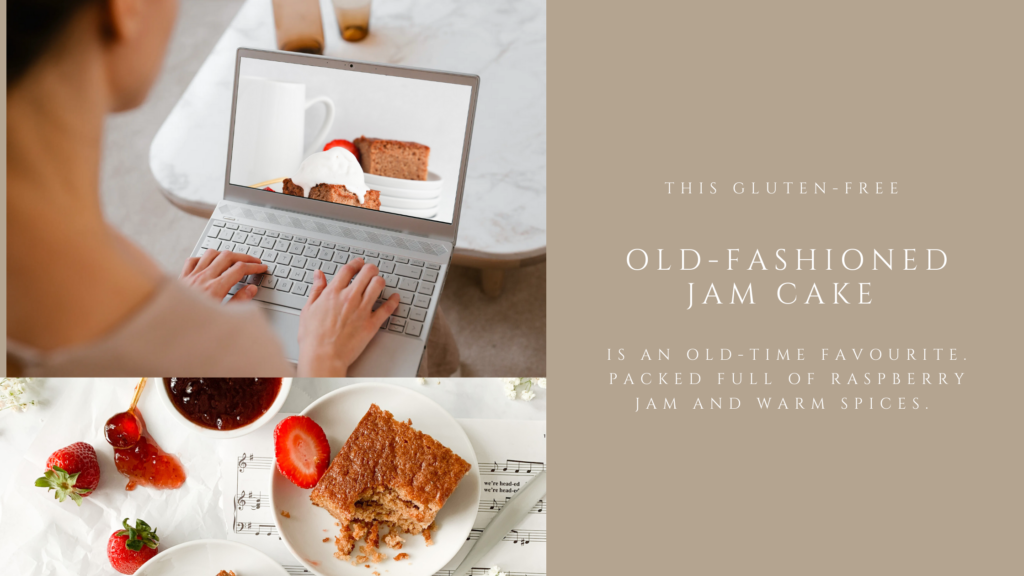 Here are more berry desserts:
WANT MORE RECIPES? Subscribe to get new recipes delivered right into your inbox. And be sure to stay in touch on Facebook, Twitter, Instagram or Pinterest. I really would love to hear from you. Send me a DM if you have any questions about this recipe or have any gluten-free questions.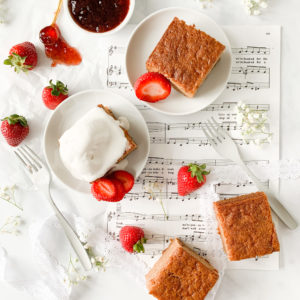 Gluten Free Old Fashioned Jam Cake
This gluten-free old fashioned jam cake is easy to make, super moist and filled with strawberry jam.
Instructions
Preheat oven to 350 degrees.

Line the bottom of a square baking pan with parchment paper.

In a stand mixer, cream the butter and swerve sweetener until light.

Add eggs, one at a time, scraping sides of bowl to incorporate all.

In a small bowl, combine the gf flour, baking soda, baking powder and spices.

Add apple cider vinegar to coconut milk.

Add dry ingredients to egg mixture alternating with the coconut milk.

Beat until batter is smooth.

Pour batter into baking pan, and bake for 35 minutes.

Remove from the oven and cool.