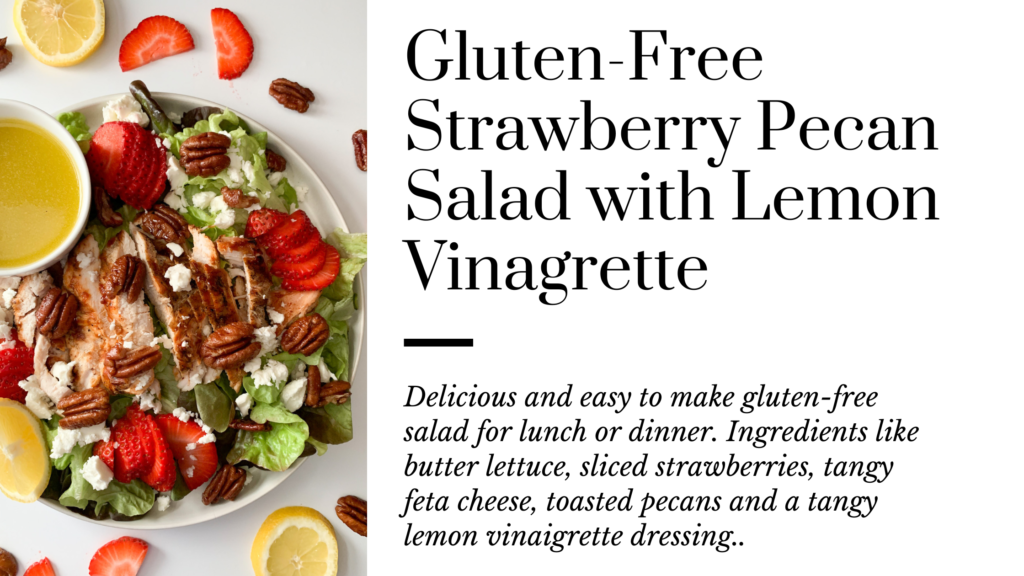 Butter lettuce topped with grilled chicken, sliced sweet strawberries, tangy feta cheese, toasted pecans and a tangy lemon vinaigrette dressing make up this delicious gluten-free salad. Whether you need a lunch or healthy salad for dinner this gluten-free strawberry pecan salad is the best!

I absolutely am in love with lemon vinaigrette dressing. It adds a light tartness to the sweet strawberries and feta cheese mixture. Thankfully strawberries can be found all year long in the grocery stores now. Now you can enjoy this gluten-free strawberry pecan salad anytime you like. Try my other salad recipes on the blog like simple caprese salad, gluten-free sweet and spicy pork noodle salad, Mexican market salad, kale fall salad and quinoa dried fruit salad.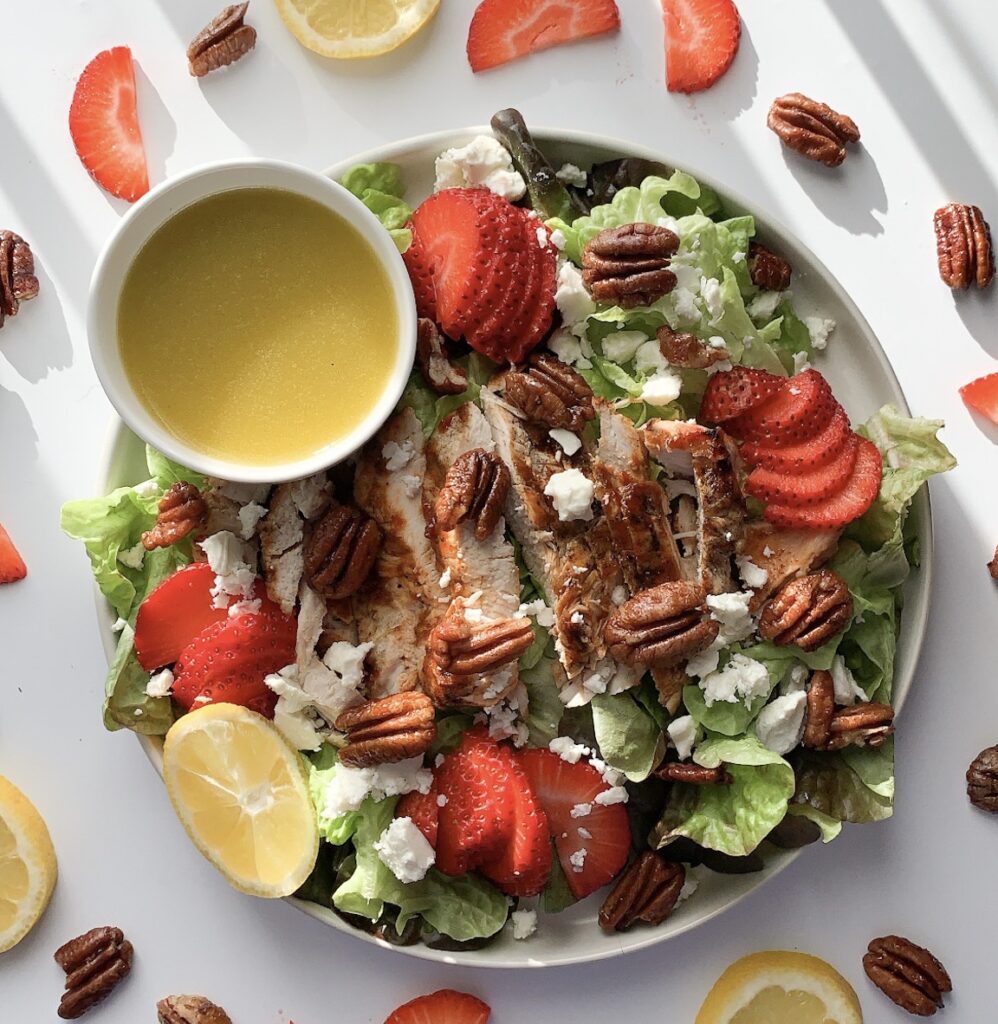 INGREDIENTS NEEDED FOR SALAD:
Butter Lettuce
Grilled Chicken
Sliced Strawberries
Toasted Pecans
Crumbled Feta Cheese
INGREDIENTS NEEDED FOR VINAIGRETTE:
Grainy Dijon Mustard
Fresh Lemon Juice
Olive Oil
Honey
My gluten-free strawberry salad stands alone as a lunch or supper entree. Topped with grilled chicken it will fill you up without leaving you feeling heavy. This is such a great salad. Crunch from the pecans, sweetness from the strawberries and tang from the feta cheese. They all work fabulous together!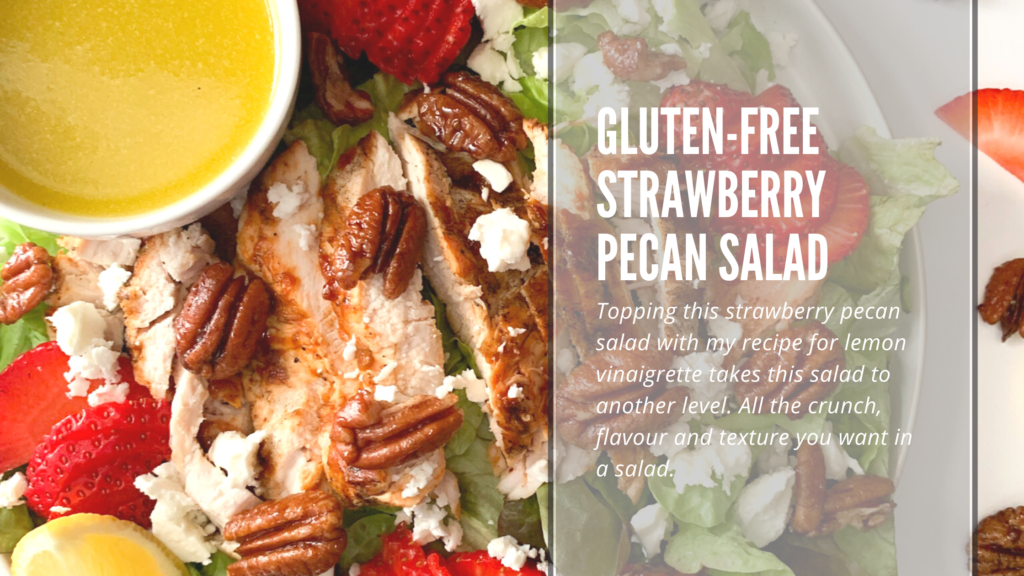 The gluten-free lemon vinaigrette is easy to make and only needs 4 ingredients. All you need is grainy dijon mustard, fresh lemon juice, honey and olive oil. Add all ingredients to a mason jar and shake up. That is it!

HOW TO MAKE THE VINAIGRETTE:
Add all ingredients to a mason jar or small food processor and mix up until well blended.
Store in refrigerator until ready to use.
My recipe for toasted pecans is very simple too. Add 2 Tbsp maple syrup, pinch of cayenne pepper, 1/2 tsp cinnamon to a frying pan on medium heat. Once hot add the pecans, stir and cook for 2-3 minutes. Remove from heat and allow to cool. Simple yet delicious!
This hearty gluten-free salad features fresh strawberries, butter lettuce, toasted pecans, crumbled feta and grilled chicken. It is all tossed in a sweet and tangy lemon vinaigrette.

I am a big fan of salads and eat one each and every day. Salads packed with all kinds of flavours, textures and ingredients is the best. This gluten-free strawberry pecan salad with lemon vinaigrette scratches off all the bases for me.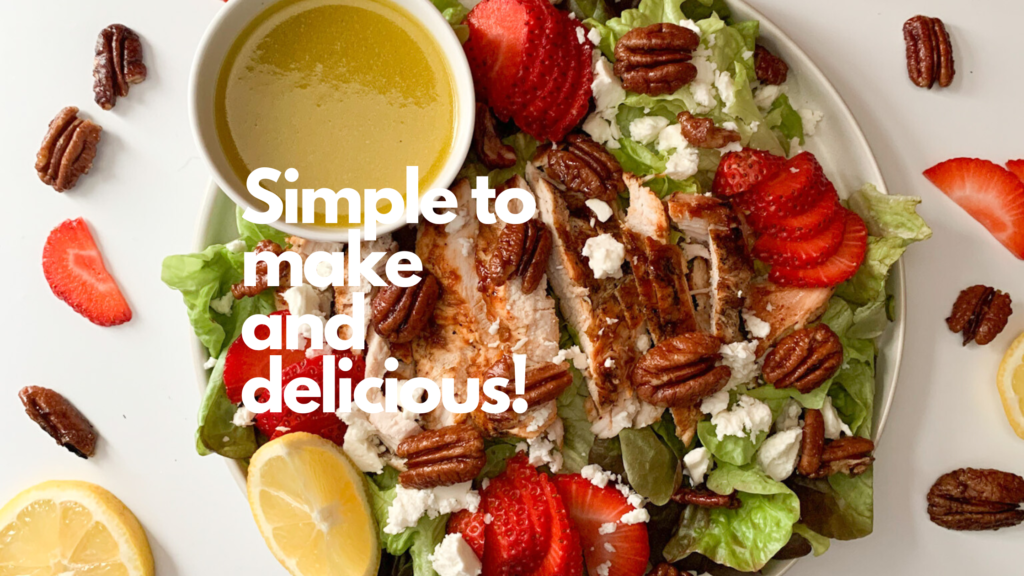 This gluten-free salad and lemon vinaigrette is wonderful to bring to bbq's and gatherings. Everyone will gobble it up. Simple, easy to make, fresh and full of flavour. A strawberry pecan salad with lemon vinaigrette that is vibrant and quick to assemble. Colourful and flavourful. It will quickly become a favourite salad in your home.
HERE ARE MORE SALAD RECIPES:
WANT MORE RECIPES? Subscribe to get new recipes delivered straight into your inbox. And be sure to follow me on Pinterest, Instagram, Facebook and Twitter. I really would love to hear from you.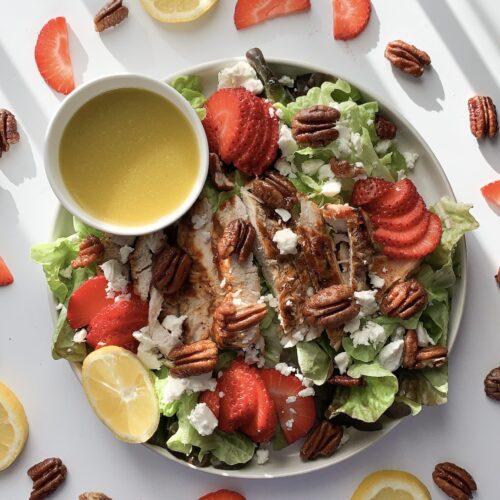 Gluten-Free Strawberry Pecan Salad with Lemon Vinaigrette
Whether you need a lunch or healthy dinner this gluten-free strawberry pecan salad with lemon vinaigrette will soon become a family favorite.
Ingredients
2

tsp

grainy mustard

1

tsp

liquid honey

1/3

cup

fresh lemon juice

1/3

cup

extra virgin olive oil
Instructions
Combine in a small food processor or mason jar the mustard, honey and lemon juice. Gradually whisk in olive oil until well combined.

Layer the butter lettuce, grilled chicken, sliced strawberries, toasted pecans and crumbled feta in a salad bowl.

Pour dressing over salad and serve.