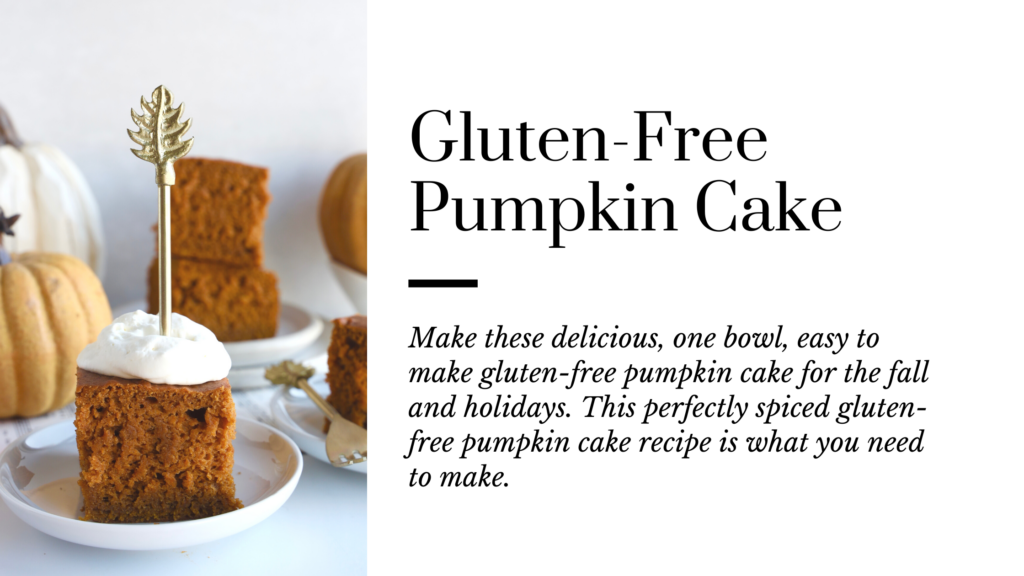 Are you ready to indulge your taste buds in the ultimate fall treat? Get ready to experience the mouthwatering delight of a gluten-free pumpkin cake that will leave you craving for more. Bursting with rich flavours and tantalizing spices, this cake promises to be a winner on your dessert table.A simple yet delicious one-bowl recipe with the perfect combination of fall and holiday spices. So grab your apron and get ready to satisfy your sweet tooth with a moist gluten-free pumpkin cake.

A Simple and Delicious One-Bowl Recipe
INGREDIENTS NEEDED:
Eggs
Brown Sugar
Oil
Canned pure pumpkin
Buttermilk
Baking Soda
Baking Powder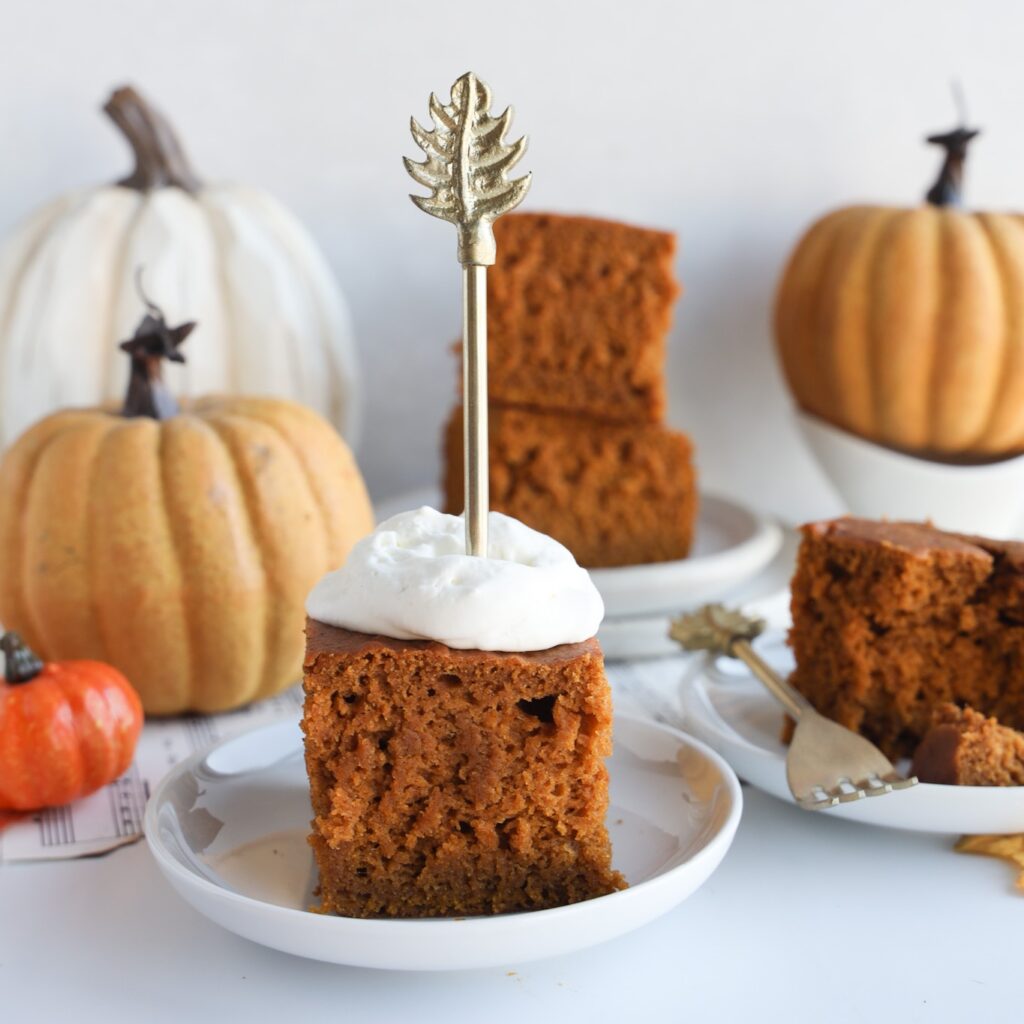 Baking a delicious cake doesn't have to be complicated or time-consuming. With this simple and delicious one-bowl recipe, you can create a mouthwatering gluten-free pumpkin cake in no time.
By using just one bowl, you can save time on both preparation and cleanup. No need to worry about multiple mixing bowls and complicated instructions. I am all about making gluten-free baking as simple as possible.
To start, gather all the necessary ingredients: gluten-free flour, sugar, baking powder, cinnamon, nutmeg, cloves, eggs, pumpkin, oil, and vanilla extract. Combine these ingredients in a large bowl, mixing them together until well incorporated.

The magic happens as the fall and holiday spices come together to infuse the cake with a warm and inviting aroma. The combination of cinnamon, nutmeg, and cloves adds a burst of flavour that perfectly complements the pumpkin. As these spices mingle with the other ingredients and make for a delicious gluten-free pumpkin cake.
Pour the batter into a lined cake pan and bake it in the oven until a toothpick inserted into the center comes out clean. As the cake bakes, your kitchen will be filled with the delightful scent of pumpkin and spices.
Once the cake is done remove it from the oven and let it cool. I prefer to top this gluten-free pumpkin cake with the simplest of icings-whipped cream! That is my favourite but you could also make a cream cheese frosting too.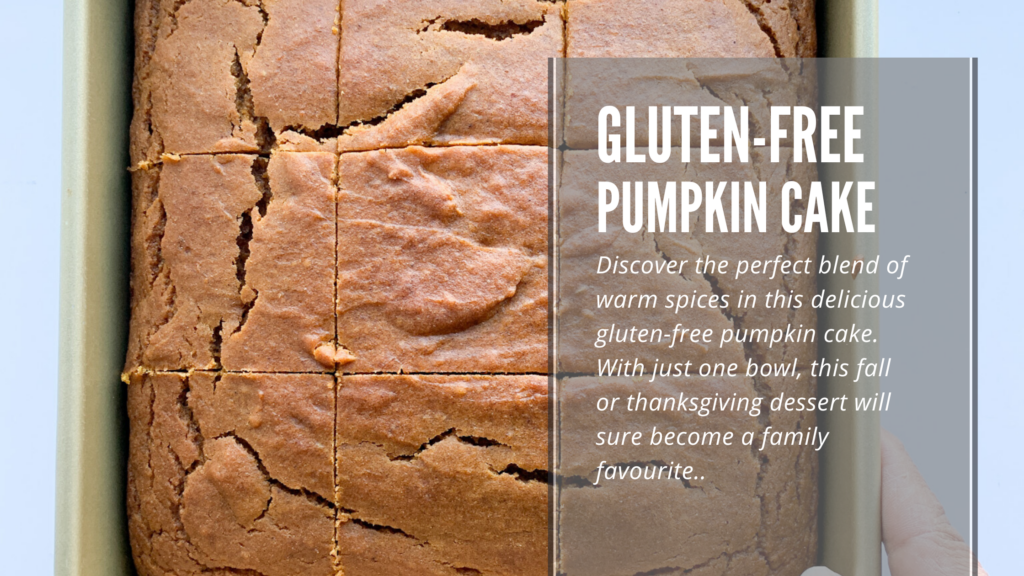 INSTRUCTIONS:
Preheat oven to 350 degrees.
Line a square baking pan with parchment paper.
In a medium bowl add the eggs and beat with a hand mixer until fluffy.
Add the brown sugar and beat again.
Add the oil, pumpkin and vanilla and mix well.
In a separate bowl whisk the dry ingredients.
Add the dry ingredients plus the buttermilk into the wet and mix on low speed. Increase speed to medium and beat until smooth.
Pour batter into lined baking pan.
Bake in oven for 30-38 minutes.
Remove and cool.
Gather your loved ones around the table, take a bite, and let the flavours transport you to a world of autumn bliss. Whether enjoyed as a dessert after a Thanksgiving meal or as a sweet indulgence on a cozy afternoon, this cake is sure to satisfy your sweet tooth and leave you wanting more. So, grab your apron and let's get baking!,

The Perfect Combination: Fall and Holiday Spices
As the aroma of this gluten-free pumpkin cake fills your kitchen, you'll find yourself captivated by the warm and inviting scents that instantly transport you to the heart of fall. And what better way to enhance those flavors than with a perfect combination of fall and holiday spices?
Cinnamon, nutmeg, ginger, and cloves can transform an ordinary cake into a fall delight. With just a sprinkle of cinnamon, your taste buds are awakened, and the sweet and earthy flavors of pumpkin are elevated to new heights. Nutmeg adds a subtle warmth to the mix that perfectly complements the pumpkin's natural sweetness. And let's not forget cloves, which provide a distinct and fragrant note that ties everything together.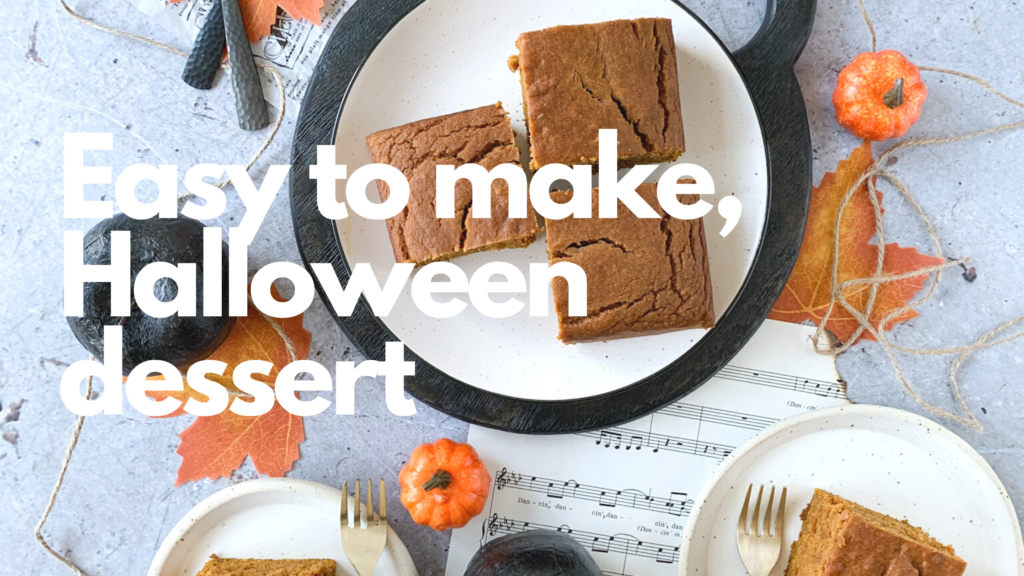 So, as you gather your apron and prepare to bake this afternoon, don't forget to reach for those trusty jars of cinnamon, nutmeg, ginger, and cloves. Let their intoxicating aromas fill your kitchen and infuse every bite of your gluten-free pumpkin cake with the warmth and nostalgia of the season.
With this simple one-bowl recipe, it offers an easy and delicious treat for those craving something sweet. The perfect combination of fall and holiday spices adds a warm and comforting touch that will leave your taste buds dancing. Give it a try and enjoy this fall delight.
HERE ARE MORE PUMPKIN RECIPES TO TRY:
WANT MORE RECIPES? Subscribe to get new recipes delivered straight into your inbox. And be sure to follow me on Instagram, Pinterest and Facebook. I really would love to hear from you.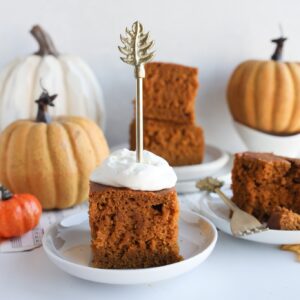 Gluten-Free Pumpkin Cake
Make this delicious one bowl, easy to make gluten-free pumpkin cake for the fall and holidays. This perfectly spiced gluten-free cake is what you need to make today.
Instructions
Preheat oven to 350 degrees.

Spray a 9×11 pan with cooking spray.

Beat eggs in large mixing bowl til light and frothy.

Add brown sugar and beat.

Add oil, pumpkin and vanilla.

In a separate bowl, add the dry ingredients and mix.

Add dry ingredients into wet ingredients and beat until smooth (about 2 minutes).

Pour batter into pan and bake for 30 minutes, or until cake is firm.

Remove from oven and cool.

Once cooled you can ice the cake