Hmmmm chocolate.
How about a flourless chocolate cake that tastes amazing. Even better, a chocolate cake that is good for you?
Well as good as a chocolate cake can be. This one is made using cooked quinoa. And as we know quinoa is a superfood. It is full of nutrients, protein, gluten free, and high fiber.
Plus if you use a dark chocolate this cake has antioxidants too! What more can a chocolate cake get?
This recipe is courtesy of a customer I met at work. I met Andrea, while she was shopping for vegetarian cookbooks. We started up a conversation and before long she passed on a chocolate cake recipe to me.
I tried it and wow… it was great!
This would make a great holiday dessert.
I thank Andrea for passing this recipe on to me, and I will now pass it on to you.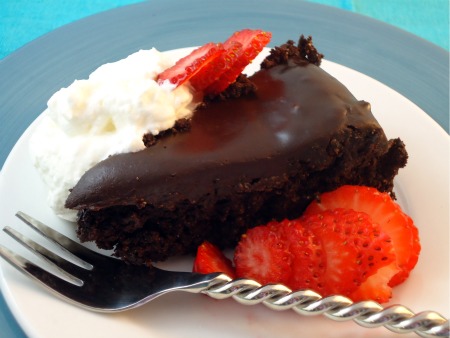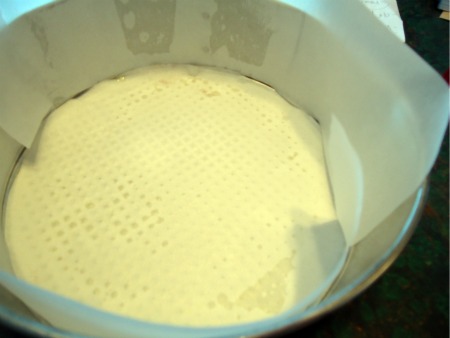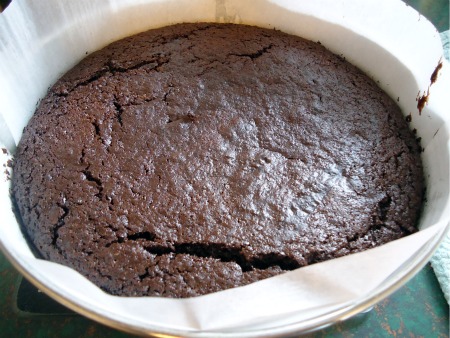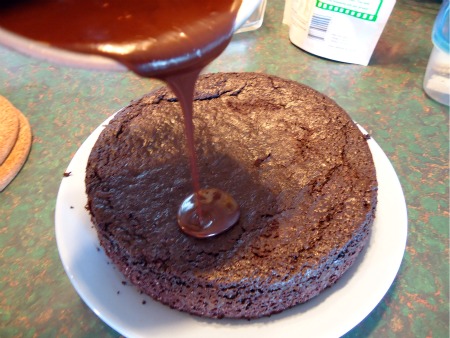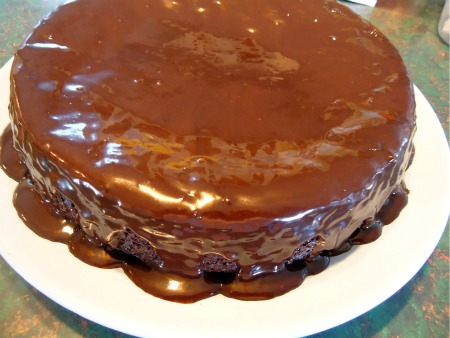 Quinoa Chocolate Cake
Ingredients
2/3

cup

uncooked quinoa

1 1/3

cup

water

1/2

cup

milk

4

eggs

1

tsp

vanilla

3/4

cup

butter, melted and cooled

1 1/2

cups

sugar

1 1/2

cups

unsweetened cocoa powder

1

tbsp

baking powder

1/2

tsp

salt
Instructions
Cook the quinoa in the water.

To do this, add both ingredients to a pan, then bring the mixture to a boil.

At this point, put the lid on, lower the heat and simmer for approx 10 minutes.

Shut off the heat and leave the pan on the burner to continue cooking slightly for an additional 10 minutes.

Mix it somewhat with a fork and allow to cool completely.

Preheat oven to 350 degrees.

Prepare an 8 inch springform pan.

I greased and lined the sides and bottom with parchment.

Using a stand mixer put the eggs, vanilla and milk in a bowl.

Add 2 cups of the cooked quinoa.

Combine these ingredients, then add the butter.

Blend until everything is smooth.

In a separate bowl, mix the dry ingredients together.

Add the dry ingredients into the wet mixture and mix.

Place the mixture into the cake pan.

Cook for approximately 50 minutes.

It is done when a toothpick inserted comes out clean. (I found the cake took longer to bake for me. With the altitude here, my times can be different)

I let the cake cool completely and once removed from the pan I covered the cake in a dark chocolate ganache.

Recipe courtesy of www.best-chocolate-recipes.com

Here is that recipe
Ganache
Ingredients
1/2

cup

whipping cream

4

oz

bittersweet chocolate, chopped
Instructions
Put the cream into a saucepan and heat until scalding hot.

Put the chocolate into a heatproof bowl and pour the hot cream over.

Let cool for 2 minutes and then pour over the cake.