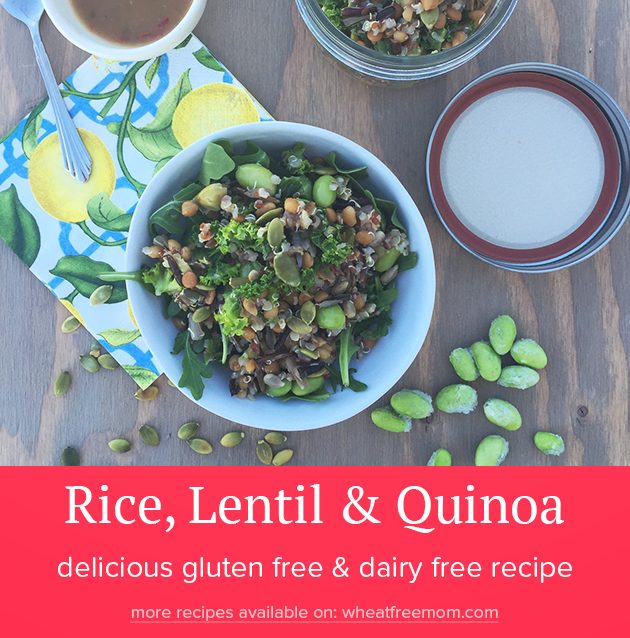 I like salads!
In fact I could eat salads almost every meal, well, not for breakfast normally but definitely for lunch and supper. (I even have my 27 favorite salads available in my cookbook.)
I really like salads that will last in the refrigerator for a couple of days too and how I normally do that is by putting them in canning jars.
You can fill them to the right portion size that you want, put the lid on and grab and go.
Basically just give the jar a bit of a shake and it is a good as when you made it.
This is one of those salads.
This salad would be great for a bbq or picnic in the summer too.
No mayo or dairy ingredients that you have to worry about in the summer heat.
Barbecue up some chicken breasts or steaks and all you really need is this salad to go with it.
Gluten Free Rice, Lentil and Quinoa Salad
Ingredients
1

cup

cooked and cooled black or wild rice

1

cup

cooked and cooled quinoa

1

cup

cooked and cooled green lentils

1/2

cup

cooked and cooled edamame

2

green onions, finely chopped

2

cups

baby kale or spinach finely chopped

2

tbsp

raw sunflower seeds, lightly toasted

1

tbsp

raw pumpkin seeds, lightly toasted

wedges of limes to serve

Dressing:

1/2

small red chile pepper, seeds removed

1/2

jalapeño, seeds removed

2

cloves of garlic

2

tsp

minced ginger

1/2

cup

fresh lime juice

2

tbsp

sesame oil

4

tbsp

fish sauce
Instructions
Chop the red chile pepper and jalapeño into smaller pieces.

Add this to a mini food processor and pulse until peppers are finely crushed.

Add the rest of the dressing ingredients and pulse until dressing is smooth.

In a large bowl combine all the salad ingredients except the lime wedges.

Pour the dressing over the salad and stir.

Spoon salad into small jars.

Place lids on jars and place in refrigerator.

This salad will last 3-4 days in the fridge.