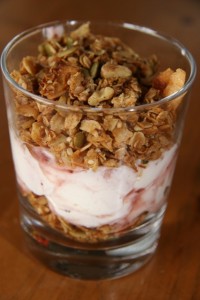 Ahhhhhh…..the sweet crunch of homemade granola, combined with the best mediterranean yogurt. What a combination! I love this mixture for breakfast! In fact, it is a great evening snack too!
Here is an easy, delicious granola to make. What is great about this recipe is that whatever you have in your cupboards you can add to the oats. If you only have almonds and raisins around-use that. If you only have some sunflower seeds and craisins-use those. The flavor comes from the slow roasting-very little sweetener is used.
I thank Ruth in Germany for this recipe. When my daughter Alyssa was backpacking through Europe years ago. She had stayed at Ruth and Hanz's place in the Black Forest in Germany. Alyssa came home with this recipe and I thank her and Ruth for it.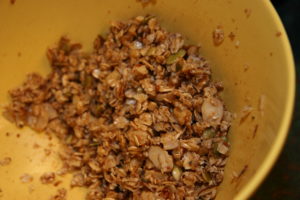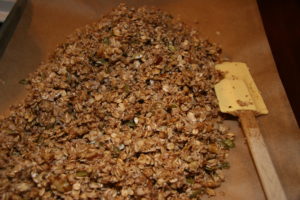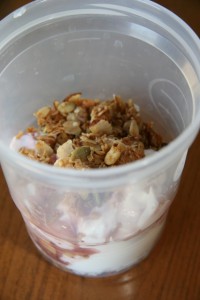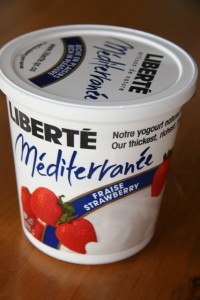 Easy Granola
Ingredients
3

cups

rolled oats (I used Only oats brand for there is no cross contamination)

2/3

cups

slivered almonds

1/2

cup

shredded coconut

1/2

cup

pumpkin/sunflower seeds

1/2

tsp

salt

1

tsp

vanilla

1/4

cup

unsalted butter

6

tbsp

honey

6

tbsp

maple syrup

1

cup

mixed dried fruit (craisins)
Instructions
In large bowl stir together oats, almonds, coconut, pumpkin seeds, and salt.

In small pot, melt butter with honey and maple syrup over low heat-then stir in vanilla.

Pour butter mixture over oat mixture and stir until well combined.

Spread evenly in large cookie sheet.

Bake at 325 degrees for 20-25 minutes. Stirring every 7 minutes. Remove from oven and cool on cookie sheet.

Stir in dried fruit.Store in air tight container for up to 2 weeks.Here I took layered granola and yogurt to go for a quick breakfast on the run.

By the way, my favorite yogurt is by Liberty-there Mediterranean style is the best!! You can get such flavors as strawberry, lemon, coconut, plain, vanilla, orange mango, etc. Check out Amaranth and Planet Organic in the NW for these flavors.