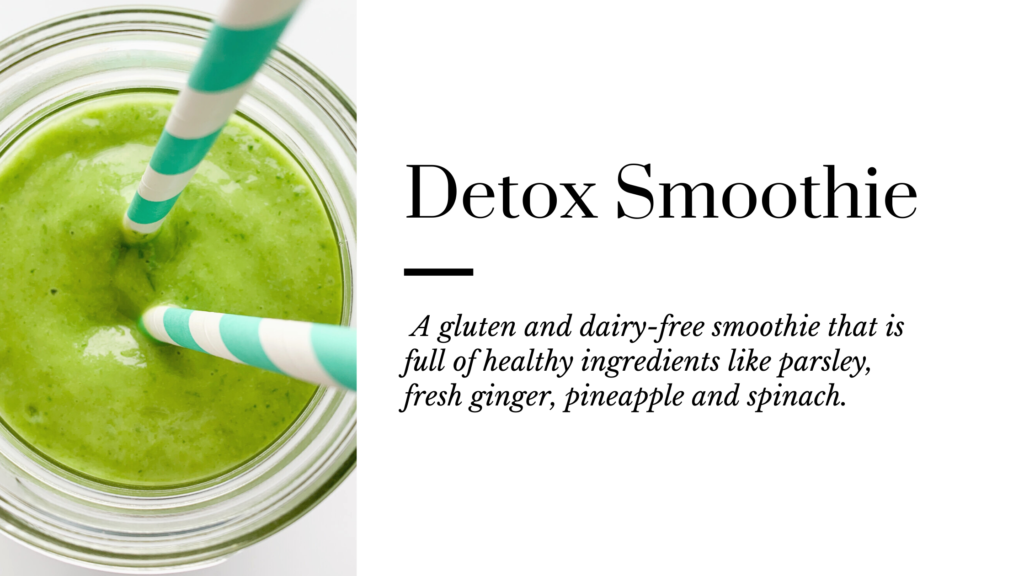 This detox smoothie recipe is full of good for you ingredients. It is a delicious way to get into a healthier you and better habits going! Plus the smoothie is gluten-free and dairy-free! I haven't posted many smoothie recipes, but I do make them for myself regularly so I thought I would share this one today. On days when I want to decrease my morning caffeine or just want to up my greens first thing in the morning, I whip up this smoothie in my Magic Bullet.
Enjoy this gluten-free detox smoothie for breakfast in the morning, or as a snack during the day. It is delicious and super refreshing and a wonderful way to get more greens into your diet. This smoothie only takes a few minutes to make, is packed full of vitamins, and is super tasty to boot. Even kids will love it!

If you haven't made a green smoothie before, I think this is a good easy recipe to start with. Believe it or not , it doesn't taste like spinach at all. The pineapple and ginger add a sweetness and zing to the drink. It is time for you to see why I think this is the best green detox smoothie recipe.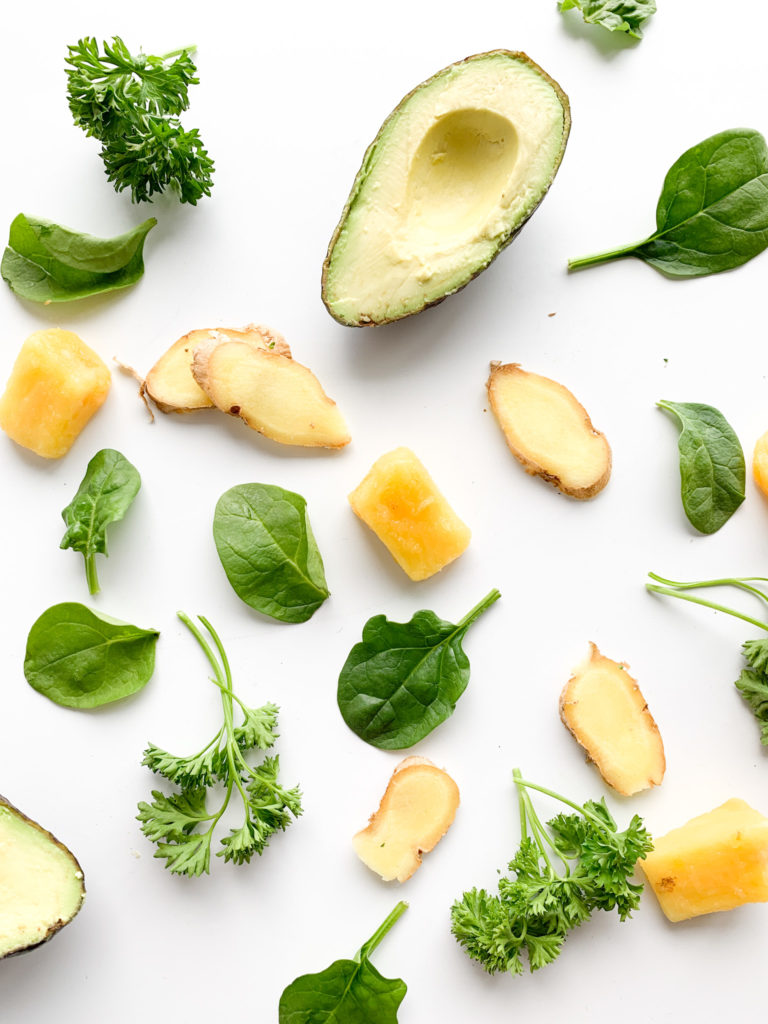 This gluten-free smoothie has fresh spinach, parsley, ginger, avocado, frozen pineapple and coconut water in it. Let's take a look at some of the ingredients in this smoothie.
Spinach- leafy green vegetables like spinach are loaded with nutrients and antioxidants. Spinach benefits eye health, helps prevent cancer and reduces blood pressure.
Fresh ginger- Ginger is known for its health benefits such as anti-inflammatory and anti-microbial properties. It has shown to help nausea, headaches, E Coli, and cold and flu symptoms.
Fresh parsley- Parsley has flavonoids that are known to prevent cancer, protect against diabetes, improve bone health and has Vitamin K, C and A.
Pineapple- Pineapple is full of nutrients, antioxidants and enzymes that help to fight inflammation and disease. It aids in digestion, boosts immunity and aids in reducing symptoms of arthritis.
All these benefits, and this gluten-free and dairy-free smoothie is delicious!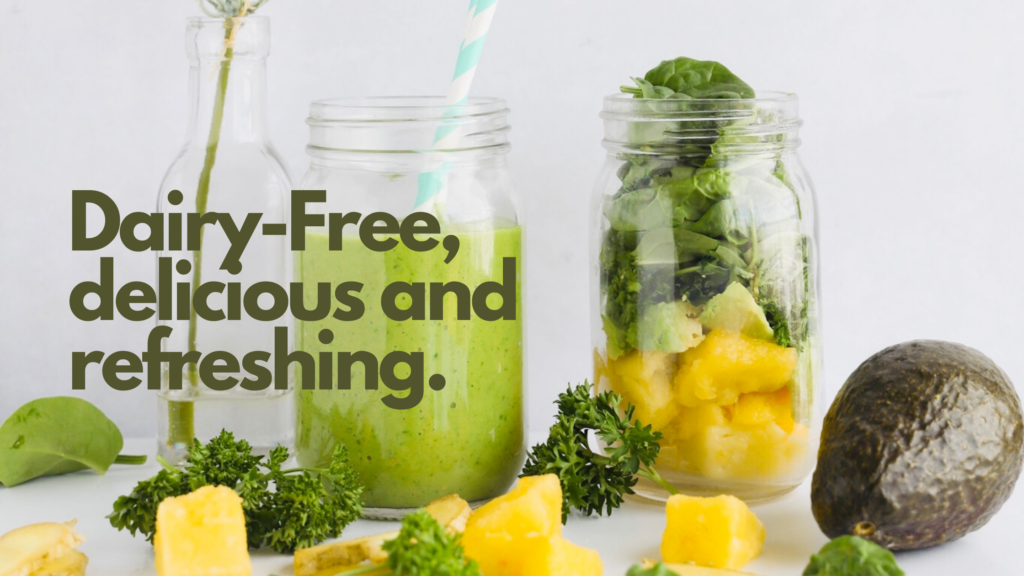 HOW TO MAKE THIS SMOOTHIE:
Add spinach, parsley, chopped ginger, frozen pineapple, avocado and coconut water into a magic bullet and blend until smooth.
I like to make up 4-5 glass jars of the ingredients (without the coconut water) and keep them on hand in my refrigerator. I layer the jars this way- first pineapple, then ginger, then avocado in the jar. Next I add parsley and the spinach. Place lids on the jars and keep in fridge until you want to make a smoothie. When you are ready just pour ingredients into the magic bullet and add the coconut water and blend.

Are green smoothies healthy?
What we eat can transform our bodies and help us live a healthier life. Smoothie recipes, like this one, is a great way to boost your immune system and naturally energize you. Most smoothies are made with just fruit and water but this green smoothie is full of healthy leafy greens and fresh ginger. The pineapple in the smoothie helps to fight inflammation.
This smoothie recipe makes enough for 1 serving. To make the smoothie I used my Magic Bullet for myself but you could easily double or triple the recipe and make this smoothie in a Vitamix Blender.
My mornings are always better when I fuel my body with what it needs. While I am always in for gluten-free pancakes, toast or a simple granola bar for breakfast, I know that a healthy green smoothie is best. This green detox smoothie is a fast, delicious and vitamin filled smoothie recipe that everyone will love.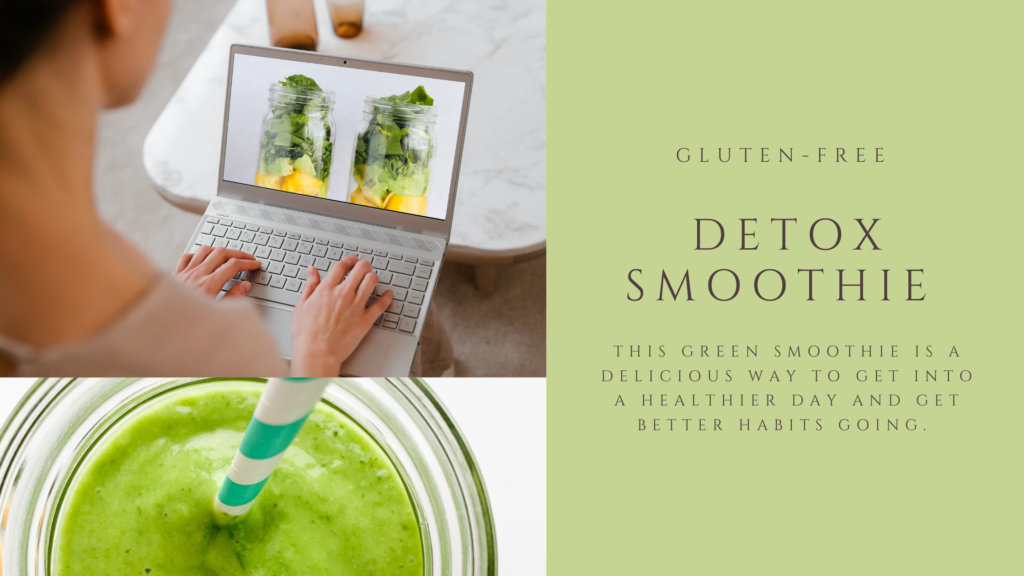 Here are some breakfast recipes to try:
Want more recipes? Subscribe to get new recipes right in your inbox. And be sure to follow me on Facebook, Twitter, Instagram and Pinterest. I really would love to hear from you so send me a DM. Use #wheatfreemom and share photos of any recipes you have tried.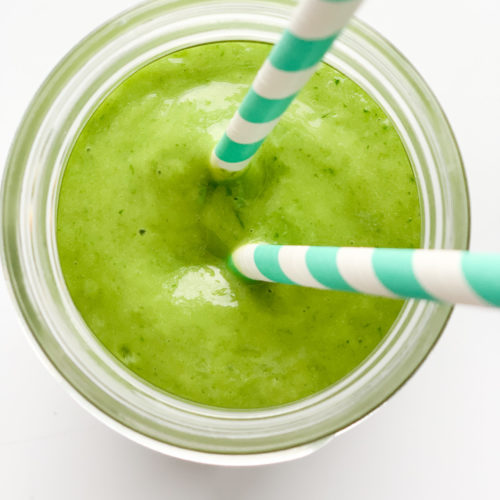 Detox Smoothie
This green smoothie is full of healthy ingredients. It is delicious way to get healthier eating and habits going. Plus it is dairy-free and great for breakfast.
Ingredients
1

cup

Spinach

1

Tbsp

Fresh ginger

1/4

cup

Fresh parsley

1/3

cup

frozen Pineapple

1/2

avocado

1/3 + 1/4

cup

coconut water
Instructions
Add all ingredients to a Magic Bullet and mix until smooth.

I like to make up 4-5 glass jars of the ingredients(except coconut water) and keep them on hand in my fridge.

I layer the jars this way.

First pineapple, then ginger, then avocado, then parsley and finally spinach. Place lids on jars and keep in the refrigerator. When ready to use, pour ingredients into the Magic Bullet and add the coconut water and blend.