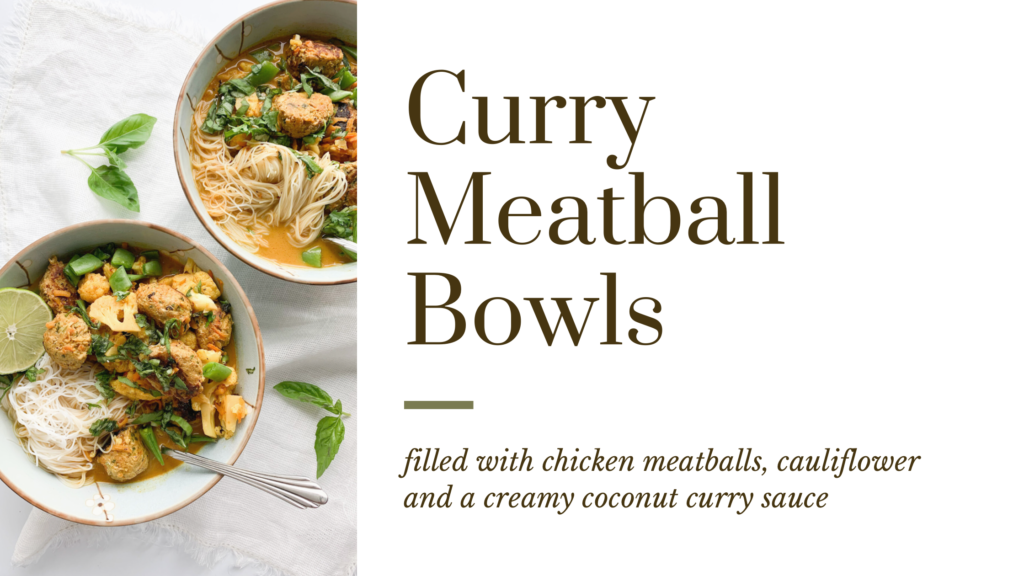 Curry meatball bowls are the ultimate comfort food for busy weeknights. These bowls are filled with curry meatballs, cauliflower, vermicelli noodles and a creamy flavourful curry sauce. Top with fresh basil, lime juice and crunchy snap peas to make it over-the-top delicious! This gluten-free meal is delicious and your taste buds will love it.
Curry is one of those comfort foods that's so easy to make and incredibly delicious. It's prepared with creamy coconut milk, bone broth, curry paste, veggies, tasty meatballs, and noodles. Feel free to switch up the meatballs with crispy tofu if you want. This curry is always on the menu when it's cold outside and, living in Calgary, our cold winter nights last a long time.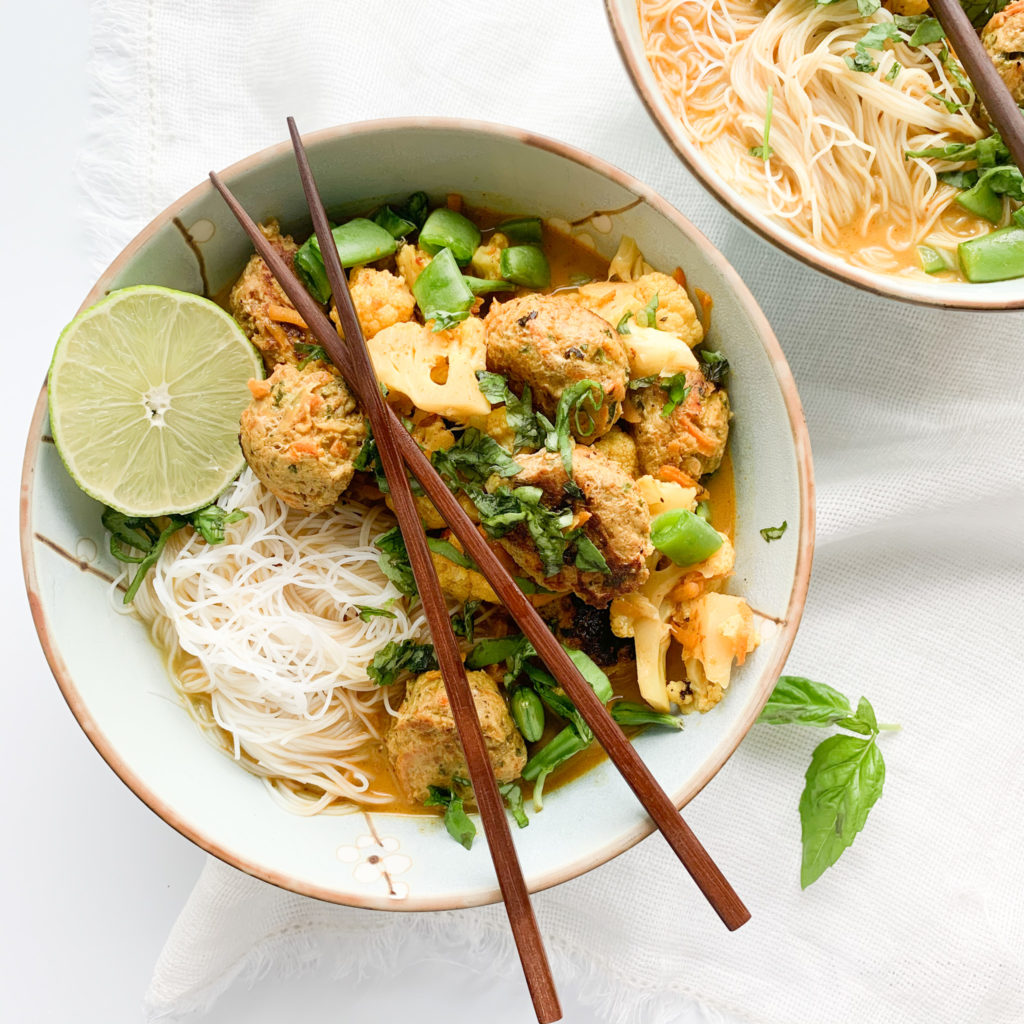 This gluten-free curry bowl has the most flavourful meatballs and veggies in a creamy bone broth. My favourite veggie combo is cauliflower and carrots. You can also use whatever veggies you have on hand. Butternut squash, sweet potato, pumpkin or zucchini would work as well.
WHY I USE COCONUT MILK
I like to use full fat coconut milk in this recipe. Not only is it a great dairy-free alternative, coconut milk can benefit our health as it helps to lower cholesterol and contains MCT (medium-chain triglycerides). MCT helps to stimulate energy. Full fat coconut milk also contains lauric acid which supports the immune system.
The curry meatballs are made with ground chicken, shredded carrots, shallots and flavour from turmeric, curry, ginger and cilantro. Feel free to double the meatball recipe and keep the extra meatballs in the refrigerator for other meals during the week.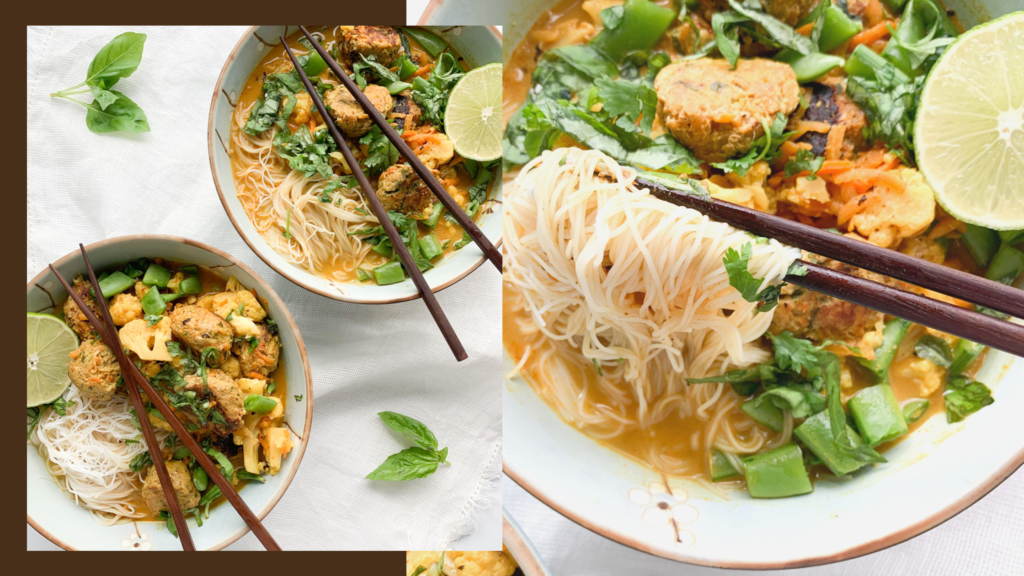 This dish incorporates a variety of curry flavours and all with an abundance of crunch and creamy textures. The fresh basil topped chicken meatballs swim in a rich curry sauce with cauliflower.
THE BENEFITS OF TURMERIC
I added extra turmeric to the recipe not only for its brilliant yellow color but also all of its health benefits. Turmeric is high in antioxidants, boosts glucose control in treating diabetes, helps to lower cholesterol and reduces inflammation. It also speeds up wound healing and can increase serotonin levels and so much more.
Switch up from your typical spaghetti and meatballs and make this curry meatballs and vermicelli noodles instead! If you prefer, serve the curry meatballs and sauce over baked spaghetti squash, cauliflower rice, zucchini noodles or any low-carb pasta.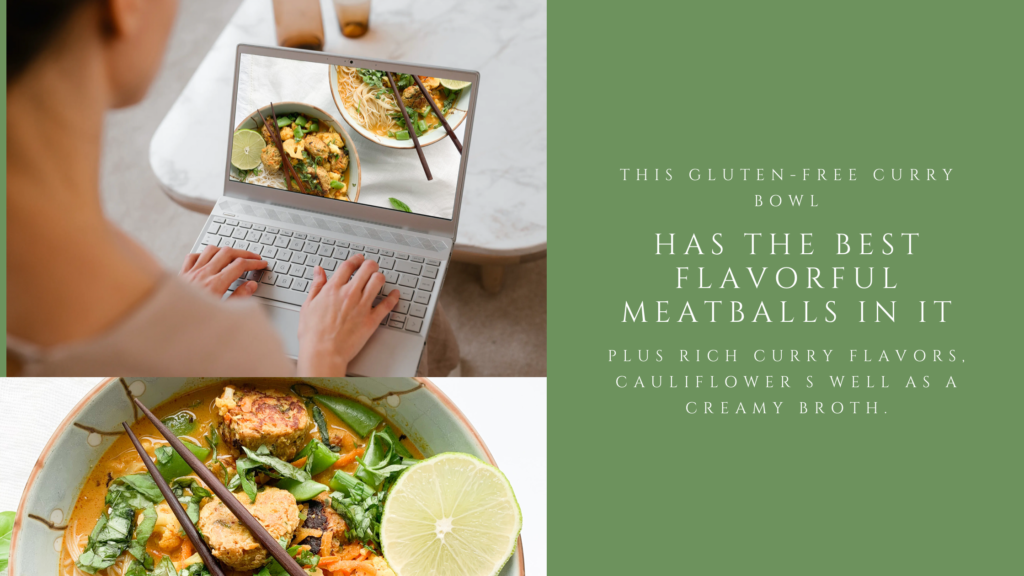 Want more?
Subscribe to get new recipes delivered straight to your inbox. And be sure to stay in touch on Facebook, Instagram, Twitter or Pinterest. I would love to hear from you!
Here are a few more recipes on the blog that you might like for this week too. How about Slow Cooker Thai Green Curry, Sweet and Spicy Pork Noodle Salad or Instant Pot Mongolian Beef.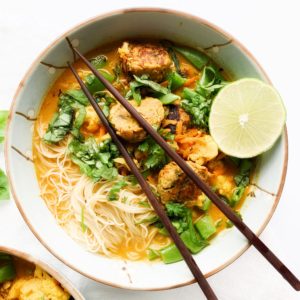 Gluten-free Curry Meatball Bowl
These curry meatball bowls are the perfect comfort food for busy weeknights. These bowls are filled with curry meatballs, veggies and the creamiest flavourful curry sauce. This gluten-free meal is delicious and you will love it.
Instructions
In a medium bowl add ground chicken, spices, carrots, garlic, ginger and cilantro and mix well.

Add the meatballs and cook on medium heat for 10 minutes. Flip over and cook for another 5 minutes.

Remove meatballs and set aside.

Add the broth, coconut milk, paste and chili oil to frying pan.

Add the cauliflower and carrots and cook on medium heat for 10 minutes.

Add the meatballs back and turn to low heat and simmer for 20 minutes.

Top with meatballs, cauliflower and broth.

Sprinkle fresh basil over plus snap peas.

Squeeze a bit of lime on each bowl and serve.