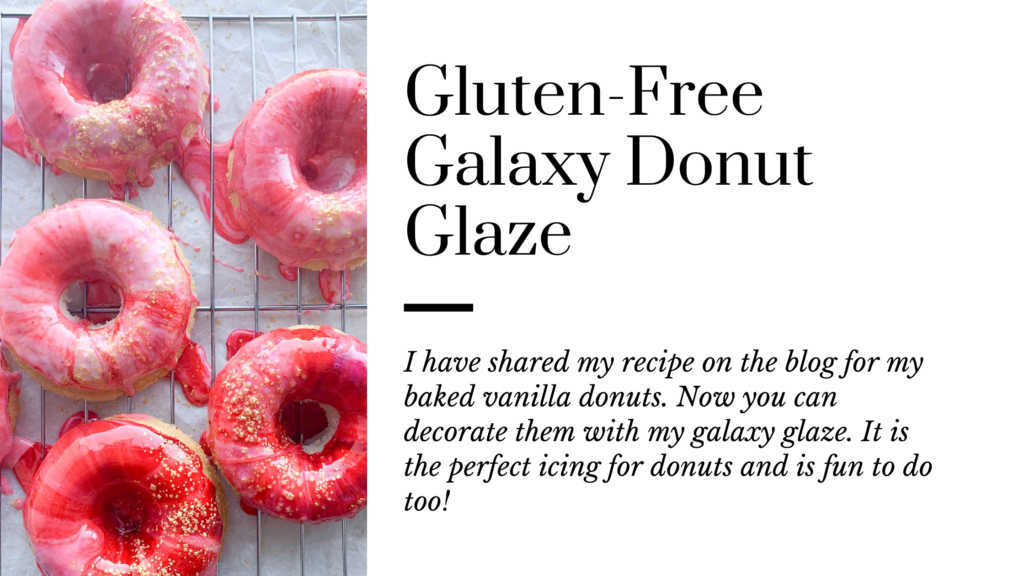 The perfect donut glaze recipe is essential to any home baker. With just a few simple ingredients, you will be able to glaze your gluten-free baked donuts with a galaxy icing. Looking for more donut recipes? Try my recipes for cinnamon sugar donuts, lemon poppyseed donuts, hummingbird donuts, keto lemon donuts and baked donuts.

There are few things better than a good glazed donut. I have shared my recipe for gluten-free baked donuts here on the blog and now I am sharing my galaxy glaze recipe too. I have been making my galaxy glazed gluten-free donuts for years. Made them for baby shower, bridal shower and a wedding donut wall. Use pink and red food coloring and that combination would be perfect for Valentines Day.
INGREDIENTS NEEDED FOR GLAZE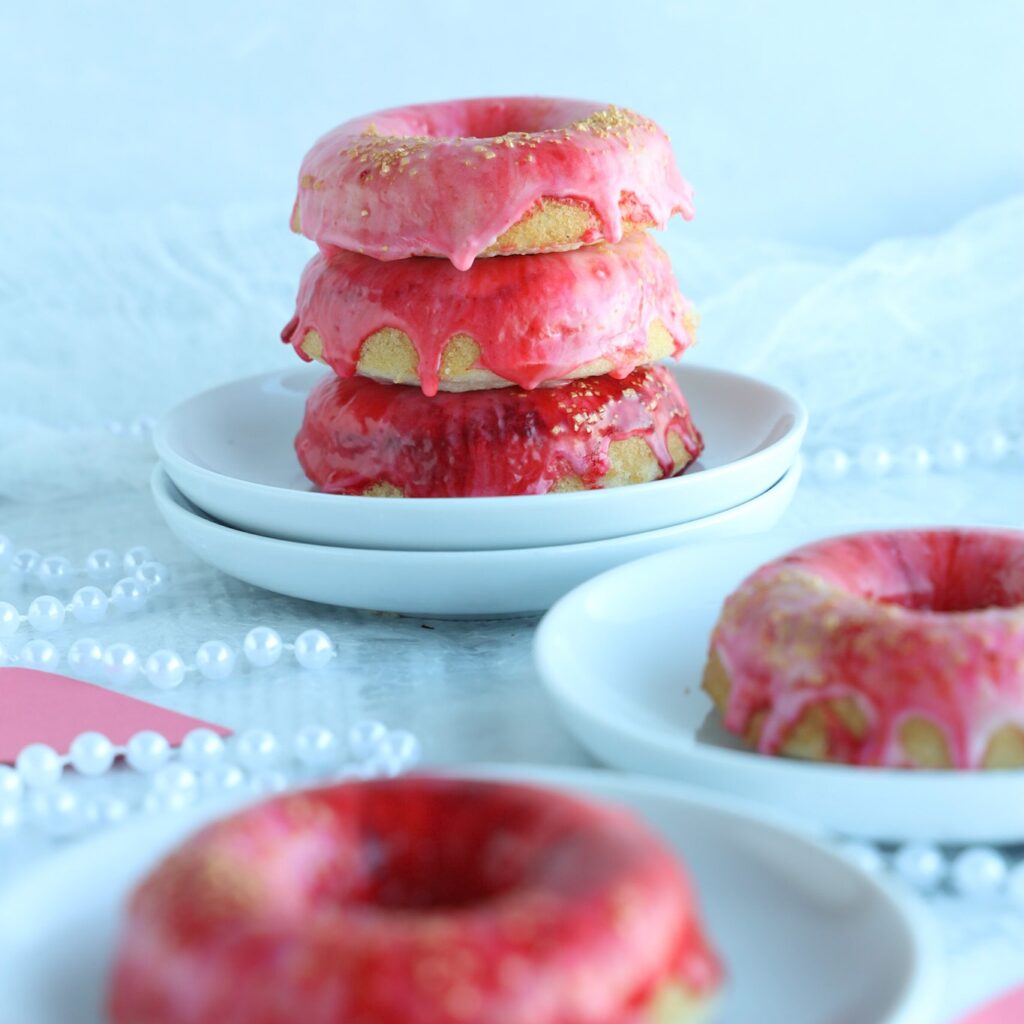 I love to make different coloured glazes for my gluten-free baked donuts. Swirls of blue/green, purple/pink and pink/red are some of my favourites. Everyone will love if you served gluten-free galaxy donuts for dessert or next party gathering. They are just so much fun and taste delicious too!

That sweet layer of sugary icing makes a donut simply irresistible . If that icing looks like my galaxy glaze then that is even better. This gluten-free donut glaze recipe is easy to prepare and is delicious. The best part is you can switch up the colors of the food coloring you use to make a completely different looking donut each time.
HOW TO MAKE THE GLAZE:
In a small bowl add the icing sugar and milk and whisk well until you have a very smooth icing. Depending on humidity in house you may need to add more liquid to thin or more icing sugar to thicken.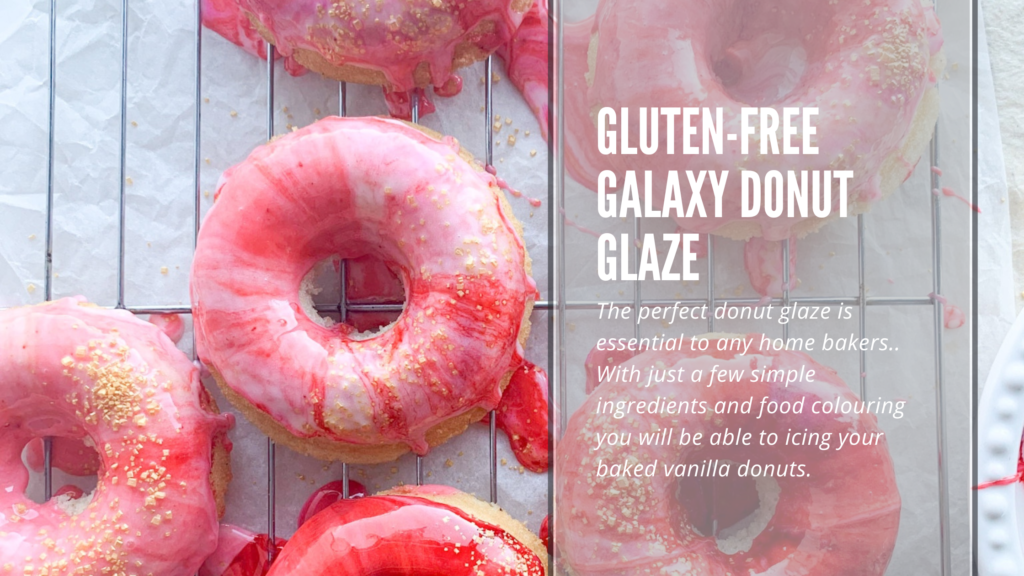 HOW TO ICING THE DONUTS:
Place parchment paper onto counter and place a baking rack over top for donuts to sit once glazed.
Pour glaze into a ceramic mini pie dish.
Lightly squeeze a few drops of food colouring over icing. Do not use more than 2-3 different colors.
Use a toothpick to lightly swirl the colors into icing.
Dip a donut into the glaze and gently give it a swirl.
Remove and place on baking rack.
Repeat with remaining donuts.
Usually after 6-8 donuts I need to make a fresh batch of the icing. The colours get too blended after awhile.
Let donuts sit for about 30 minutes to set.

Sprinkle gold sparkles on the newly glazed donut. The donut will sparkle like the galaxy! I have used this recipe for years and it works each and every time. Depending on humidity in your house you may have to add more liquid or more icing sugar to glaze to thicken or thin.
Get out your food coloring and make this recipe for galaxy glaze and decorate the baked gluten-free donuts you made earlier. A simple powdered sugar glaze is an essential recipe in your baking repertoire. With just 2 ingredients and food colouring, you can elevate playing gluten-fee donuts with a wonderful galaxy glaze.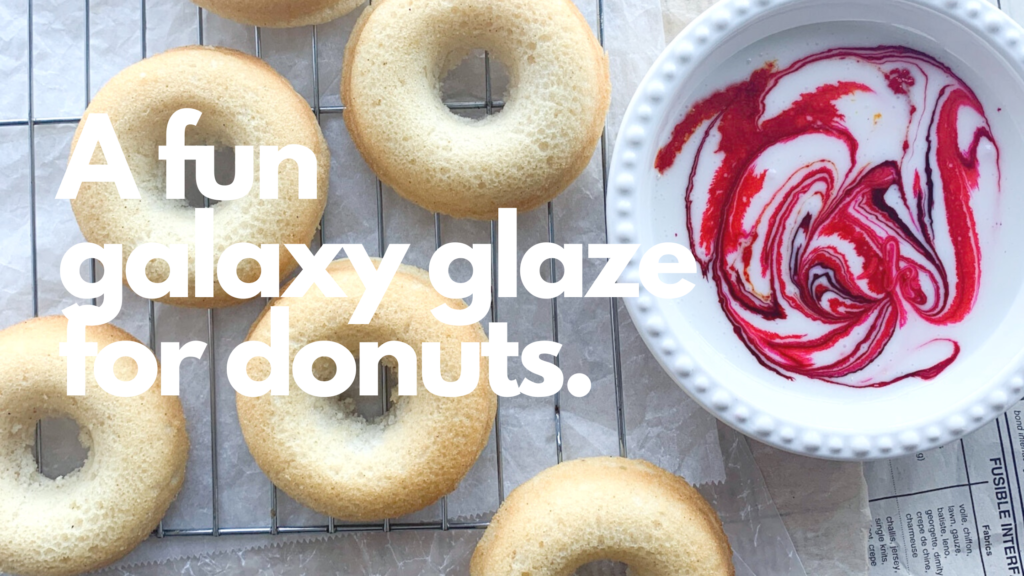 There is nothing like the drizzle on a freshly glazed donut. My galaxy glaze takes it to another level while remaining easy to do. I love that! Gluten-free galaxy donut glaze that is simple to make and perfect for glazing homemade plain donuts.
HERE ARE MORE DONUT RECIPES:
WANT MORE RECIPES? Subscribe to get new recipes delivered straight into your inbox. And be sure to follow me on Instagram, Pinterest, Facebook and Twitter. I really would love to hear from you.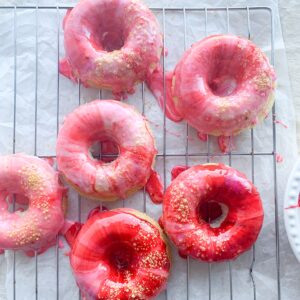 Gluten-Free Galaxy Donut Glaze
The perfect donut glaze recipe is essential to any home bakers. Simple to make the galaxy glaze takes gluten-free donuts to another level.
Ingredients
4

Cups

Icing sugar

4-6

Tbsp

Milk
Instructions
In a small bowl add the icing sugar and milk and whisk well.

Pour glaze into a flat bowl with lip.