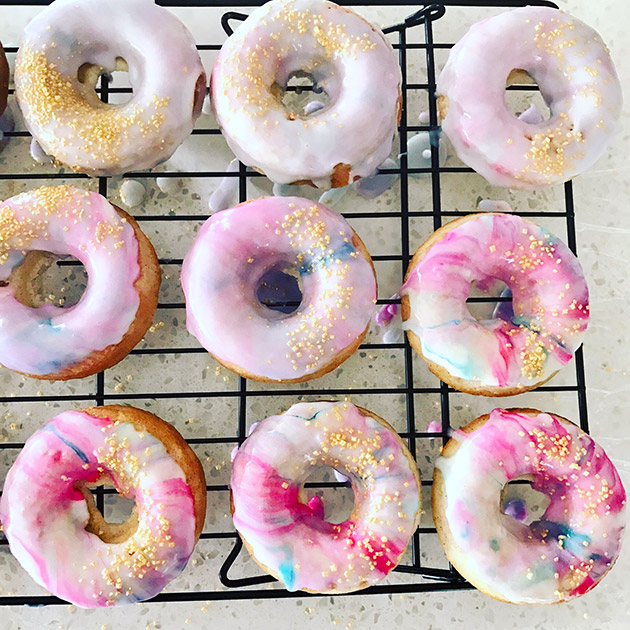 Gluten Free Baked Donuts
Ingredients
1/4

cup

vegan butter, softened

(can use reg butter)

1/5

cup

vegetable oil

3/4

cup

white sugar

2

large eggs

1

tsp

vanilla

1/4

tsp

nutmeg

2

cups

gluten free flour blend

(I like to use Compliments gluten free flour blend that is available at Safeway Canada and Sobeys)

1 1/2

tsp

gluten free baking powder

1/4

tsp

salt

1/4

tsp

baking soda

1

cup

goat milk with 1 Tbsp apple cider vinegar added

(can substitute with regular milk)
Instructions
Preheat oven to 400 degrees.

In a stand mixer add the softened vegan butter with the vegetable oil and beat well. Add the sugar and mix again.

Add the eggs, vanilla, baking powder, salt and baking soda and mix again til smooth.

Add the gluten free flour and the goat milk mixture.

Mix on low and increase speed until medium.

Beat until batter is very smooth.

Spray 2 donut baking pans with cooking spray.

Take a sandwich ziploc bag and fill 3/4 way with the donut batter.

Seal bag and then use a scissor to cut 1/2 inch out of corner.

This is your donut piping bag.

Squeeze batter into the donut pan.

Bake in oven for 11 minutes.

Remove and flip out of baking pan after 2 minutes.

You can glaze the donuts with a chocolate glaze or salted caramel glaze right away.

If you areglazing for galaxy donuts let the donuts cool completely first.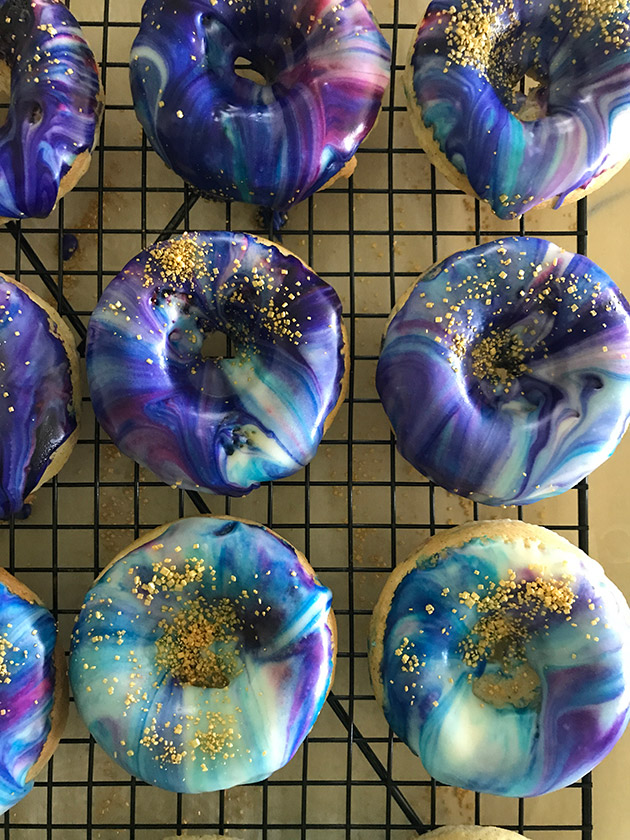 Donuts.
Chocolate glazed, cinnamon sugar, candy sprinkled, galaxy or just plain are some of the varieties of donuts that people like.
It is also something that anyone who is gluten free misses.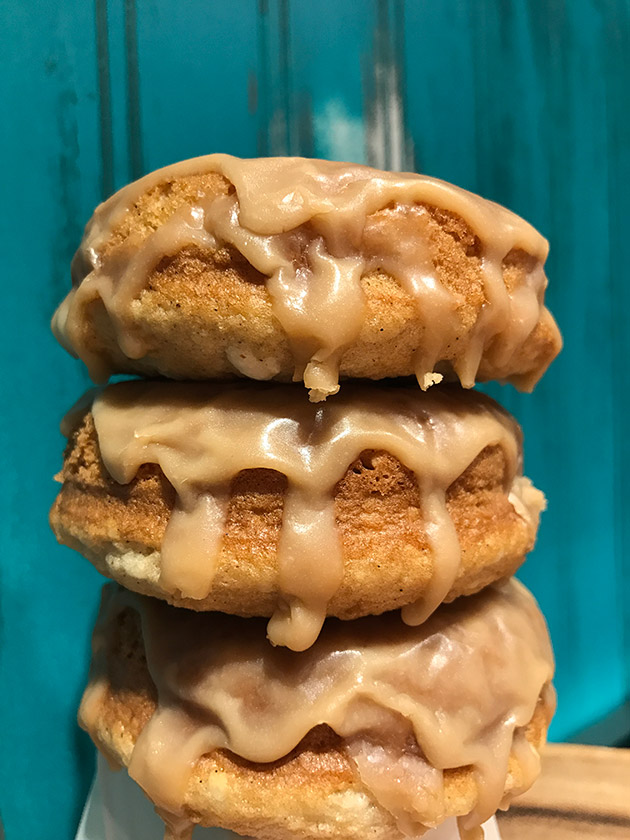 I decided to work on a gluten free donut recipe and I have made the recipe over and over and it has never disappointed me. These donuts are baked and can be ready to eat in 11 minutes. Yes, 11 minutes you can have warm donuts for your family.
All you have to do is wait 5 minutes more if you want to top them with chocolate ganache or cool completely if you want to try galaxy donuts.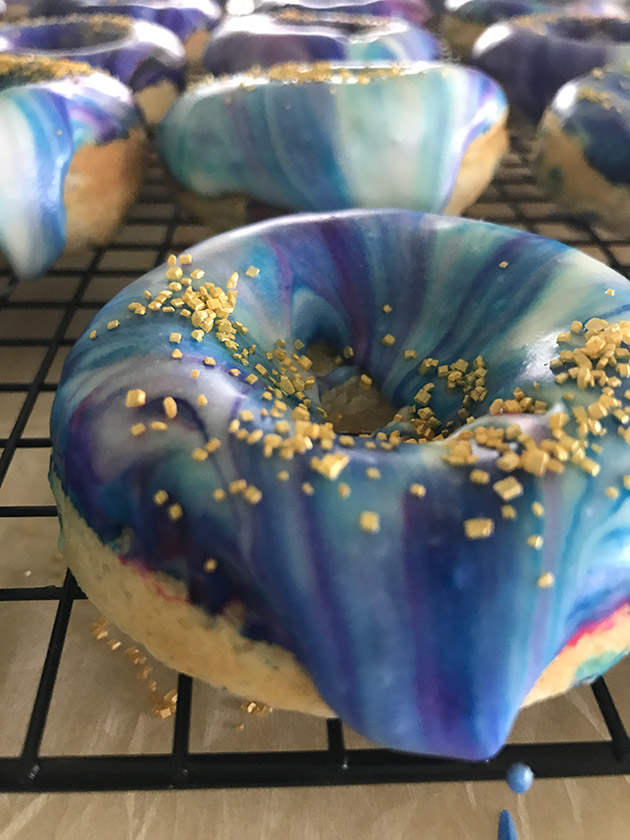 Galaxy donuts are a donut glazed with a marbleized blue-purple icing and gold sprinkles. I made 40 gluten free and dairy free galaxy donuts for an engagement party a few weeks ago and just his past weekend made chocolate glazed donuts to celebrate Canada Day.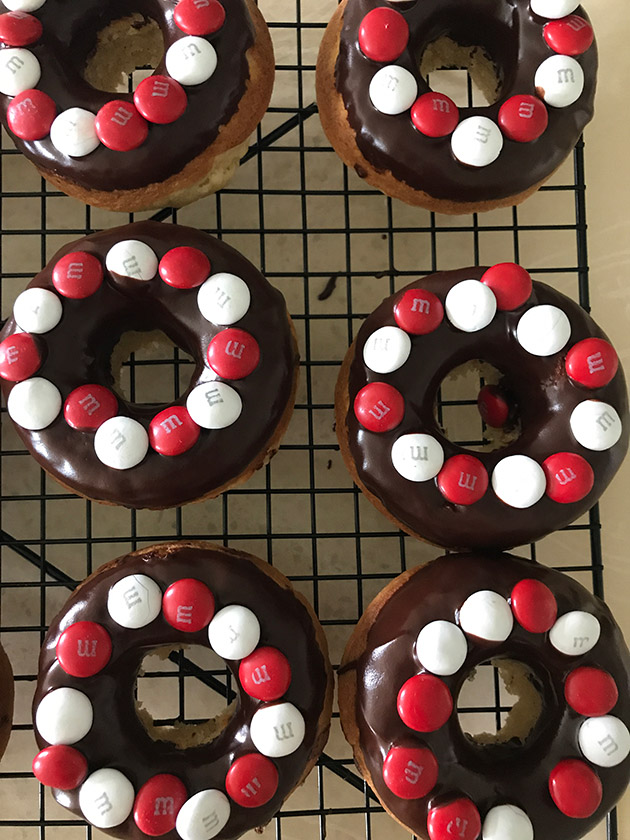 Here this batch of donuts was glazed with a pastel marble icing.