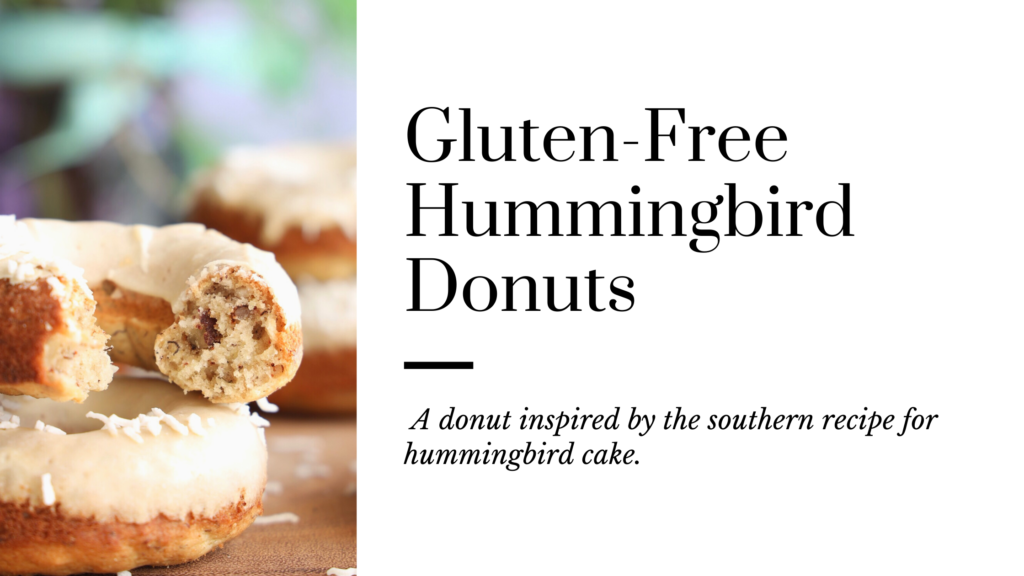 Hummingbird donuts. A donut inspired by the southern recipe called Hummingbird Cake. Inside the cake is ripe bananas, sweet pineapple and chopped pecans and so is this gluten-free donut recipe.
I wanted to share another springtime dessert and these gluten-free hummingbird donuts fit the bill. Filled with fruit, spices and everything nice, they say HELLO SUNSHINE and SPRING! This recipe for hummingbird donuts requires a few extra ingredients but ones you would find in your pantry. The steps to make these donuts is quite simple.
HERE IS WHAT YOU NEED TO MAKE THEM: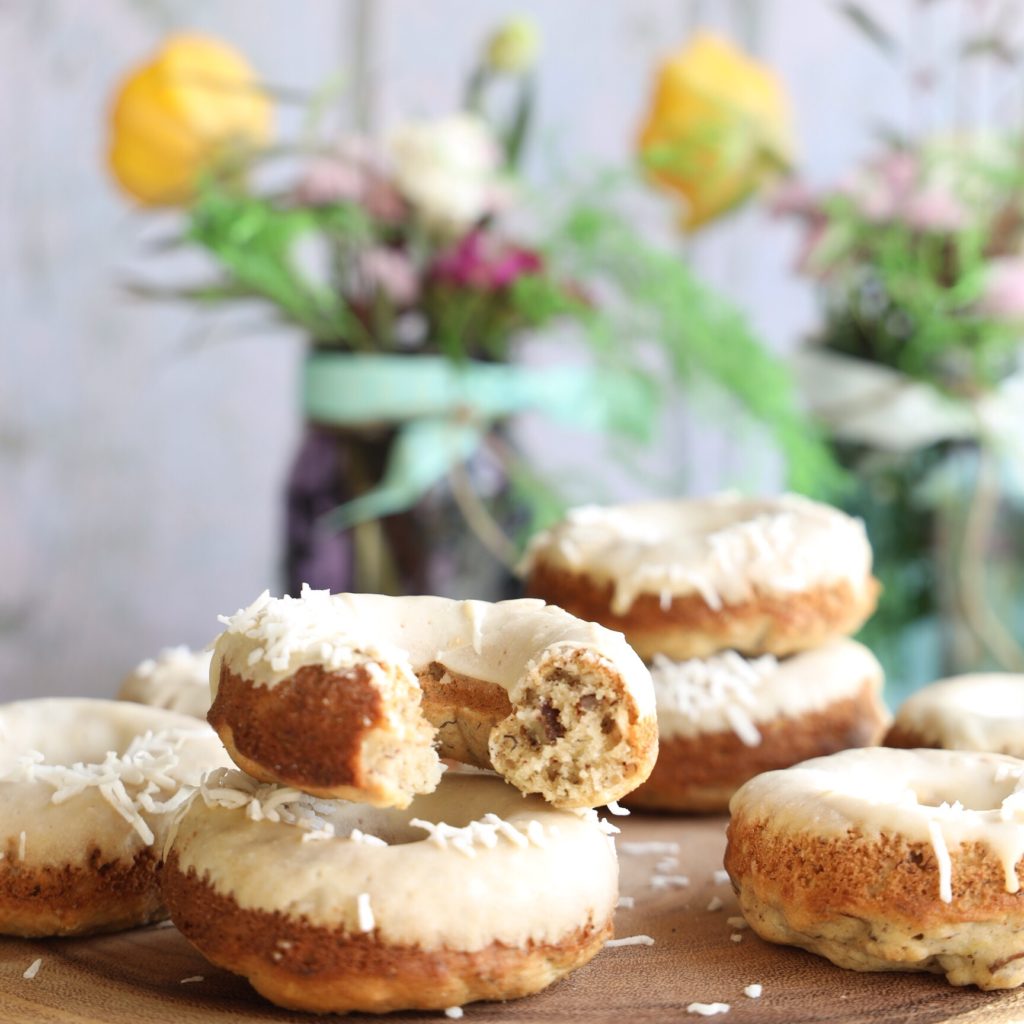 Loaded with banana and pineapple these gluten-free hummingbird donuts are one amazing spring dessert. It is all the deliciousness of the classic hummingbird cake in a round donut form. Hummingbird cake is much like carrot cake, but without the carrots. The donut are moist, lightly sweetened and are incredibly good!
HOW TO MAKE HUMMINGBIRD DONUTS:
Preheat oven to 350 degrees.
Spray 2 donut pans with non-stick spray.
In a stand mixer add the banana and crushed pineapple and mix.
Add the eggs and oil and mix again.
Whisk the dry ingredients together and add them to the wet ingredients.
Beat on medium speed until you have a smooth batter.
Grab a piping bag and fill 3/4 full with batter.
Cut opening in bottom of piping bag about 1/2 inches.
Squeeze batter and fill each donut pan cavity.
Bake in oven for 15-18 minutes.
Remove and cool.
Once cool you can icing with a cream cheese icing or a simple vanilla icing with shredded coconut on top.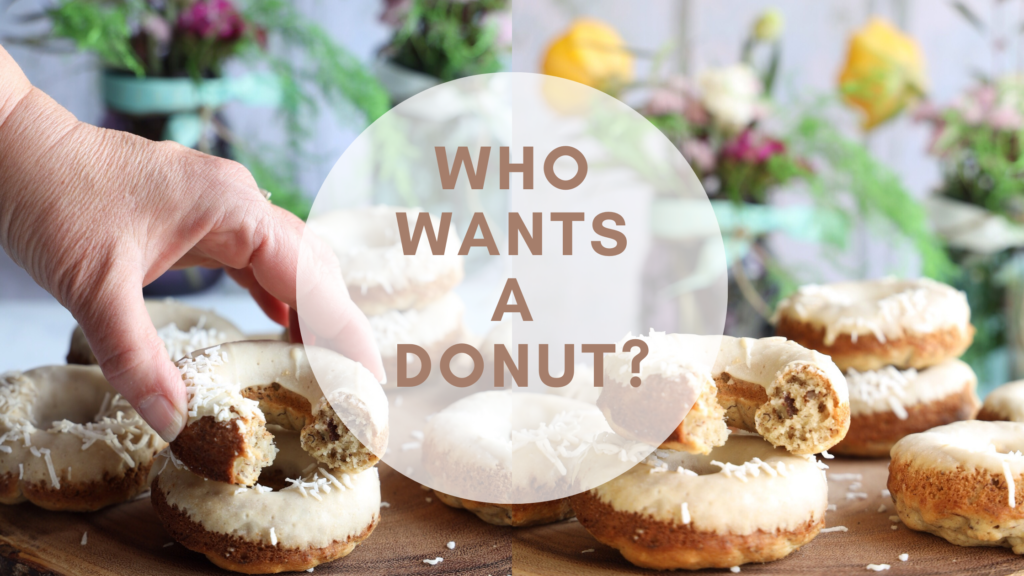 WHAT IS THE HISTORY OF HUMMINGBIRD CAKE?
Hummingbird cake is a southern dessert originating in Jamaica. In the late 70's Jamaica was trying to entice more Americans to visit there by highlighting many of their recipes to try. Hummingbird cake or Doctor Bird Cake was one of those. In 1978 Southern Living Magazine printed the recipe for this cake by L.H. Wiggins and to this day it is still one of the most requested recipes. The cake typically has 2-3 layers with ripe bananas, crushed pineapple, cinnamon, pecans and a cream cheese frosting.
This gluten-free donut recipe is very easy to make and is reminiscent of both banana bread and carrot cake. Again no carrots are in recipe but the telltale flavours of nuts and cinnamon are. The donuts are tender, sweet, nutty and just perfect. I topped my donuts with a simple vanilla icing and shredded coconut but you could top them with a cream cheese frosting also.
These gluten-free hummingbird donuts would be impressive enough for dessert when entertaining, a family gathering or just because you are craving donuts.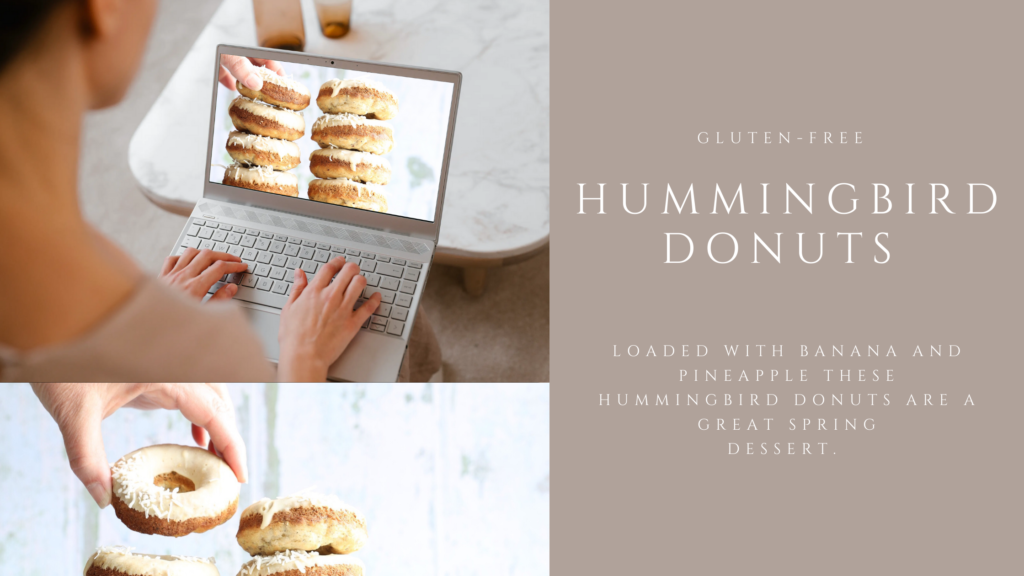 TOOLS YOU WILL NEED TO MAKE THESE DONUTS:
Looking for other gluten-free donut recipes to try? Check out the recipes for baked donuts or keto lemon donuts on the blog.
Want more recipes? Subscribe to get new recipes delivered straight to your inbox. And be sure to stay in touch on Facebook, Instagram, Twitter or Pinterest. I would really love to hear from you!
Gluten-Free Hummingbird Donuts
A gluten-free donut inspired by the southern recipe for Hummingbird Cake.
Instructions
Preheat oven to 350 degrees.

In a stand mixer add the banana and crushed pineapple and mix on medium until smooth.

Add eggs and oil and mix well again.

In a small bowl add the rest of the ingredients and whisk.

Add dry ingredients to wet and beat on low/ medium until batter is smooth.

Grab a piping bag and fill 3/4 full with batter. Cut a 1/2 inch opening in bag.

Squeeze batter and fill each donut cavity.

Place in oven and bake for 11-15 minutes.

Remove from oven and cool for a few minutes before transferring donuts to a cooling rack.

Allow donuts to cool before frosting.

If you have batter left over, wipe out a donut pan. Grease and repeat filling instructions.