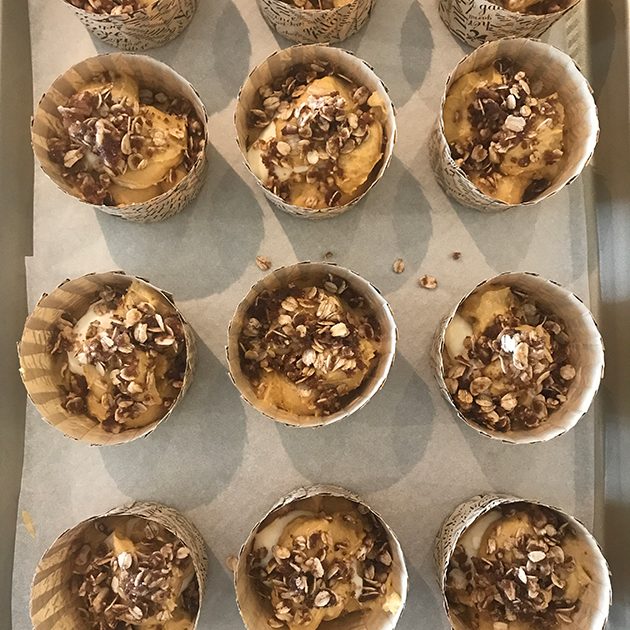 Pumpkin Cream Cheese Muffins
Ingredients
2

cup

gluten free flour blend

(I used Compliments gluten free flour blend available at Sobeys and Safeway but Bobs Red Mills 1 to 1 gluten free blend would work great too)

1/2

cup

brown sugar

1/4

cup

white sugar

2

large eggs

1/2

cup

softened butter

(or use Earth Balance vegan "butter")

1/2

cup

canned pumpkin purée

1

tsp

vanilla

1

cup

buttermilk

(or use 1 cup goat milk with 1 Tbsp apple cider vinegar)

1

tsp

cinnamon

1/2

tsp

pumpkin spice

1 1/2

tsp

baking powder

1/2

tsp

salt

1/2

tsp

baking soda

1/4

cup

rolled oats

(I used Only Oats non-contaminated oats)

1/4

cup

raw pecans or almonds, chopped

1

pkg

(8 oz) cream cheese, softened

(or use Daiya dairy free cream cheese)

1/2

cup

white sugar

1

large egg

1

tbsp

gluten free flour blend

(I used Compliments gluten free flour blend available atSobeys or Safeway or you can use Bobs Red Mills 1 to 1 gluten free flour blend)

1/4

cup

brown sugar

2

tbsp

rolled oats

(I used Only Oats)

2

tsp

gluten free flour blend

1

tbsp

chopped pecans

1

tbsp

chopped walnuts

1/2

tsp

cinnamon

2-3

tbsp

melted butter

(or use Earth Balance vegan "butter")
Instructions
Preheat oven to 350 degrees.
For the cream cheese filling:
In a medium bowl add cream cheese, white sugar and egg and with a hand mixer beat until smooth. Add the gluten free flour and beat again.
For the streusel topping:
In a small bowl add all the ingredients and mix well with a spoon.
For the muffin batter:
In a stand mixer add the softened butter and the sugars and mix well.

Add the pumpkin puree, vanilla and eggs and beat until smooth.

Scraping sides of bowl to incorporate all.

In a small bowl whisk the gluten free flour, spices, baking soda, baking powder, salt, oats and nuts.

Alternately add the dry ingredients with the buttermilk and mix on medium speed until well blended.

Fill lined muffin cups 1/3 full with the muffin batter.

Drop 2 Tbsp of cream cheese filing into centre of batter.

Top with remaining batter. (I like to fill the muffins 3/4 full)Top each muffin with a streusel topping (about 2 Tbsp each).Bake in oven for 20-25 minutes until toothpick inserted into muffin comes out clean.

Remove from oven and cool.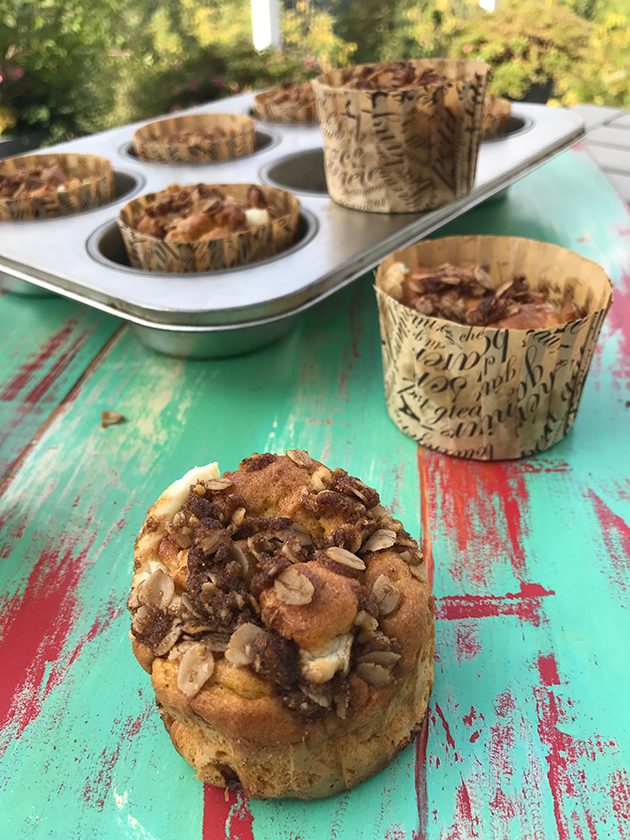 It's October and pumpkin season is here in full force. For us Canadians it is the time for thanksgiving and this year it is the first weekend in October.
I am hosting this year and I have to admit it I am very excited to host. Not so thrilled about the major house cleaning and the inevitable hours of dishwashing after everyone leaves, but the cooking and baking? Totally excited!
I think thanksgiving is my most favourite of holidays. It is the abundance of produce available at the markets, the cool weather, the changing of colours and the smell of spices and pumpkin that fill my house this time of year.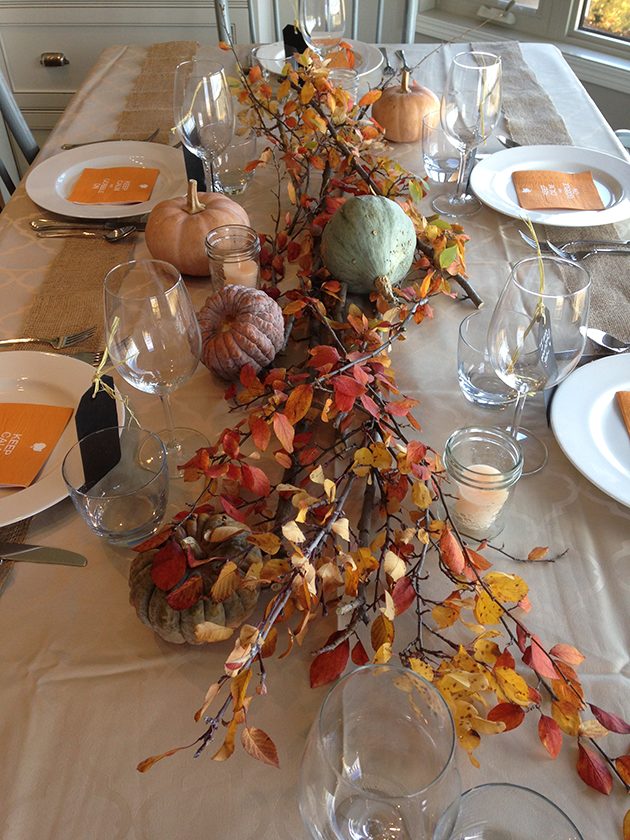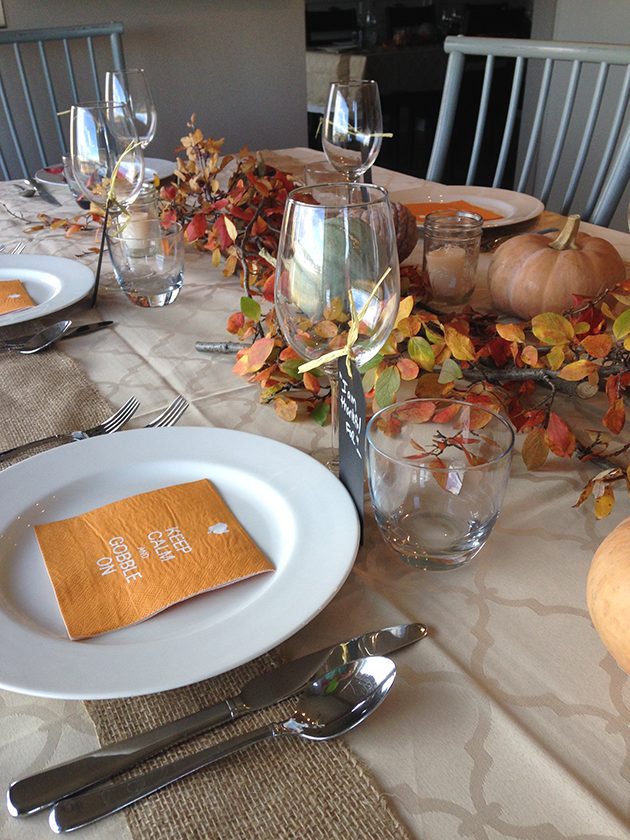 I will be making thanksgiving supper for the gang this year but I wanted to share a great pumpkin muffin recipe for those of you who will be hosting overnight guests.
This pumpkin muffin features a cream cheese filling and a streusel topping and I know it will become a family favourite.