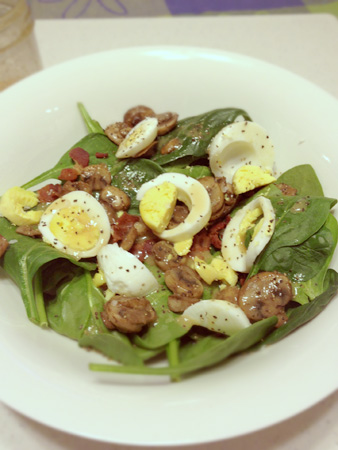 As hard as it is for me NOT to only put gluten free baking recipes on this blog. I do realize I need to put other food options. Do I eat baking all the time? Of course not. I just really love to bake! I have really enjoyed the process of making great gluten free baked goods.
I eat a lot of salad. I have NO bottled salad dressings in my refrigerator. Once you start making your own salad dressings, you will never go back. Yes, it's easier to open a pre made bottled dressing, but just because it's easier doesn't mean you should.
This red wine dressing took 1 minute to make, really. The 1 minute is more in the gathering and measuring of the 5 ingredients. Yes, only 5 ingredients! Have you looked at bottled salad dressing ingredients lately? Scary.
This is a classic spinach salad recipe. I'm sure most of you have had this salad in restaurants, or you did before you became gluten free. I've found a lot of the chain restaurants don't have a safe gluten free salad on their menus.
Again, scary.
This salad is delicious! And super good for you!Spinach ( super food, Vitamin C, fibre, lutein, and nutrition powerhouse)Eggs (protein, choline (brain development and function) and lutein)Bacon (protein, and just plain delicious!)Mushrooms ( brain health, Vitamin B, folate (blood cells) and fibre)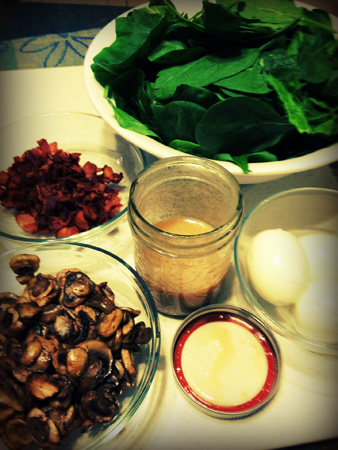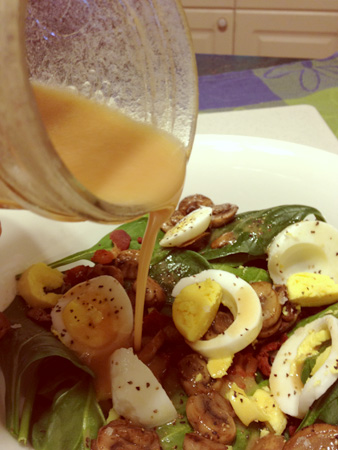 Enjoy! ????
Spinach Salad
Ingredients
3-4

hard boiled eggs

1

bag

organic baby spinach

8

slices of bacon, chopped and fried

2

cup

mushrooms, sliced and sauteed in olive oil

Maldon Sea Salt

Dressing

3

tbsp

red wine vinegar

3

tbsp

olive oil

2

tsp

sugar

1/2

tsp

dijon mustard

pinch of salt
Instructions
In a small canning jar add red wine vinegar, olive oil, sugar, dijon mustard and a pinch of salt.

Cover with lid and shake well.

Dressing can be made ahead and stored in refrigerator for a couple of days.

In a large salad bowl add spinach.

Then add fried bacon, sauteed mushrooms, cut-up hard boiled eggs and a sprinkle of Maldon sea salt.

Pour dressing over salad and toss well.
*This recipe made enough salad for 4 people*