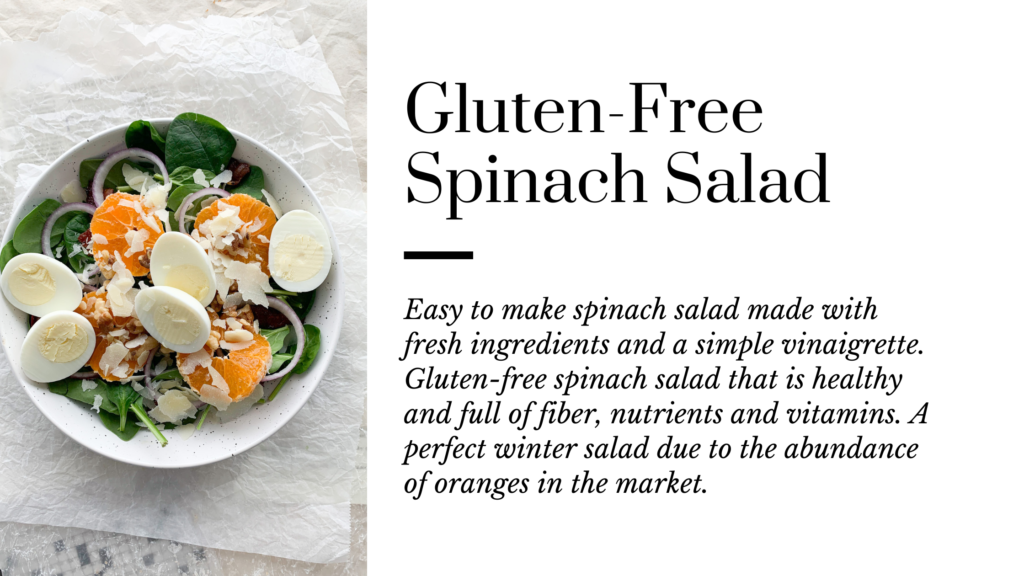 Easy gluten-free spinach salad with walnuts, parmesan cheese, orange slices, red onion, bacon, hard boiled eggs and a delicious dressing. A healthy side salad or full meal salad for dinner. You will definitely be making this gluten-free spinach salad on a regular basis.

This is the kind of salad that is super easy to make with ingredients you have on hand. Simple tossing orange slices, walnuts, parmesan and cooked bacon to the spinach makes this more than a boring salad. Looking for more salad recipes then try recipes like simple caprese salad, balsamic herb dressing, sweet and spicy pork noodle salad, kale fall salad and creamy potato salad.
INGREDIENTS FOR SALAD:
Baby Spinach
Raw Walnuts
Hard Boiled Eggs
Parmesan Cheese
Orange Slices
Red Onion
Cooked Bacon
Dressing ( red wine vinegar, olive oil, sugar, dijon mustard)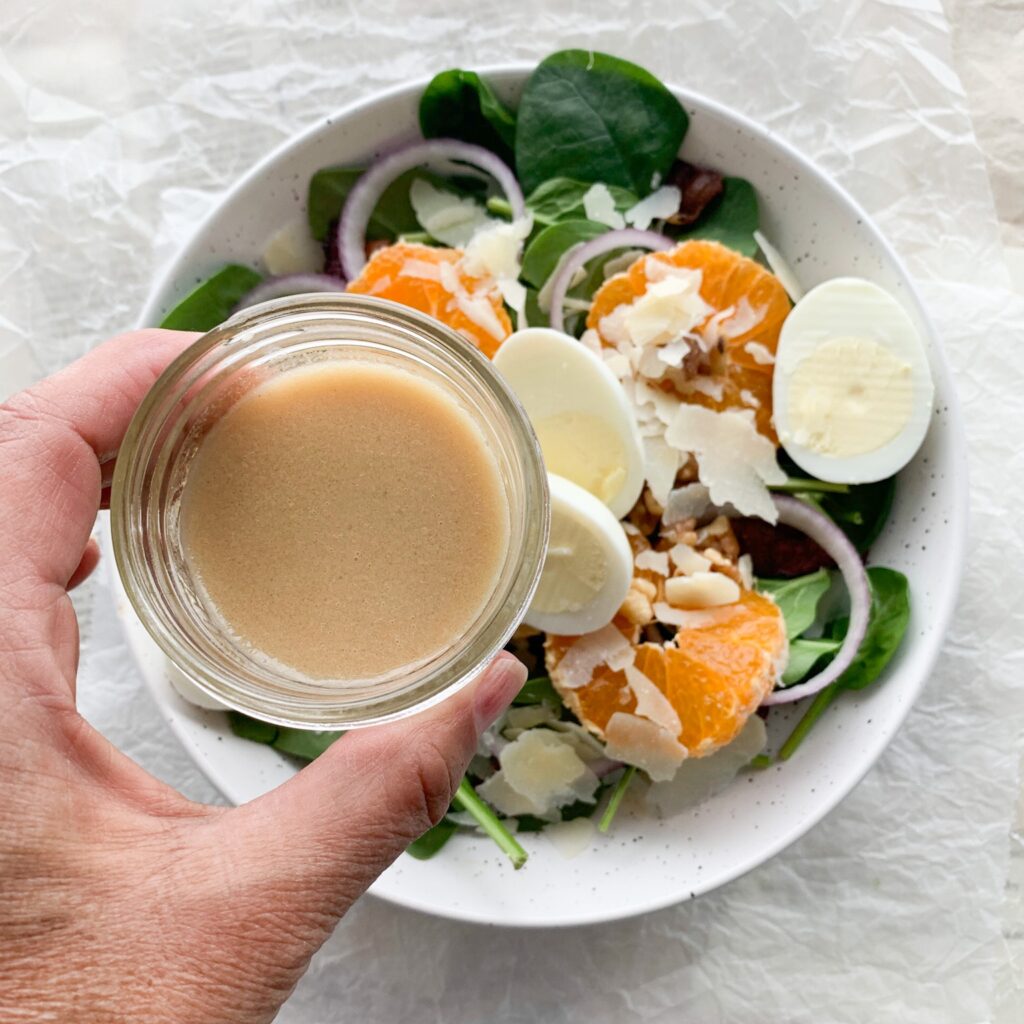 A sweet delicious vinaigrette coats the spinach and ingredients. The vinaigrette is so easy to make and tastes clean and tangy. Red wine vinegar, olive oil, sugar and dijon mustard are the ingredients used in the dressing.

This is one of my favorite winter salad recipes. I love using seasonal ingredients and oranges for us are definitely best winter produce here. You can easily find the other salad ingredients in your local grocery store.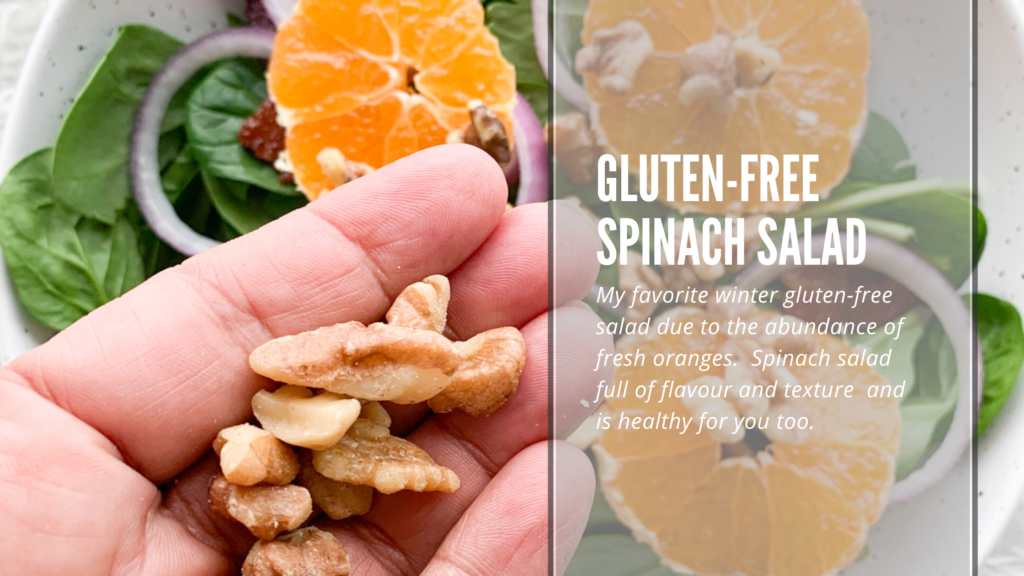 The secret to a great gluten-free salad is to use the freshest of ingredients with lots of different textures, flavours and a simple vinaigrette. Fast, simple and easy to prepare it is a wonderful salad anytime of the year. Perfect for your family for dinner or when entertaining.
Top baby spinach with walnuts, parmesan cheese chunks, orange slices, slices of red onion, crumbled bacon, hard boiled eggs cut in half and my simple vinaigrette. The gluten-free spinach salad is perfect as a side dish or top with grilled chicken or fish for a full meal.
HOW TO MAKE THE SALAD:
In a small canning jar add the red wine vinegar, olive oil, sugar and dijon mustard. Cover with a lid and shake well.
In a large bowl add the baby spinach.
Top with remaining ingredients like orange slices, onion slices, parmesan cheese, walnuts and crumbled bacon.
Hard boiled eggs can be sliced and added to whole salad or added to individual salad plates.
Pour dressing over and lightly toss.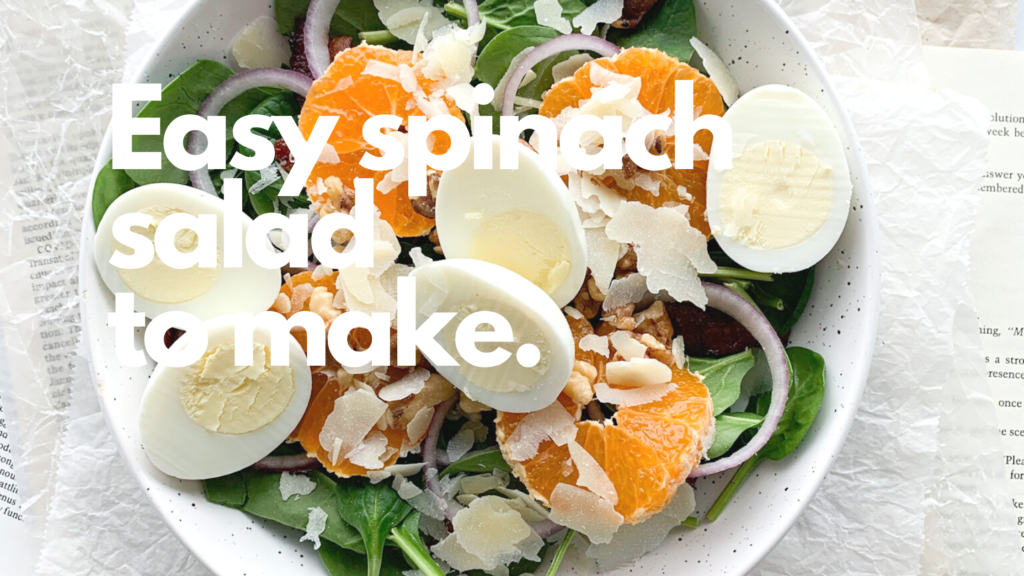 A simple spinach salad that is delicious and easy to make. A wonderful spinach salad recipe to have in your back pocket. It is perfect for lunch, dinner, gatherings and pairs great with any grilled meat or fish.
If you are new to using spinach in your salads now is the time to start. Spinach is rich in nutrients including Vitamin C,A,K and folate, iron and potassium. It is also full of fiber and we all know more fiber in our diets is good for our overall health. Spinach is a dark leafy vegetable and can be found all year long now in grocery stores.

Use prewashed baby spinach for faster prep time. I actually prefer baby spinach over full leaf spinach for I find it has a lighter flavour profile. This gluten-free spinach salad is one of my favourite winter weekday meals. It is easy and fast and made with easy to find ingredients.
HERE ARE MORE SALAD RECIPES:
WANT MORE RECIPES? Subscribe to get new recipes delivered straight into your inbox. And be sure to follow me on Instagram, Facebook, Pinterest and Twitter. I really would love to hear from you.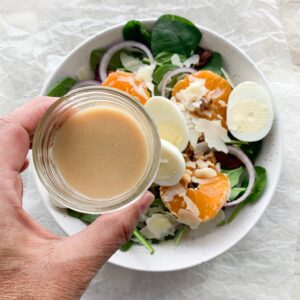 Spinach Salad
Easy to make gluten-free spinach salad using fresh ingredients. A great side salad or main meal by adding grilled fish or chicken. A healthy spinach salad that your family will love.
Ingredients
3-4

hard boiled eggs

1

bag

organic baby spinach

4

slices of bacon, chopped and fried

1/4

Cup

walnuts

2

oranges, sliced

1/2

red onion, sliced

1/3

Cup

parmesan slices
Vinaigrette
3

Tbsp

red wine vinegar

3

Tbsp

Olive oil

2

Tsp

White sugar or honey

1

Tsp

Dijon mustard
Instructions
In a small canning jar add red wine vinegar, olive oil, sugar and dijon mustard.

Cover with lid and shake well.

In a large salad bowl add spinach.

Top spinach with remaining ingredients.

Pour dressing over salad and toss well.