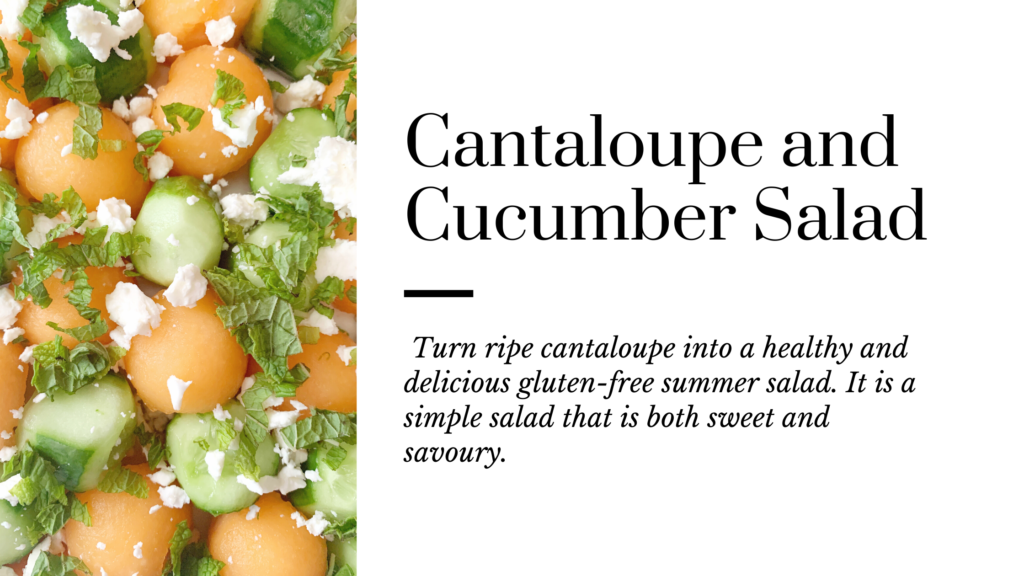 Turn ripe cantaloupe into a healthy and delicious gluten-free summer salad. Cantaloupe balls are plated with cucumber balls, fresh mint, tangy feta cheese and a squeeze of fresh lime.
This salad does not need a dressing-just a drizzle of olive oil with the fresh lime juice is all that is needed. Sometimes, simple is the best!

I originally posted this recipe on the blog on Sept 2016. It was fun to take new photos ad this time I cut the cantaloupe and cucumbers into balls. I then placed it on the plate in a Tetris type style. Plating the cantaloupe and cucumber salad this way definitely gives it a bit of a wow factor, especially when entertaining. But you could easily just toss all the ingredients into bowl and serve it that way.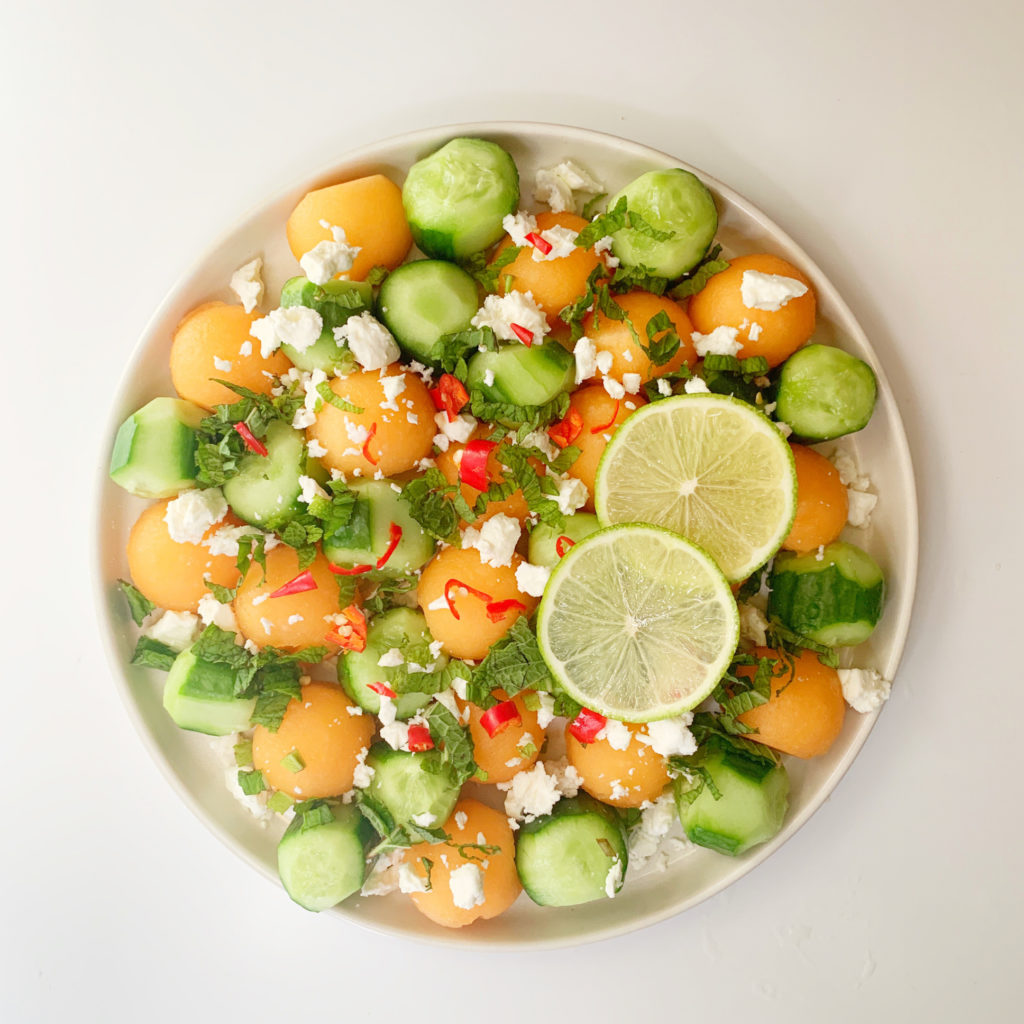 A quick and easy gluten-free salad using fresh ingredients. This cantaloupe and cucumber salad with feta is perfect for summertime eating. A great salad when melons are in season.
INGREDIENTS NEEDED TO MAKE THIS SALAD:
1/2 Cantaloupe
Mini Cucumbers
Lime
Olive Oil
Fresh Mint
Thai Red Chili (optional)

Sweetness from the cantaloupe, crispness from the cucumbers, saltiness from the feta and fresh mint all make this summer salad taste so good. It is a simple gluten-free summer salad that is both sweet and savoury.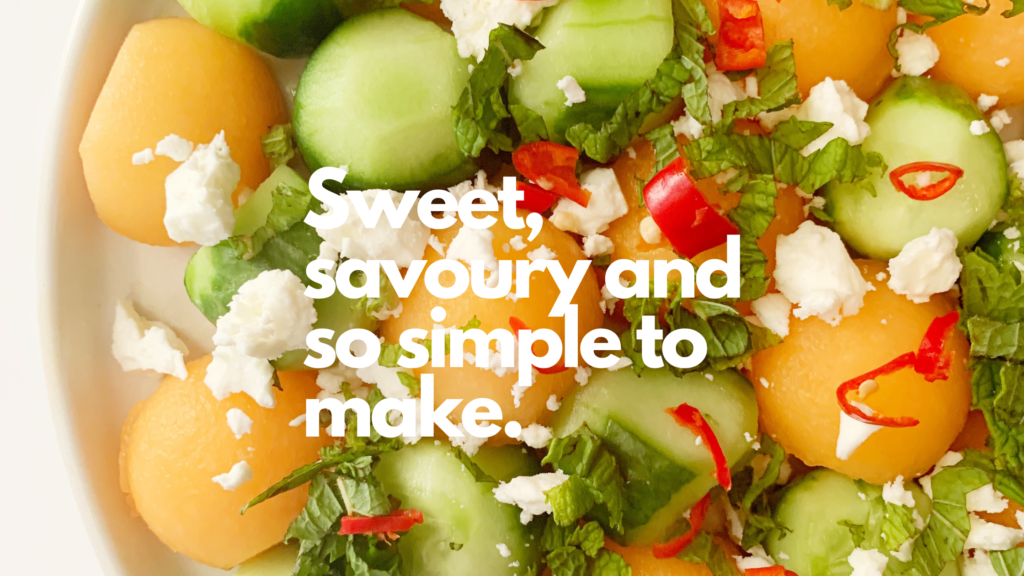 HOW TO MAKE THE SALAD:
Use a melon baller to scoop balls out of the cantaloupe.
Set balls aside.
Lightly peel mini cucumbers.
Cut cucumbers into squares the size of the balls. Trim corners of square cucumbers to resemble a ball shape.
Set cucumbers aside.
In a small bowl whisk the olive oil and lime juice together,
Chop the fresh mint and slice thinly the Thai red chili pepper and set aside.
Chop up 1/2 container of feta into crumbles. Set aside.
To assemble. On a plate alternate the cantaloupe balls with the cucumbers.
Sprinkle fresh mint, feta and chilies on top.
Drizzle lime juice and oil on top.
Sprinkle a bit of salt over all.

Looking for a warm weather, easy to make salad could be any easier. It takes less than 15 minutes to make. This cantaloupe and cucumber salad is healthy and delicious and is a great side dish to bring to your next bbq or picnic. Stay cool and hydrated with this gluten-free salad recipe. Both cantaloupe and cucumber are very high in water content.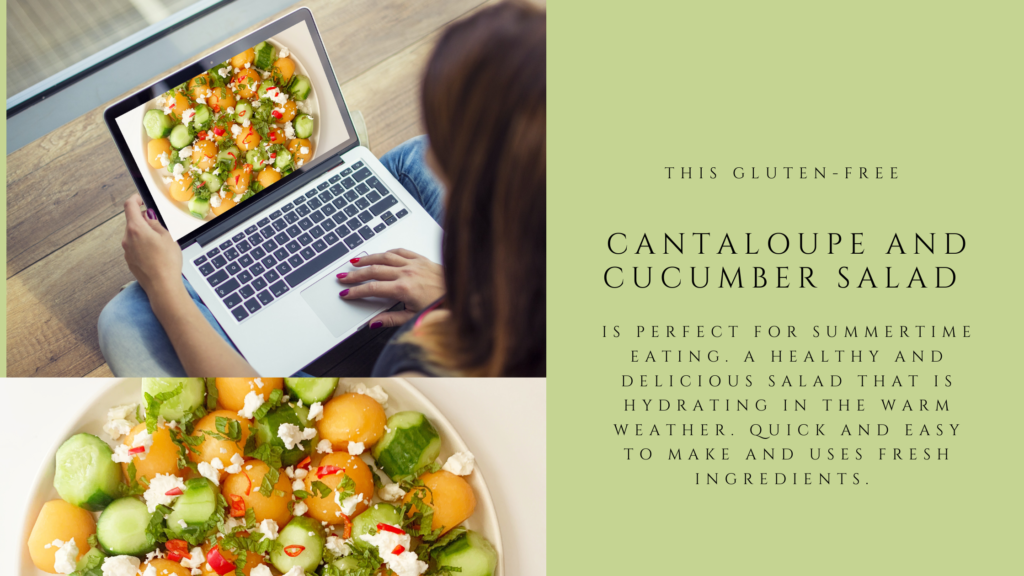 WANT MORE RECIPES? Subscribe to get new recipes delivered straight into your inbox. And be sure to stay in touch on Twitter, Instagram, Facebook and Pinterest. I really would love to hear from you!
HERE ARE MORE SUMMER RECIPES TO TRY:
HAVE ANY GLUTEN-FREE QUESTIONS? Have any questions about gluten-free baking or cooking? Send me a DM and I would be happy to help you out.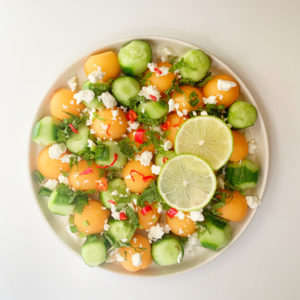 Cantaloupe and Cucumber Salad
Turn ripe cantaloupe into a healthy and delicious gluten-free summer salad.
Ingredients
1/2

Cantaloupe, cored

5-6

mini cucumbers

1/2

cup

crumbled feta cheese, cow, goat or sheep

1

lime, juice

1/2

Tbsp

olive oil

1/4- 1/3

cup

finely chopped fresh mint

Maldon sea salt

1

tsp

finely chopped red chile pepper

Optional
Instructions
Use a melon baller to scoop balls out of cantaloupe. Set aside balls.

Lightly peel the cucumbers.

Cut cucumbers into square shapes the size of the melon balls.

Trim the corners of the cucumber squares to make them more ball shape. Set aside.

Slice the chili pepper into very thin slices.

Alternate melon balls and cucumber on a plate.

Whisk the lime juice and olive oil together.

Sprinkle the fresh mint, feta and chili slices over the melons and cucumbers.

Drizzle the lime juice/oil over the mixture.

Serve right away or chill in refrigerator for an hour.