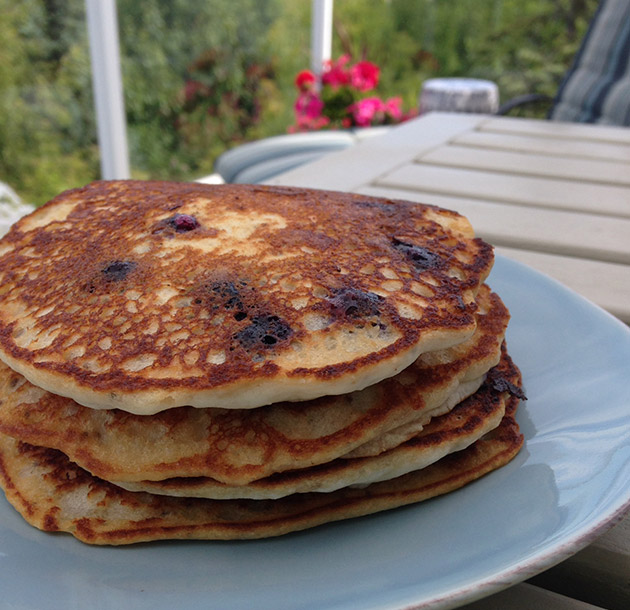 Are you a pancake person?
It seems to me you are either a pancake person or you are not. To me, pancakes are a must have either Saturday or Sunday morning.
What about you?
When my kids were younger and we were so busy with a variety of sports after school, we would regularly have breakfast for supper. Pancakes with a fried egg, or sometimes even bacon with them. It was an easy meal to make for my busy family and it was something we all enjoyed.
I still love pancakes and even though I do not make them as often as I used to with the kids all grown and not living at home, I occasionally will whip up a small batch for hubby and I to enjoy.
This recipe is gluten free and dairy free. You can easily substitute the goat milk and apple cider vinegar with buttermilk if you do not have any issues with dairy.
I like to add fresh blueberries to my pancake batter but they are just as good plain.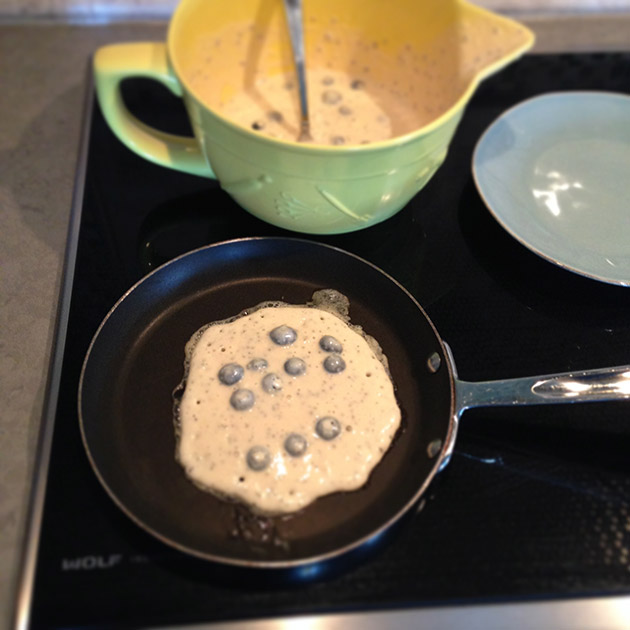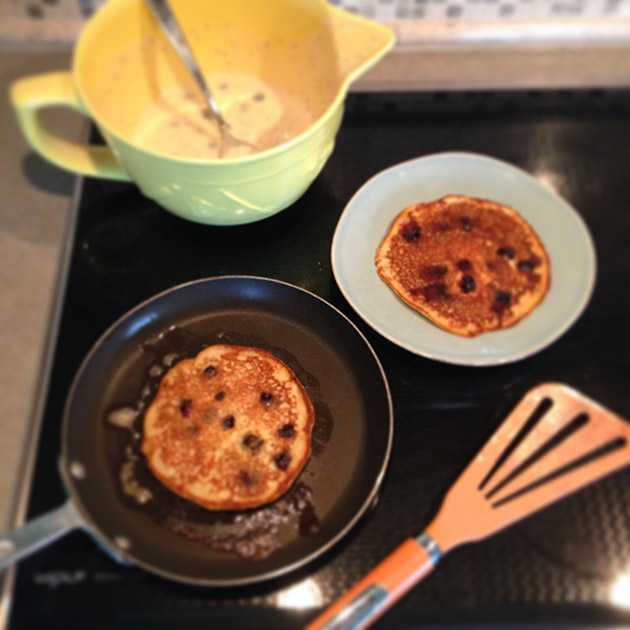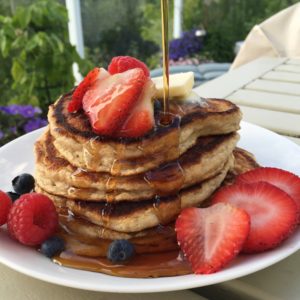 Gluten Free Dairy Free Chia Pancakes
Ingredients
1 1/4

cup

Cuisine Soleil gluten free flour blend

1

tbsp

ground chia seeds

1/2

tsp

ground cinnamon

1/4

tsp

nutmeg

Pinch of salt

2

tbsp

agave syrup

1

cup

goat milk

1/2

tbsp

apple cider vinegar

1

cup

fresh blueberries
Instructions
In a small bowl whisk the gluten free flour, salt, chia seeds, baking powder and spices.

In a medium bowl mix the goat milk, apple cider vinegar and agave syrup with a hand mixer.

Slowly add the dry ingredients and beat until well blended.

Let rest for 10-15 minutes.

Heat a greased frying pan on medium heat and drop about 1/4 cup of batter onto pan.

Drop blueberries on top of batter.

Cook a couple of minutes until batter bubbles around the edges.

Flip and continue cooking for a few minutes.

Repeat until all batter is used up.

This recipe makes 4-6 pancakes depending on size.

I left batter sit in my fridge for a few days and it still worked perfectly.

The chia seeds help puff up the pancake making it fluffy and airy.