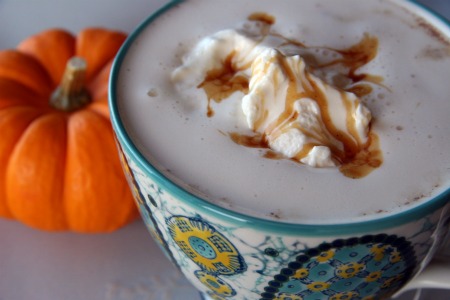 Pumpkin. Pumpkin. Pumpkin.
It is that time of year again. The time of year of leaves falling, kids back to school, sweaters in all the stores, and pumpkin lattes at Starbucks.
I was in quite the pumpkin spirit this week so not only are you getting a recipe for pumpkin spice syrup , I made pumpkin butter and crustless gluten free pumpkin pies. Did you know you can bake individual pumpkin pies in glass canning jars?
I am not a coffee drinker but I am an avid tea drinker who loves pumpkin. I used to drink a lot of unsweetened earl grey tea lattes, however in recent years the price of a tea latte has doubled and that I have a real hard time with.
So what to do?
Spend $5.00 on a tea with milk? Spend $5.25 on a pumpkin spice steamed milk?
Today my answer is no!
I was surprised to see a lot of recipes online for pumpkin spice syrup and thought, of course, I should just make my own. I have a Breville Milk Frother that I adore. It heats up and froths milk for me – thus allowing me to make my own lattes at home and now I can make Chai tea lattes with pumpkin spice syrup.
Yum!
This was my first go around and I will work on cutting back on the sugar. However, this did make a full 500 ml jar of syrup which for me, makes a lot of lattes.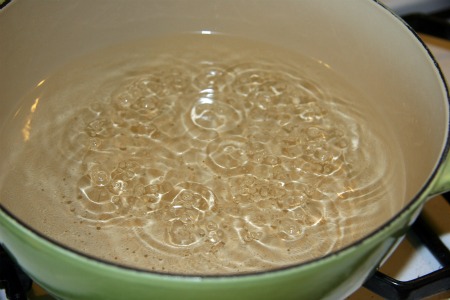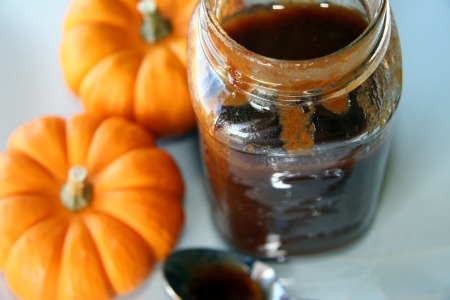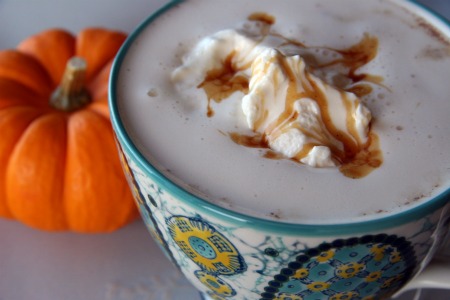 The 2nd pumpkin recipe I made was a pumpkin butter. The uses for this butter is endless. How about as a spread on toast? A topping for a warm oatmeal muffin?
Gooey goodness on pumpkin pancakes? On a scone?
This recipe is also really easy, so why not make it also while you have a can of pumpkin open?
Gluten Free Pumpkin Spice Syrup
Ingredients
1 1/2

cups

water

1 1/2

cups

cane sugar

1

tbsp

Saigon cinnamon (use a good quality cinnamon)

1/2

tsp

cloves

1

tsp

nutmeg (freshly ground is even better)

1/2

tsp

ginger

1/2

tsp

cardamom

3

tbsp

canned pumpkin (not pumpkin filling but plain canned pumpkin)
Instructions
Cook sugar and water in a small pot at medium heat, stirring until mixture is clear.

Whisk in remaining ingredients and cook, stirring for 5 minutes.

Do not allow mixture to boil.

Let syrup cool for 10 minutes and then transfer it to a jar.

Keep syrup in refrigerator.

Here is the ultimate indulgence in tea.

Fill ½ your mug with boiling water and a chai tea bag.

Heat up milk with 1 Tbsp of pumpkin spice syrup.

Top tea with whipping cream and then top whipping cream with salted caramel sauce.

Wow, this was good but basically dessert in a cup.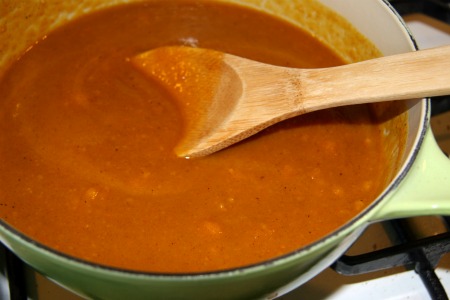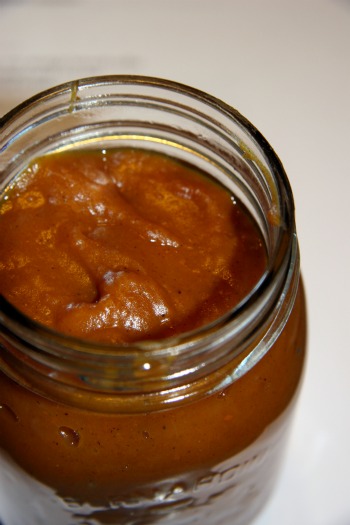 I am a fan of canning jars for they come with lids and offer a variety of shapes and sizes. Plus you are using less plastic in your home.
This morning I made pumpkin pancakes and topped the pancakes with pumpkin butter and warm and spicy apples.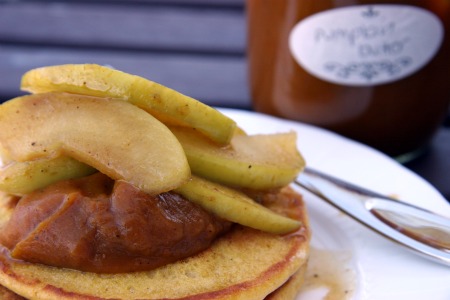 My third recipe today is for Gluten Free Dairy Free Crustless Pumpkin Pie. I actually made individual pies in glass canning jars and am thrilled with the results. It is really nice option to make the pie crustless for there is no stress than, for the perfect pie crust. And really, don't most people just want the pumpkin?
This recipe is also dairy free for a lot of my family cannot handle dairy anymore.
Pumpkin Butter
Ingredients
1

can

of organic pumpkin (14 oz or 397 g)

1/2

cup

apple cider (not apple cider vinegar)

1/4

cup

maple syrup

1/4

cup

brown sugar

1

tsp

Saigon cinnamon

1

tsp

ground ginger

1/4

tsp

nutmeg (freshly ground is better)

1/8

tsp

cloves

1/2

tsp

cardamom
Instructions
Combine all ingredients in a medium pot and over medium heat, bring to a simmer.

Reduce heat to low and simmer, stirring occasionally and cook until pumpkin butter is thick.

This takes 15-20 minutes.

Allow butter to cool and then store in a jar.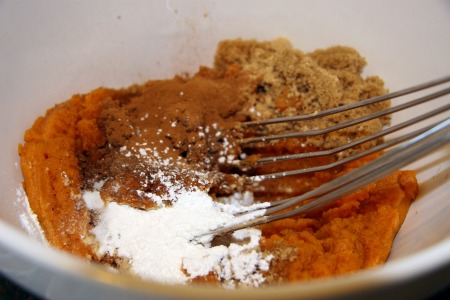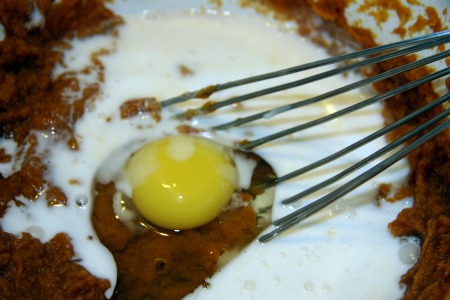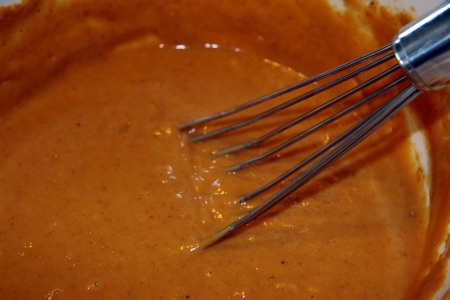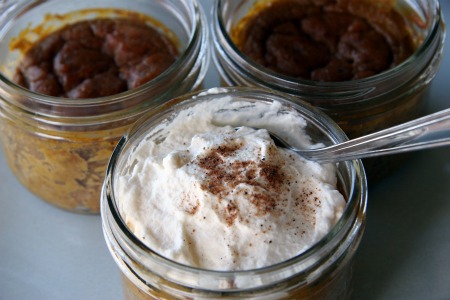 Gluten Free Dairy Free Crustless Pumpkin Pie
Ingredients
1 1/2

cups

organic canned pumpkin

1/2

cup

of brown sugar

1

tsp

vanilla

1

cup

canned coconut milk

3

large eggs, slightly beaten

1

tbsp

cornstarch

1

tsp

salt

1

tsp

Saigon cinnamon

1

tsp

allspice

1/2

tsp

ground ginger

1/2

tsp

freshly ground nutmeg

Pinch of cloves
Instructions
Preheat oven to 350 degrees.

In a large bowl, whisk together the brown sugar, spices, salt and cornstarch.

Once mixed, add in beaten eggs and coconut milk.

Pour mixture into glass canning jars and place jars on cookie sheet.

Bake in oven for 40-50 minutes.

Remove from oven, let cool.

I used organic canned pumpkin for these recipes because it is too early in the season here in Calgary for pumpkins. I know they will be available at the farmers market soon and you can use roasted sugar pie pumpkins for all these recipes.
Welcome fall!