This is day 2 of my #20DaysOfCookies campaign to post a new gluten free dairy free recipe each day. Enjoy recipe #1: Snickerdoodle here.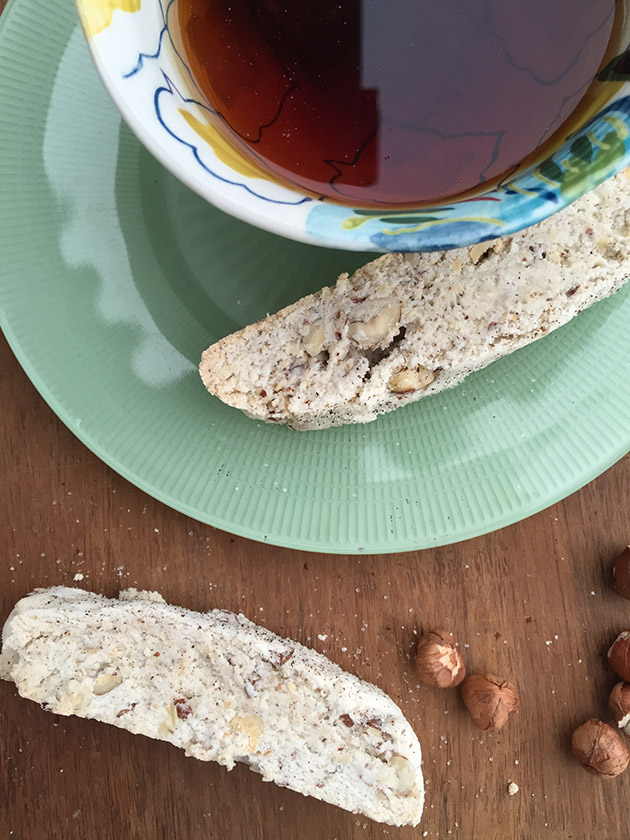 Biscotti: A twice-baked cookie ideally suited for dunking into a hot beverage.
Biscotti is a hard cookie and that is why it is best used for dunking in a cup of tea or hot coffee. (You know I love my tea! Share your favorite tea with my: #TeaWithCarrie)
Today I am sharing a recipe for gluten free and dairy free hazelnut biscotti. This is recipe two for #20DaysofCookies, where I will share 20 new gluten free cookie recipes from Dec 1-20. Make sure you subscribe to receive each one!
Did you try the Gluten Free Snickerdoodle cookie recipe I posted yesterday?
I hope you did. And you will with today's as well:
Gluten Free Hazelnut Biscotti
I used hazelnuts in this recipe but you could use raw almonds if you prefer.
Ingredients
1 1/4

cups

hazelnuts

2 large eggs plus 1 large egg yolk

1

cup

white sugar

1 2/3

cup

gluten free flour blend

(I used Compliments gluten free flour blend)

1/8

tsp

salt

1/2

tsp

gluten free vanilla

1/2

tsp

cloves and cinnamon

zest from 1 orange
Instructions
Preheat oven to 325 degrees.

Spread hazelnuts on the cookie sheet and bake for 7 minutes.

Remove hazelnuts from oven and wrap in a tea towel.

Fold tea towel closed and roll the nuts on counter to remove as much as the skin aspossible.

Discard the skin and coarsely chop the nuts.

Line the cookie sheet with parchment paper.

In a large bowl, beat the eggs plus egg yolk with a hand mixer.

Add the sugar and beat until the mixture is pale and thick.

In a small bowl mix the gluten free flour blend, spices and salt.

Add flour mixture, hazelnuts, vanilla and lemon zest to wet ingredients and beat on low until combined.

Form dough into a long flat log and bake in oven for 25-30 minutes.

Remove from oven and cool for about 15 minutes.

Slice dough into 1 inch slices and lay slices cut-side up on cookie sheet.

Bake for another 10-15 minutes.

Remove from oven and cool.

This recipe made 14 large biscotti cookies.