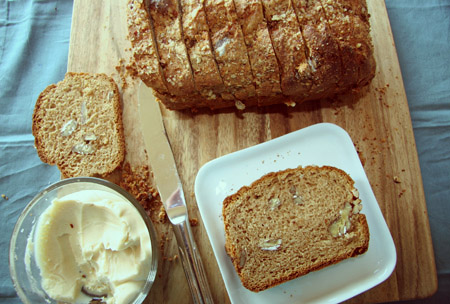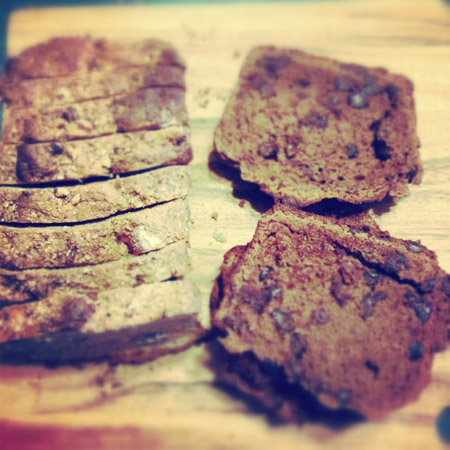 As I mentioned previously, I'm going to be baking with CUP4CUP and Bob Mill's GF Flour for a little while. I want to see how my past recipes work with these different flours. I also want to share some recipes that don't require a lot of gluten free flours.
Yes, I will continue coming up with recipes that use sorghum, quinoa and millet flours but sometimes a person doesn't want to have to weigh a ton of flours, or dig out a lot of measuring cups. I really want to make gluten free baking a little bit easier for the month. Just a bit simpler!


Today I'm sharing a gluten free brown sugar pecan loaf and next will be a gluten free double chocolate chip coffee loaf. I also used CUP4CUP with both of these loaves and I've been overwhelmed with the excellent results!

Gluten Free Brown Sugar Pecan Loaf
Ingredients
2

large eggs

1

cup

dark brown sugar

1/4

cup

softened butter

1/2

cup

pecan halves

1 1/4

cup

CUP4CUP gf flour

1

tsp

vanilla paste

1/2

cup

buttermilk

1/2

tsp

cloves

1/2

tsp

cinnamon

1 1/2

tsp

baking powder

1/4

cup

ground pecans for topping.
Instructions
Preheat oven to 400 degrees.

Line the bottom and sides of a loaf pan with parchment paper.

In stand mixer cream the butter and brown sugar until light and fluffy.

Add eggs, one at a time, beating well after each egg is added.

In a small bowl whisk the CUP4CUP flour, cloves, cinnamon and baking powder.

Add dry ingredients alternating with the milk and vanilla.

Beat for a couple of minutes until mixture is smooth.

Pour the batter into the loaf pan and top with the ground pecans.

Check the loaf with a long toothpick to assure middle of loaf is done.

Let loaf cool in pan before removing.