Last week 4 of us went on a holiday to Vancouver and Seattle. Vancouver to visit a dear friend and then on to Seattle to do some US shopping. As Canadians, we have for the last 5 years headed to the west coast and then down to the US. It is really only a 11 hour drive to the coast and we always have a great time there.
In Vancouver, we always head to the Granville Market to check out fresh produce and many varieties of food and flavors to try. This year was no exception and here are a few photos of the Market.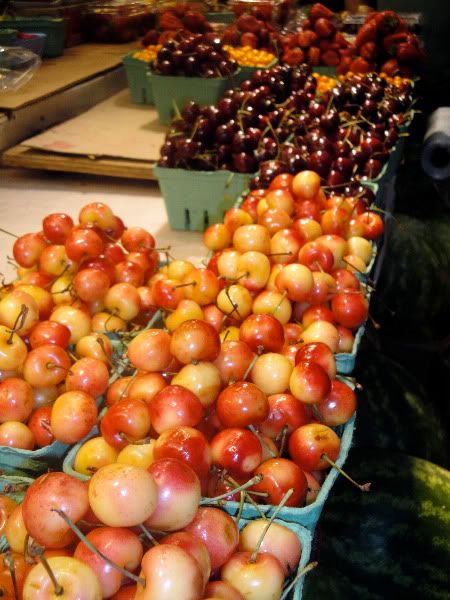 After a great weekend with our friend Gabe, the four of us then drove down to Seattle to do some shopping. One of our favorite things to do in Seattle is spend some time downtown at the Public Market.

If you love fresh produce and local food this is the place to go. Last year when we were there the temperature had risen to 104 degrees-too hot for me! I was glad that this time the temperature was in the mid 90's-still hot, but better than a 100. Of course, one of the first things you need to do is stop at the Starbucks on the street, and grab a cold drink. For your info the birthplace of Starbucks is in Seattle.
Make sure you spend a few minutes watching the fun at Pikes Fish Market. This year, we became part of the antics and had fish thrown over our heads. Plus, you get to sample buttery smoked salmon and fresh crab legs.

Check out the store MarketSpice for jars of spices and my son Davids favorite, a couple boxes of there Earl Grey tea.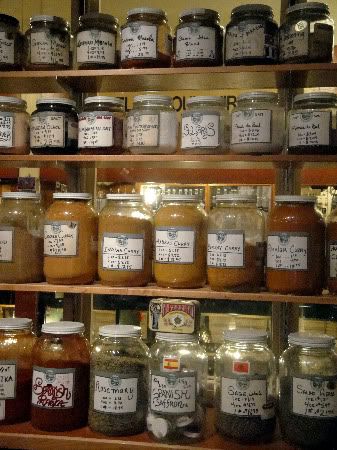 There is a long row of many vendors offering fresh produce.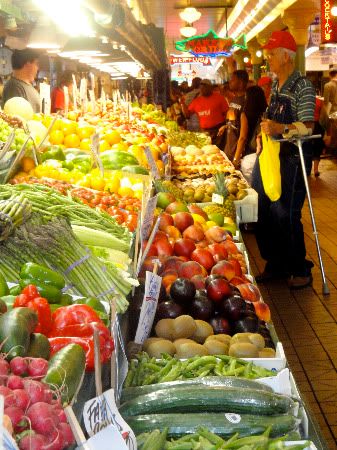 One of my favorites this year were the sweet and crunchy sugar peas-everyday I bought a large bag of peas for $5.

Here is what my son David had for breakfast that day. A giant crab leg.

This year we decided to do a harbour cruise. And it is definitely something that I would highly recommend to do. Especially when the temperature is rising: the breeze off the water is wonderful. We took the 2 ½ hour cruise through Puget Sound, the locks through to Lake Washington. Before going, we popped into the Public Market and took us a picnic along. Delicious on a hot summer day. Here are a few photos of our boat cruise.

Here is the Sleepless in Seattle house. Alyssa and I were so excited to see and take pictures of it.
By the way, the house is for sale for $3 million dollars, if you are looking for a vacation home.
As a gluten free person, I found that there was a lot of very good food for me to eat.
I had gluten free Chinese food at PF Chang's China Bistro in Alderwood Mall in Lynnwood. The manager Kory Mackenzie gave us outstanding service as well as our server Jordan. Check out there gluten free menu online with many options available.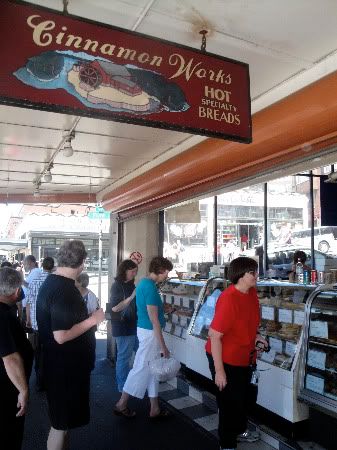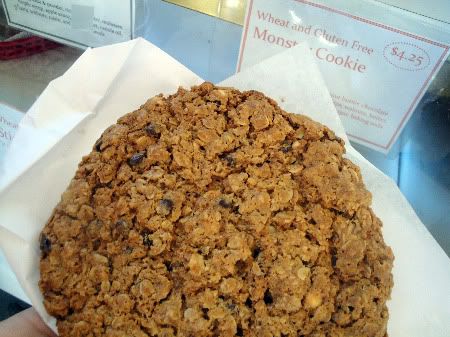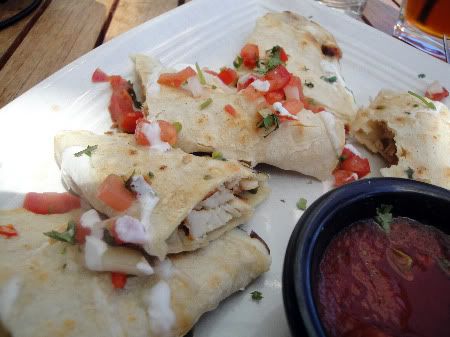 I had my favorite, a gluten free, soft and chewy oatmeal cookie called the Monster Cookie at Cinnamon Works, which is located along the Public Market.

At the University Village shopping district, we had a fabulous lunch at Sonrisa Modern Mex restaurant. Nothing I love better than fresh Mexican food done really well.