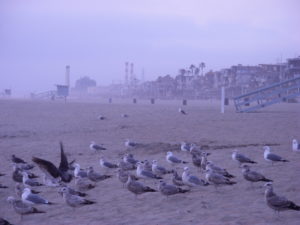 Well Kevin and I are back from our week in LA. We stayed at the lovely Belamar Hotel in Manhattan Beach. The weather was fantastic, and we basically relaxed in the sun and sand for the week.
Eating Gluten-free for the week was no problem. I found that I could eat off most menus and did not get ill. Well, I did one night, but that was my fault. We ate at Café Pierre in Manhattan Beach and the food was incredible. I had ordered the frisee salad with farmstead cheddar, soft poached egg, and pancetta. All seemed fine until the salad arrived. My poached egg was actually breaded. Yes, I should have sent it back. But all of us celiacs do this at times. I did not want to bother anyone. I did not want to seem fussy. But my main course was roasted jidon chicken breast with baby artichokes. I have never, ever, in my life had such good chicken. Crispy on the outside and tender on the inside.
So, yes, the next day I was ill and spent a lot of time in the washroom. But again, it was not the restaurants fault. It was mine. We also ate at Rock'n Fish restaurant in Manhattan Beach. The first time we were there I ordered the super spicy bbq shrimp. Delicious!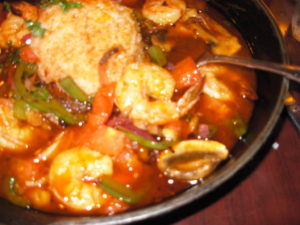 The second time we went, I actually asked if it had any wheat in the sauce-and our waitress, Danielle, informed me that they had a gluten free menu. The manager of the restaurant has celiacs and wanted food that she could eat too. And guess what? My "new awlins hot bbq shrimp" was on the gluten free menu.
I also had for the first time "oak-grilled artichokes with garlic aioli". Hmmmmmm…yummy! My husband wasn't really impressed. Thought they tasted like nothing for the amount of "choke" you get. I was thrilled with my grilled goodness.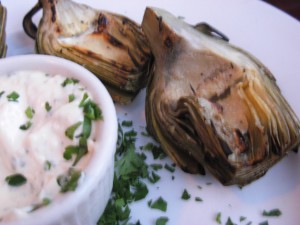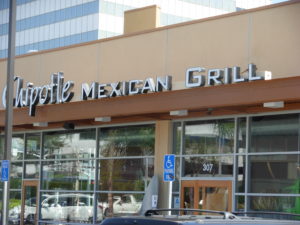 Another place we discovered to have lunch was Chipotle Mexican Grill. This restaurant was recently featured on Oprah. The founder of this chain wanted to open a fast food restaurant that used fresh, non-greasy, local ingredients. I was very impressed. Both times I had the chicken salad. Lettuce, grilled chicken, a choice of salsas, corn,fresh avocado, etc. The salad, which was huge was $5.95! It tasted great and the avocado had a nice bite to it.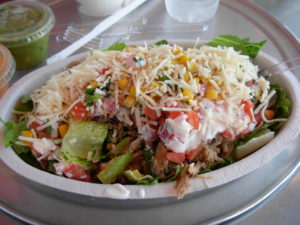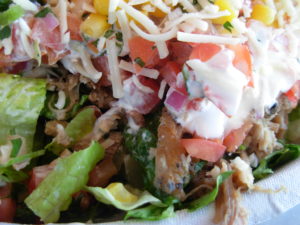 My husband had the chicken burrito, which when rolled up, needed 2 hands to hold on to.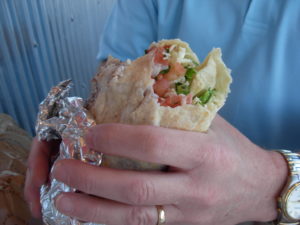 So I am sharing some photos of our trip. Especially here in Calgary, where all we see is a lot of brown outside. And we also got snow while we were away, it was fabulous to see lots of green, flowers, and feel warm sun everyday.