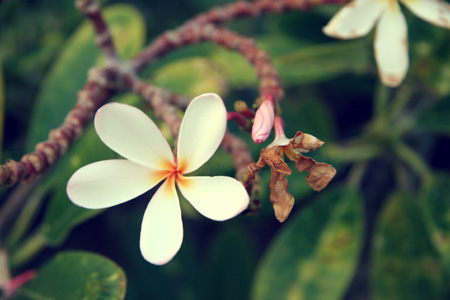 I hope everyone has been enjoying my travel blogs about the Big Island, Hawaii. I had a really hard time trying to condense our trip in to one or two blogs so that's why we ended up with six!
This is the final blog on Hawaii.
Time for a teaser! The next few blogs are going to be 2 different gluten free bread machine recipes, dairy free coconut pudding, squash-apple soup and cabbage rolls. What recipe would you prefer first?
*
Back to the Big Island! Our 2 weeks visiting the island were wonderful and I highly recommend a visit. We did a lot the last week, while still managing down time.
I booked the four of us with Fairwind Ocean Cruise on the Hula Kai for a snorkelling adventure. The cruise included breakfast and lunch. When I inquired about being gluten free, I was informed that there would be things I could eat but that I should bring my own snacks too- just in case.
Breakfast was croissants, fresh fruit, yogurt, and crustless mini quiches. Of course, I didn't have croissants but everything else was fine. Then for lunch, they barbequed all beef burgers, buns, salad, pasta salad, and chips. I was able to have salad, a no-bun burger, and a bag of chips. Was it a 5 course meal? No. But I wasn't left hungry which was nice.
Our cruise took us down the South Kona coast and we loved seeing the island from the water. We've taken snorkeling cruises before and it has always ended up being a great day.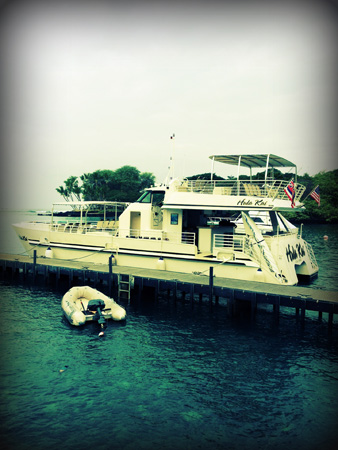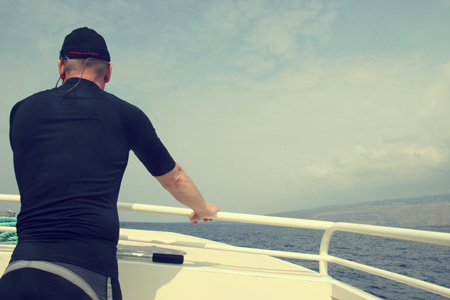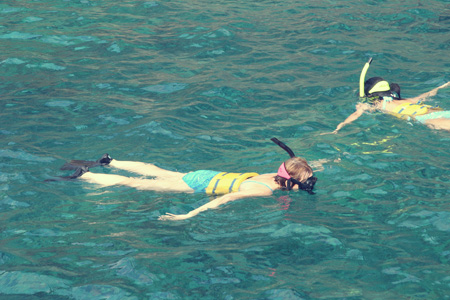 We stopped at 2 different spots, one of them being Captain Cook's memorial.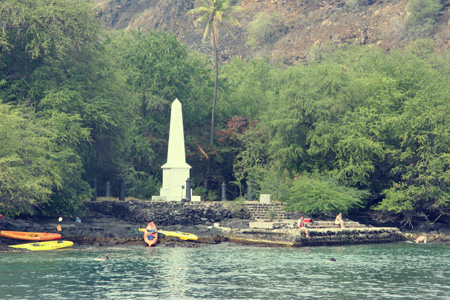 The Hula Kai is equipped with sea rockets which propels the snorkelling through the water. Of course, the guys had to try them out.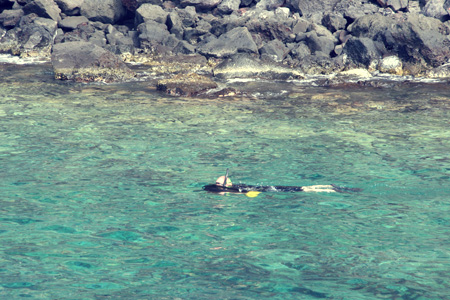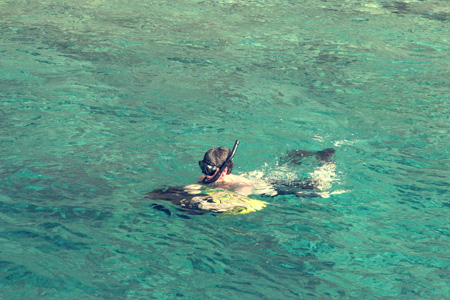 Once we returned to land, we drove to the Kona Brewing Company to sample some local beer. Bruce and Kevin had a favorite flavor or two, however they didn't have any gluten-free beer for me to try.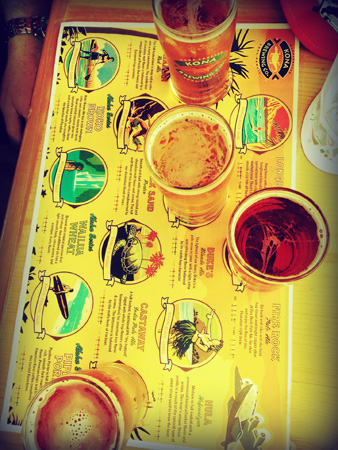 One of the things I was very impressed with was the local grocery stores. In Waimea the Foodland carries a large selection of gluten free products, as well as the smaller store in Mauna Loa. Even the tiny Puako Beach grocery store carried gluten free supplies. Our flight leaving Kona was a red-eye, so after making a huge gluten free barbequed breakfast, we cleaned and packed up the villa and headed to Puako Beach.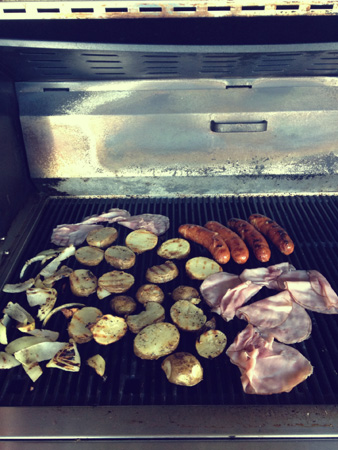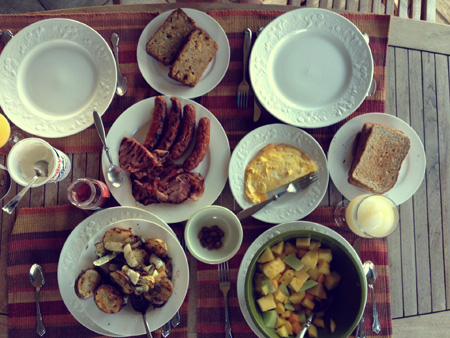 Carol had read that a Hawaiian custom was to release your lei into the ocean once it had dried up. Both Carol and I had lei's and wanted to follow Hawaiian tradition.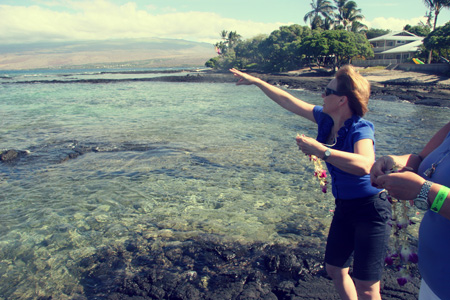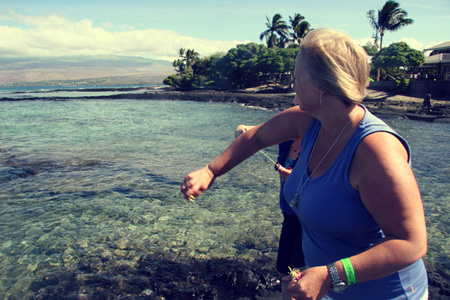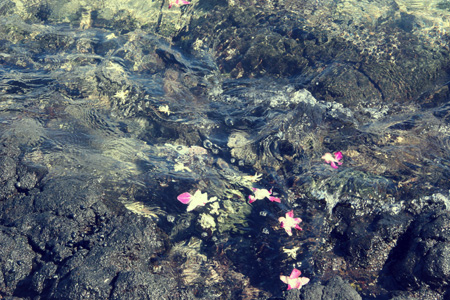 While we were walking around Puako Beach, we found sea turtles, both swimming in the tide pools and sunning themselves on the lava rocks.
What a site that was! Many photos were taken of these graceful creatures. The only disappointing thing was that we were unable to swim with them. We had our luggage in the rental car, and didn't have a place to shower before we left the island.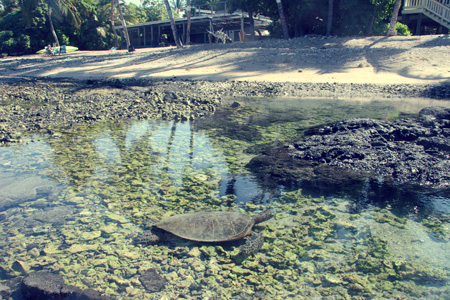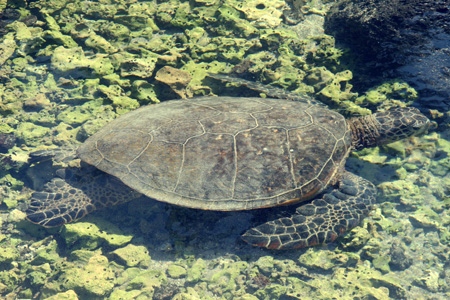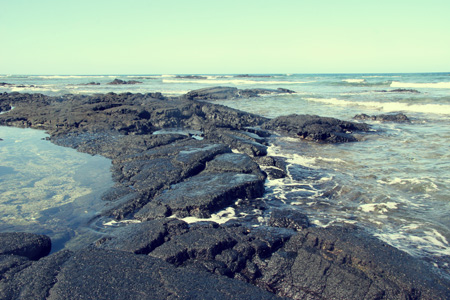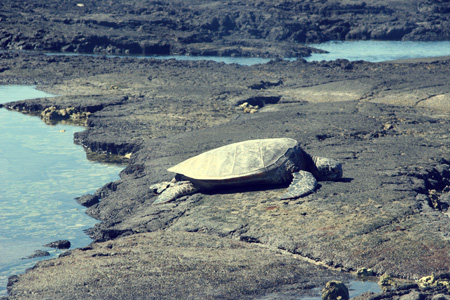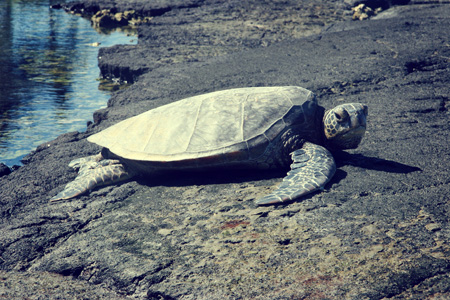 Another gluten free discovery on the island was the large variety of KIND Bars. All gluten free travellers are familiar with these bars that are often sold at Starbuck locations around North America, especially at airports.
What I found in Hawaii was flavors such as: Peanut Butter and Strawberry, Pomegranate Blueberry Pistachio, Peanut butter Chocolate + Protein, and Dark Chocolate Cherry Cashew. Wow, they were delicious! They also came in handy for the beach or anytime a snack was needed during our 2 weeks. Wish I could find these flavors in Calgary!
Another yummy gluten free snack found on the island was a Bora Bora Bar with the flavor of, "Exotic Coconut Almond."
*Gluten Free Warning: The Kona airport is extremely small and doesn't really have much to eat. I suffered with french fries, and a small Yoplait yogurt for my supper. Make sure you stop at a grocery store to load up on fruit, veggies and crackers to take on the plane. It can be a grueling flight when you are hungry and there is nothing for you to eat. There is also no Starbucks at this airport. We didn't stop at a grocery store before our flight, assuming I could find some snacks.
We loved our trip and I hope I've made your next trip to the Big Island easier if you are gluten free. It was a shock on our system when we arrived in Calgary at 10:30am. When we left Hawaii it was +27 degrees Celsius, a cold snap had hit Calgary and it was -27 degrees Celsius when we landed. A difference of 54 degrees! Nothing like -30 below to welcome you home!
Brrrr!