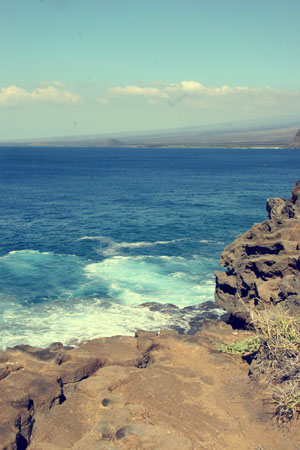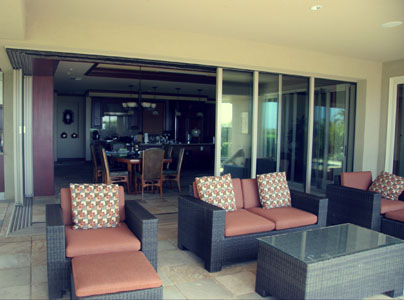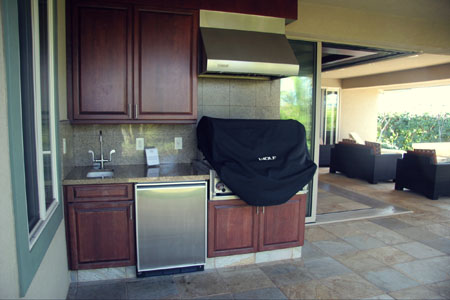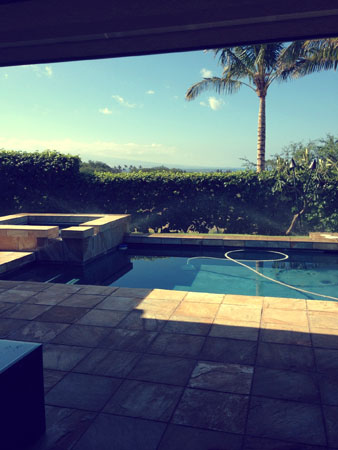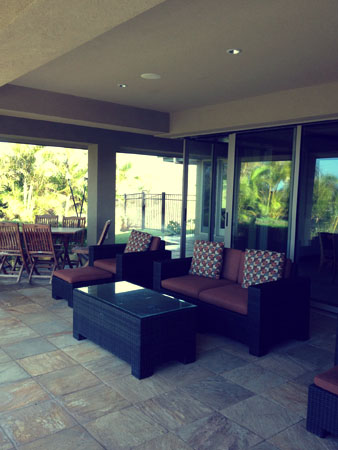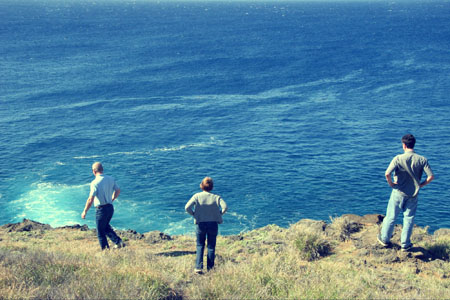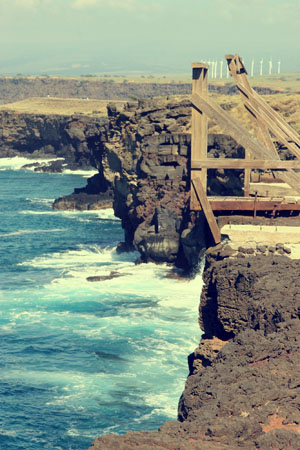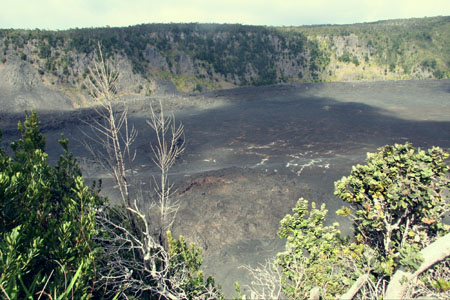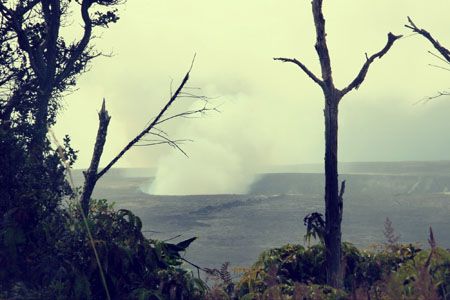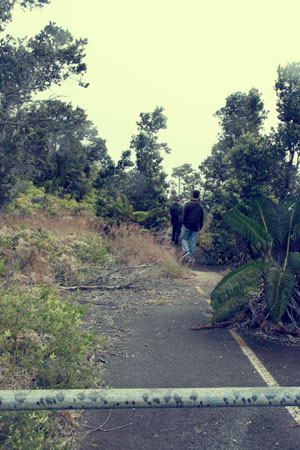 We are really loving Hawaii. The sun, heat, waves, and humidity are absolutely lovely. We live in Calgary, Alberta and it's winter there, which means cold temperatures, snow, no-humidity, and mega dryness. When we left Calgary my hands were cracking and bleeding. So you can understand all the enthusiasm.
I would highly recommend the Hilton Waikoloa if you are looking for a large resort hotel with a lot of ammendities. Our ocean view room had us sleeping peacefully and waking up to glorious palm trees and blue sky every day. The property was well maintained, beautifully landscaped and had a lot of pools and restaurants. It was a great way to start our vacation.
We are now at Wai'ula'ula Villa near the Hapuna Beach Prince Hotel. It's actually only 10 minutes north of the Hilton. We booked the villa through www.luxuryretreats.com since my sister and brother-in-law were joining us for the last week. I wanted a house for all of us to share.
And wow, what a place!
We have a wall of glass panels that open up to our own pool and hot tub. A high end kitchen with wolf appliances, even a Wolf barbeque and outdoor fridge on the veranda. Yep, not exactly roughing it up out here.




I love to cook (obviously) and couldn't wait to go grocery shopping and pick up fresh fruits and vegetables.
My suggestion for everyone wanting to visit as well as for myself would be: to do the grocery shopping more inland in Waimea. Waimea is away from the hotels and tourists so the groceries would have been cheaper. Our grocery trips were to Safeway in Kailea-Kona and even though it's in a major city centre- it's still full of tourists.
Kevin and I were quite shocked at the prices. $7.00 for a loaf of bread, $7.00 for a bag of chips, $7.00 for a small bag of potatoes, $7.00 for strawberries. $7.00 seemed to be the price number for everything. What do you think the price for a single large navel orange would be?
$4.00.
Yes, you read that correct. $4.00 for a single orange- Yikes! These prices seem a little high huh? Well if you are living on an island in the middle of the Pacific, that would explain the inflated prices for groceries. Near Safeway was a Natural Market and I was able to find some gluten free goodies, even Kinnikinnick frozen products were available. At Target we were able to pick up a boogie board, suntan lotion, bottled water and a small cooler for our beach adventures.
The first day that Carol and Bruce arrived we enjoyed the pool, the property and a barbeque. Of course a lot of pina coloda's were blended and drank. The following day we woke up early to make the 2 1/2 hour drive south to the volcano. It took us longer than 2 1/2 hours to get there since we stopped to see Kona coffee, a roadside stand for a mandarin orange, and then a detour to the southernmost point in the US on our way there.



Kilauea Volcano was a must visit on this trip for my husband. We aren't exactly familiar with volcanoes in Canada, so we weren't sure on what to expect.
Our original plans was to rent bikes and bike down the volcano, however when we got to the visitor center we were informed that most of the National Park was closed due to toxic gases. What's a tourist to do when that happens? You see what you can see, and know that you'll just have to come back again for a visit- darn. ????
As someone who's never seen a volcano, let alone been close to an active one, the site of the crater leaves you silent. You are in complete awe.


This volcano has been active for 20 years, and while it can be a spectacular live show of molten lava, a person has to realize it has also destroyed entire towns and subdivisions. One of the things we will do next time when we visit the island is to do a crater walk. You really need to be prepared with hiking boots, flashlights, sunscreen, bottles of water, rain gear and sunglasses. We didn't have these things, so we didn't get the opportunity to go down there.
We did go on all the hikes we could and walked along the old highway that parts fell into the crater when the volcano erupted. That was pretty freaky.
All of us were getting fairly hungry by lunchtime and being that I am gluten free I can't just eat a hot dog, so we drove to Volcano Village and found a Thai restaurant. It was called ThaiThai and the food was really good. Nothing better than some hot Tom Yum Soup and Red Curry rice noodles when you're feeling a bit chilly.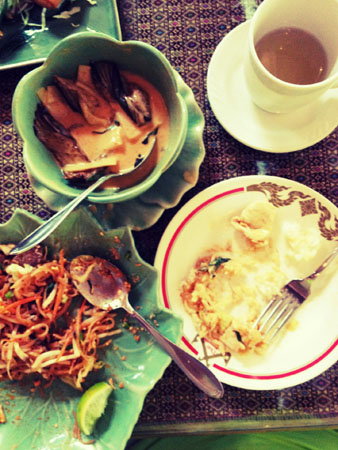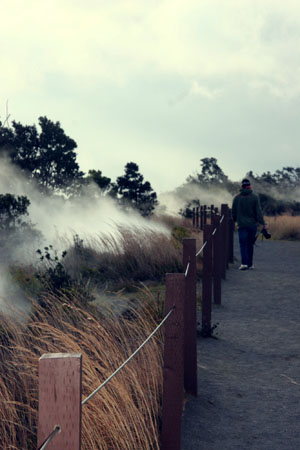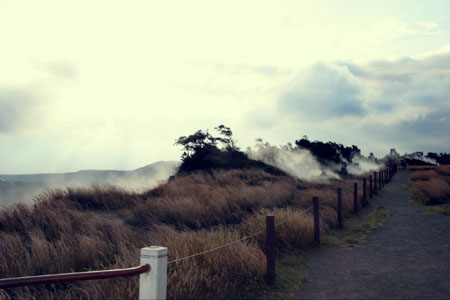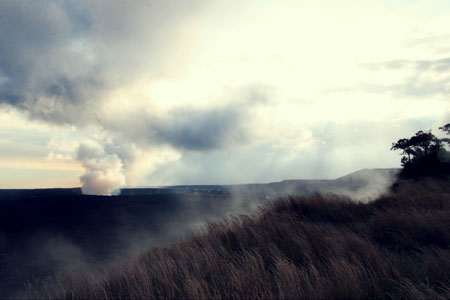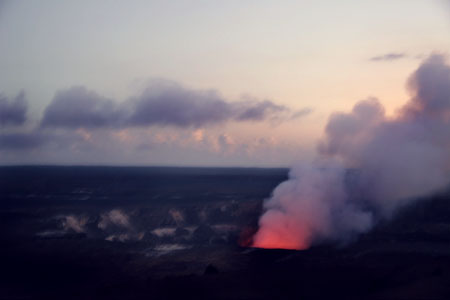 After our tummies were full and warm, we headed back to the National Park and walked through the lava tube. Then we walked along the crater edge to see the steam vents.


Around 5:30pm we then drove to the Jaggar Museum to get ready for sunset. When the sun is setting the cloud at the craters opening turns pink and red.
Tourist Tip: Make sure you bring a sweater or jacket! You don't realize the altitude but it was very cold when the sun set.
Well worth it though, wouldn't you say?