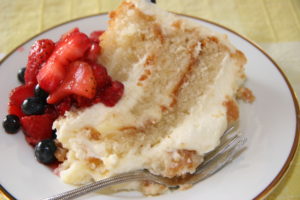 Happy Easter Everyone! I am off to California for a week of sun and sand. Thought I would leave you with a lovely lemon dessert to look at.
Lemon cake infused with lemon zest,
Homemade lemon curd with 1 cup of fresh lemon juice,
Whipped cream folded into lemon curd for the icing,
Strawberries, Raspberries and blueberries marinating in Lemoncello.
Too much lemon?
You will have to try it and see.
I will post recipe when I get back.