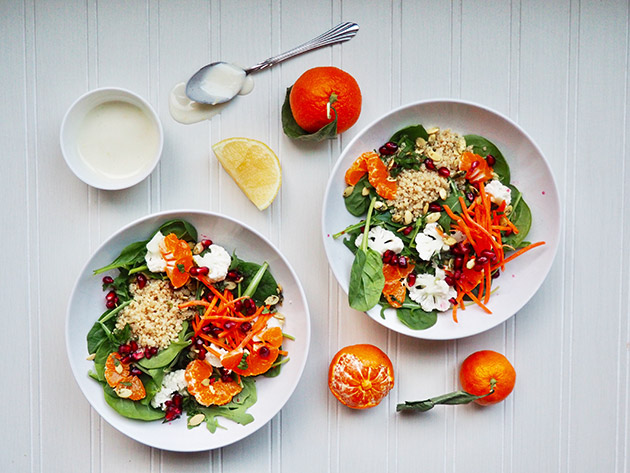 Cauliflower and Orange Salad with a Lemony Dressing
Ingredients
1

cup

arugula

2

cups

fresh spinach

1/2

cup

very thinly sliced cauliflower

1/2

cup

shredded carrot

3

tbsp

pomegranate seeds

2

mandarin oranges, peeled and cut up

1/4

cup

cooked quinoa per serving

3

tbsp

sprouted watermelon or pumpkin seeds

1

tbsp

fresh mint, finely chopped

1

tbsp

fresh parsley, finely chopped

Juice from 1 lemon

Zest from 1/2 lemon

3

tbsp

whipping cream

(can substitute with coconut milk)

6

tbsp

avocado oil
Instructions
To assemble the salads start with the arugula and spinach and then add the quinoa in a mound on each salad.

Add the cauliflower, then the carrots, the oranges and pomegranates, seeds and fresh herbs.

Drizzle the dressing over each salad.
For the dressing:
In a canning jar add the juice from the lemon, the zest and the whipping cream and avocado oil.

Place the lid on and shake until combined.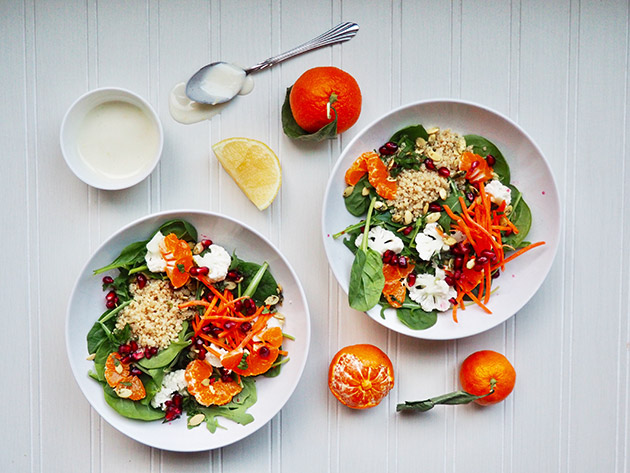 I am sharing a new salad recipe with all so close to Christmas for a couple of reasons.
One? I love salads and this salad has a ton of crunch, sweetness and plenty of tang.
Second? It's the holiday season and in between enjoying all the parties, rich appetizers and Christmas baking it is nice to throw a healthy salad in.
This salad is super easy to put together too and as a bonus is meat less so you can add it to your meatless Monday options.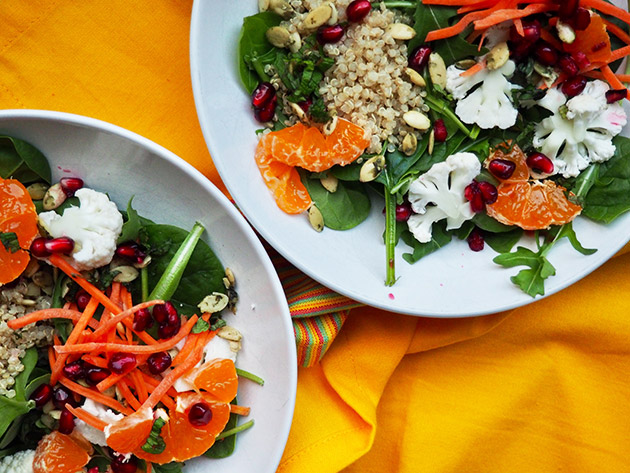 I also wanted to add in mandarin oranges as well as pomegranates which are readily available in the grocery stores right now.
The lemony dressing can be made in a small glass jar-just add ingredients, place lid on and shake. Just shake!