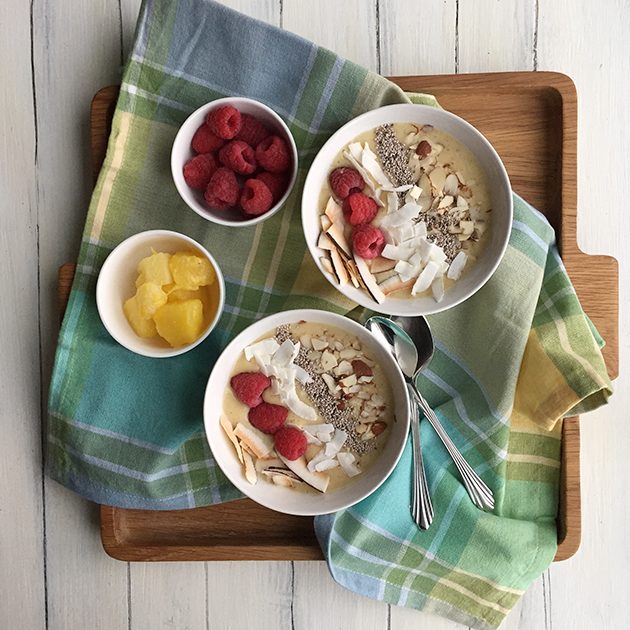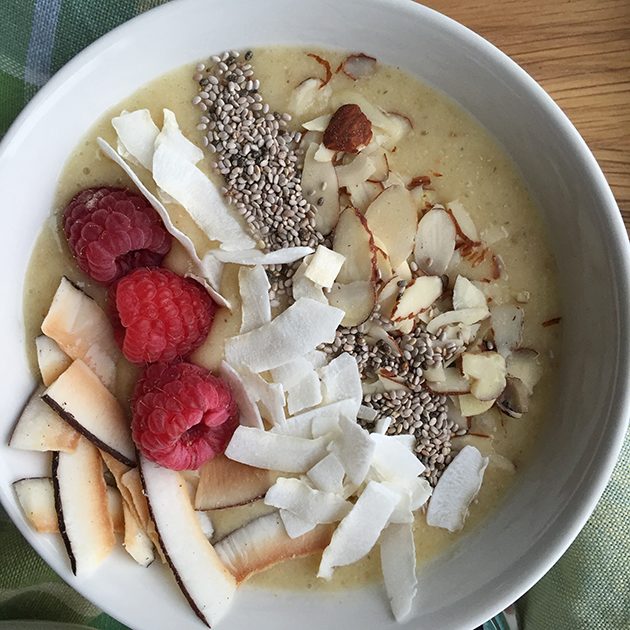 If you are a fan of Pinterest and search the food section for ideas and recipes you would have noticed a lot of photos of smoothie bowls.
What is a smoothie bowl you ask?
Basically a smoothie bowl is a smoothie that is thick, served in a bowl and topped with a variety of ingredients such as nuts and seeds, berries, chopped coconut and you eat it with a spoon.
If you are like me and find that most fruit smoothies you make in the blender are too thick to drink with a straw this is a great way of serving them, plus the addition of various toppings is a bonus.

This recipe for pineapple coconut smoothie bowl would be a great addition for Christmas morning breakfast.
You can serve it in much smaller bowls too and it is a nice way to add mixed fruit and healthy ingredients to your meal.
I will be sharing more recipes like this in the new year too. I want to add some healthier, easy to make, breakfast recipes for you all to enjoy.
Pineapple Coconut Smoothie Bowl
Ingredients
1

cup

fresh or frozen pineapple chunks

1

ripened banana

1/2

cup

coconut milk

1

tbsp

rice bran

1

tbsp

white chia seeds

1

tbsp

maple syrup
Instructions
In a blender add all ingredients and blend until smooth

.Pour smoothie into 2 small bowls.

Top with chia seeds, shredded coconut, toasted coconut, fresh berries and sliced toasted almonds.
Enjoy!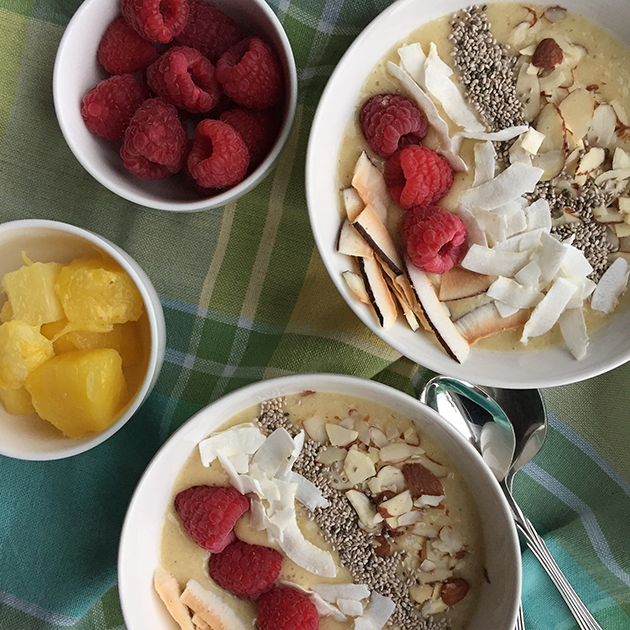 Looking for Delicious Salad Recipes?
In my Gluten Free Salads Cookbook you can find 27 other delicious recipes your friends and family will love, including: Cucumber Herb Salad, Roasted Strawberry Goat Cheese Salad, Sesame Noodle Salad and many more. Purchase yours today.