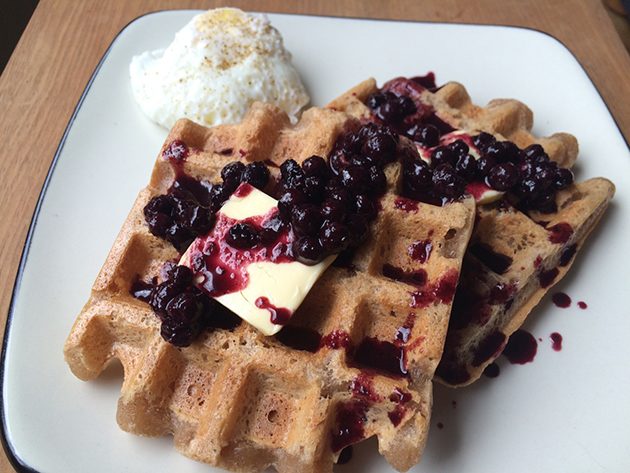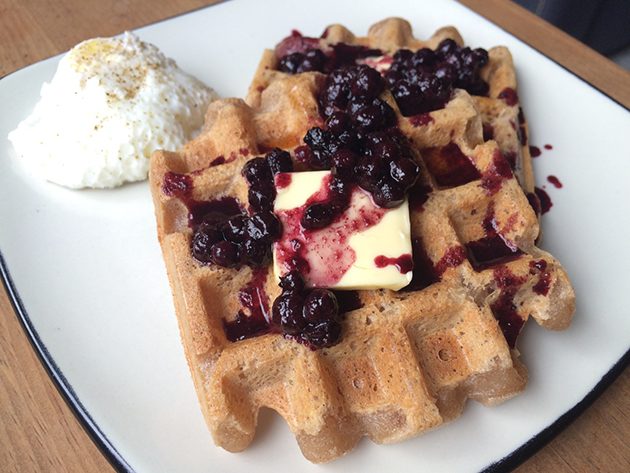 Today's recipe is shared by a friend of my son Cam's, Laura Franklin from Fresh and Frank. Laura is a Holistic Nutritionist and Wellness Coach, and this recipe of hers is incredibly popular. I know you will enjoy it a lot.
Also, Laura has a Summer Kickstart Program. that is beginning May 1st so look for those details at the bottom.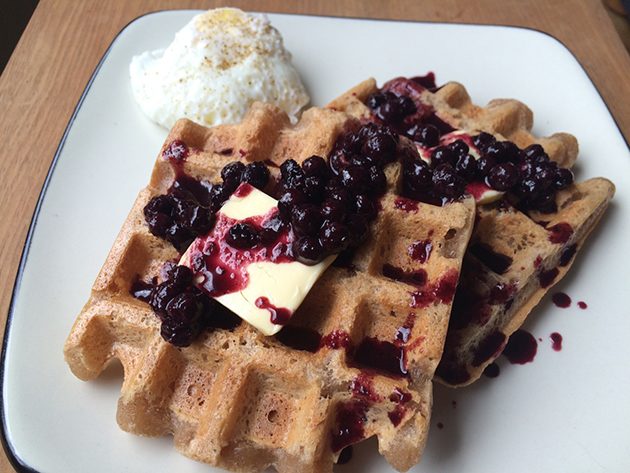 Crispy Cassava Blender Waffle Recipe by Laura Franklin
Ingredients
1

cup

Otto's Cassava Flour

1

tsp

Himalayan salt

2

tsp

baking powder

1/2

tsp

cinnamon

1

ripe banana

2

organic eggs

1-2

tsp

real vanilla extract

2

tbsp

organic virgin unrefined coconut oil

1.5

coconut or almond milk
Instructions
Take your blender and literally toss ALL the ingredients in.

Blend all for about 30sec-1min or until well mixed.

Check batter; if it seems too thick still, add a splash more almond/coconut milk or water.

You want it thick but still able to pour.

Pour onto waffle iron and cook!

Remove when crispy and golden brown on the outside.

Top with desired ingredients.

I made a wild blueberry compote for these; see below for recipe.
Wild Blueberry Compote
Ingredients
1

cup

frozen organic wild blueberries

1/2

tsp

real vanilla extract

1/4

tsp

cinnamon

1

tsp

extra virgin unrefined coconut oil

1

tbsp

maple syrup

1

tbsp

Optional: non-GMO soy lecithin powder (to thicken)
Instructions
In a saucepan on medium heat, gently defrost blueberries.

Add remaining ingredients and stir for a couple minutes, until well combined.

Let cool a little before pouring atop waffles.
Laura has just launched an AWESOME online program that combines nutrition, movement, mindful wellness and support to help you look and feel your very best this summer. The Summer Kickstart Program is not a diet, a cleanse, or a detox; it's an easy-to follow lifestyle program that will help you to develop healthy habits to change your life for the better.
This program will help you to feel more like YOU; vibrant, energized and glowing.
Whether you want to decrease body fat, increase your energy, improve your sleep, decrease cravings, clear up your skin or improve your digestion, OR just increase feelings of overall wellness (look and feel your best!), this program is for YOU.
The Summer Kickstart Program is a 30-Day, results-focused online program that includes:
a 4-week detailed practical nutrition plan
a 4-week easy-to-follow exercise program
a 4-week mindful wellness program
a 14-day meal plan
a recipe guide
a better sleep guide
a grocery shopping list
supplement recommendations
access to our exclusive online group support forum where you can interact with your fellow kick-starters and ME
daily tips and lifestyle recommendations that will take your health to the next level
15% off your next order of delicious U-RAAW! Custom Health Foods

The Summer Kickstart Program officially begins on May 1, 2016 and runs until May 31, 2016. That's 30 whole days to reset your system and get you looking and feeling tip top.

Begin your transformation this spring by joining Laura and her community at Summer Kickstart.
About Laura:

"My mission is to empower my clients to FEEL GOOD, love their bodies and prioritize a balanced lifestyle. I strive to change how we fuel and nurture our bodies and minds."

Laura Franklin is a Holistic Nutritionist, Wellness Coach and culinary crackerjack based in Toronto, ON.


Laura's journey into holistic healing began when she started experiencing fatigue and chronic digestive and skin issues. 
"I went through a very stressful time in my life, and then my body just kinda fell apart. I knew I had to look into natural solutions to find the root causes of these issues, and take better care of both my mind and body."
Laura attended The Institute of Holistic Nutrition to become a Certified Nutritional Practitioner and now works with clients to transform their health, naturally. She practices a holistic approach to wellness that includes nutrition, movement, mindfulness and a solid support system.