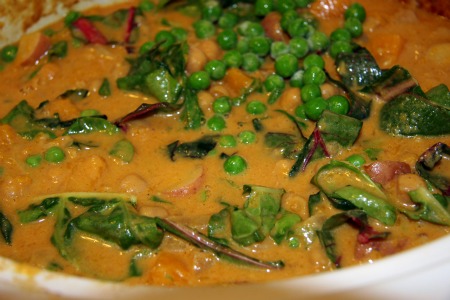 It is definitely fall around here in Calgary, even though we have had amazingly warm weather we are also witnessing leaves changing color and falling to the ground. What Fall also means to me is wonderful produce at the farmers market.
I went this past Friday and the abundance of fresh produce was a site for me. I actually get quite excited when I see all the multitude of colors down the aisles. What is supposed to be a quick grab of a few items always ends up with bags of yellow and red tomatoes, butternut squash, red, yellow and purple peppers, jalapenos, Hungarian and hot peppers, small round potatoes, swiss chard and fresh beans. That does not even include the fresh fruit- peaches, apples, and pears.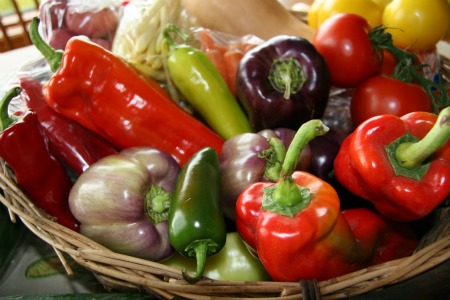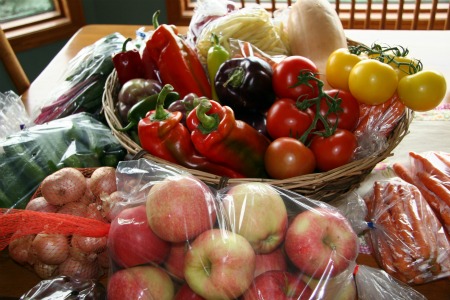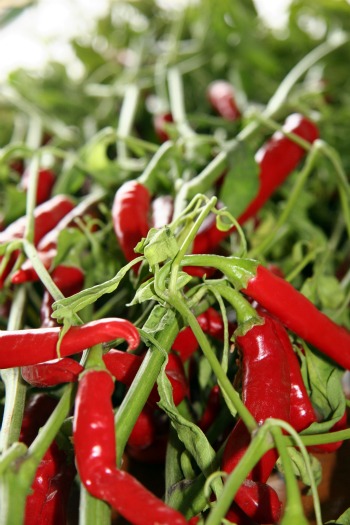 When I hear people complain about a gluten free lifestyle I encourage them to hit a farmers market and look at ALL the fresh food they can eat. Nothing makes me happier than slicing up a garden tomato and topping with fresh pepper and a sprinkle of Maldon sea salt.
I was also hosting a family dinner on Friday night for my son and his friend Jamie. She is vegan and thought it would be fun to cook a vegan, gluten free dinner. Cooking without dairy completely is a challenge for me, but like any challenge, I went for it.
For the main course I made squash and chickpea curry. I have to thank my good friend Michelle for this recipe. While in Toronto in May, Michelle made this dish for supper. Her daughter Alanna is vegan and I am happy to say, this dish was DELICIOUS! Michelle gratefully gave me the recipe and I am finally posting it for all to try. This really is a tasty dish and with Thanksgiving approaching it is a nice dish to cook for any vegetarians or vegans, actually anyone would be pleased to eat this.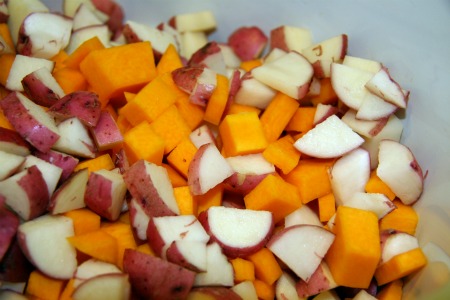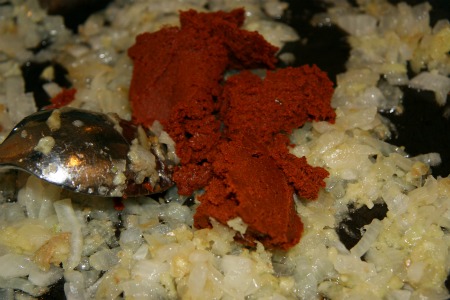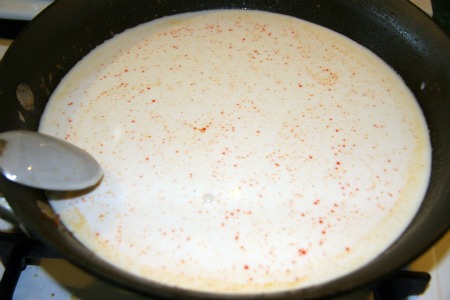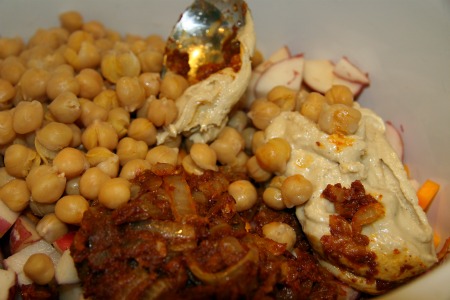 Here are some photos from our vegan, gluten free dinner. I think the food turned out pretty well, however my husband and one son asked if they could bring a steak. Ahhh, meat eaters.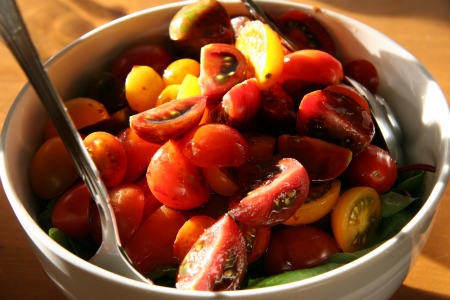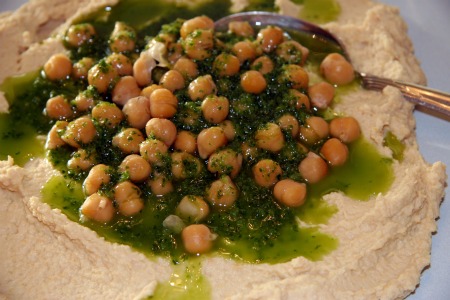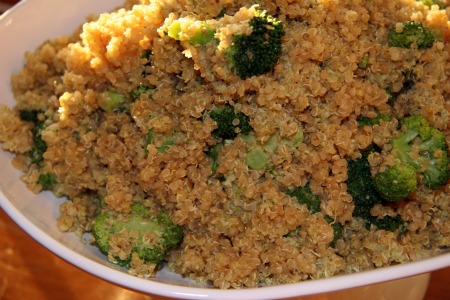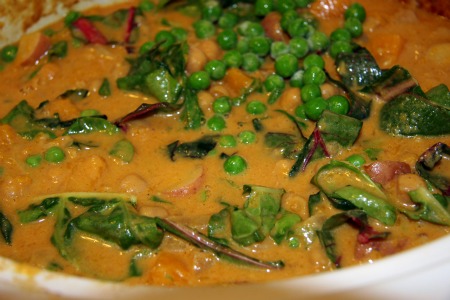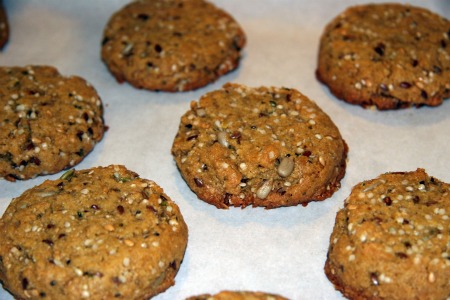 Vegan Squash and Chickpea Curry
Ingredients
2

cups

cubed butternut squash

2

cups

diced potatoes

1

can

chickpeas, drained (I made cooked up chickpeas earlier in the day in my pressure cooker)

1

tbsp

canola oil

1

onion, diced

2

cloves garlic, minced

1

tbsp

minced fresh gingerroot

3

tbsp

mild curry paste

1

can

coconut milk

1

cup

gluten free vegetable stock (I like Kitchen Basics)

1/2

cup

cashew butter or peanut butter (I made my own cashew butter, recipe attached)

1/4

tsp

salt

2

cups

shredded swiss chard

1

cup

frozen peas

2

tbsp

chopped cilantro (Optional)
Instructions
In a slow cooker, combine squash, potato and chickpeas.

In a frying pan, heat oil over medium heat.

Fry onion, garlic and ginger, stirring occasionally, until light golden brown.

Add curry paste, stir and cook for about 1 minute.

Add onion mixture to slow cooker.

Add coconut milk to frying pan, scraping up any bits and pour milk into slow cooker.

Add vegetable stock to slow cooker, and then stir in cashew butter and salt.

Cover slow cooker and cook on low for 4 hours.

Usually you do not take the lid off a slow cooker and disturb, however I found that do to the thickness of the curry, stirring every once in awhile is better.

15 minutes before serving, stir in swiss chard and peas.

Cover and cook on high for 15 minutes.

I served this dish over a basmati rice.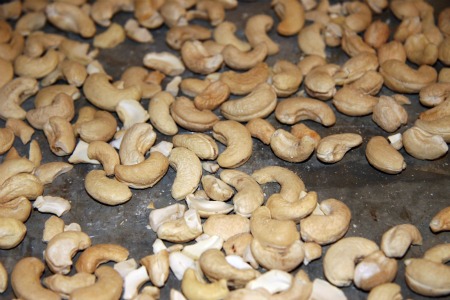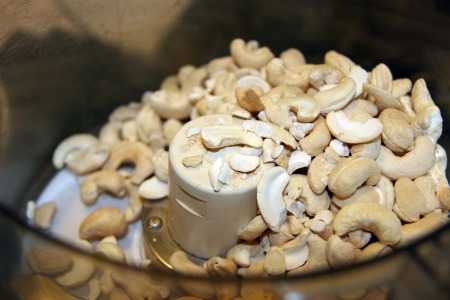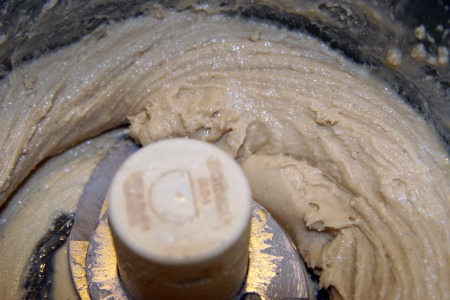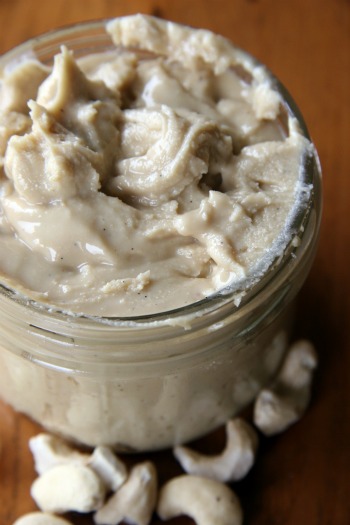 Cashew Butter
Instructions
Preheat oven to 250 degrees.

Roast cashews on cookie sheet for 30 minutes, stirring after 15 minutes.

Let cool for 5 minutes and then put in a food processor.

Process until cashews are smooth, scraping down sides occasionally.

Be patient, this process can take at least 8 minutes, but watch for all of a sudden it will be smooth.

Once smooth, add salt, vanilla and honey.

Process for a few minutes.

Depending on your cashews and food processor if you find it is not getting smooth you can add ½ Tbsp of canola or grapeseed oil.

I store my nut butter in the fridge, but I really think homemade cashew butter added a real richness to the curry.

Plus you can use the cashew butter for so many things.