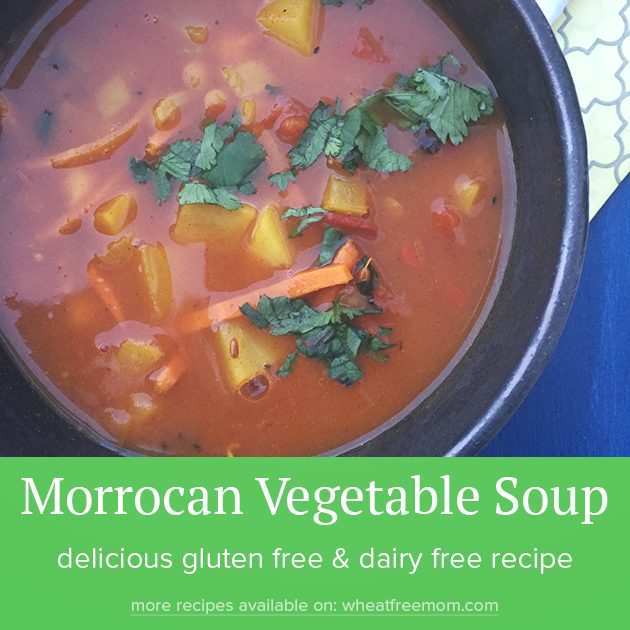 Soup.
Is it something you make on a regular basis in your house?
Are you a canned soup person or is it always homemade.
Being gluten free, I pretty much stick to homemade soup, however there are more and more gluten free canned soups out there in the marketplace.
Soup to me is a quick and easy supper. It is something I can just whip up with whatever vegetables I have in my fridge.
One of the techniques I use to make a flavourful soup is to sauté most of the vegetables and dried herbs in a bit of oil for a few minutes before I add the stock.
Cooking the dried herbs really brings out their flavour.You want to do this on a low heat though for you can easily burn the herbs and that means starting the process all over again.
Adding different spices to your vegetables also changes the soup without changing any of the vegetables. For instance, adding chile pepper to the pot lends itself to more mexican spicy flavours, or adding cumin, tumeric, curry powder lends to a more Indian soup.
This soup today uses a lot of warm spices like cumin, smoked paprika, tumeric and cinnamon. Yes, cinnamon is great in soup.
I did not include any meat in this soup but instead added canned chickpeas and lentils which makes this soup much hardier.
Gluten-Free Moroccan Vegetable Soup
Ingredients
1

tbsp

olive oil

1

large shallot, finely chopped

3

celery stalks, chopped

2

carrots, chopped

2

cloves of garlic, minced

1

red chile pepper, finely chopped or 1 Tbsp sriracha

2

tsp

fresh ginger, minced

2

bay leaves

2

tbsp

cumin seeds, not cumin powder

2

tsp

good quality cinnamon

1

tsp

smoked paprika

1

tsp

paprika

1

tsp

turmeric

1

sweet potato, chopped into small cubes

1

can (398 ml)

tomato sauce

1

can

chickpeas, drained and rinsed

1

can

lentils, drained and rinsed

1 1-2

Litres

of gluten free vegetable stock
Instructions
In a large stock pot add the olive oil, shallot, celery, chile pepper and carrots and sauté on low for 5 minutes.

Add the minced garlic and ginger and sauté for a few minutes and stir.

Add the dried spices (cumin, cinnamon, paprikas and turmeric) and stir and sauté for 3 minutes.

Add the bay leaves, vegetable stock, tomato sauce, chopped sweet potato, chickpeas and lentils and turn heat up to medium/high for 5 minutes.

Turn heat to low, cover pot and let cook on stove for an hour.