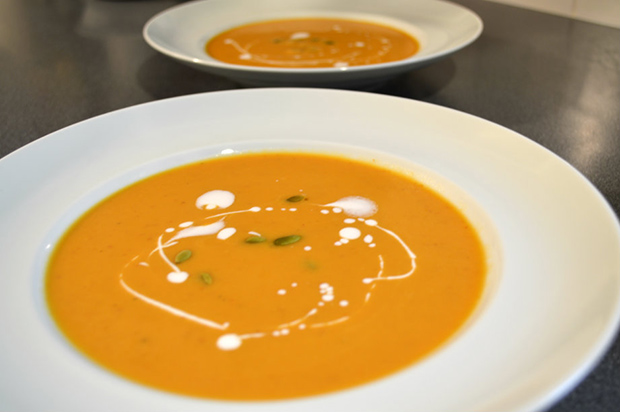 Today's recipe comes from one of my neighbors, Mallory. Her family has lived across the street from me for more than 15 years! She is passionate about cooking, food, traveling, and blogging. She is a great bread baker and likes to do a majority of the cooking for her family. In the last couple of years she has also become a vegetarian and loves visiting different restaurants in Calgary as well as on her travel adventures. I am thrilled to share her recipe with you all.
Enter Mallory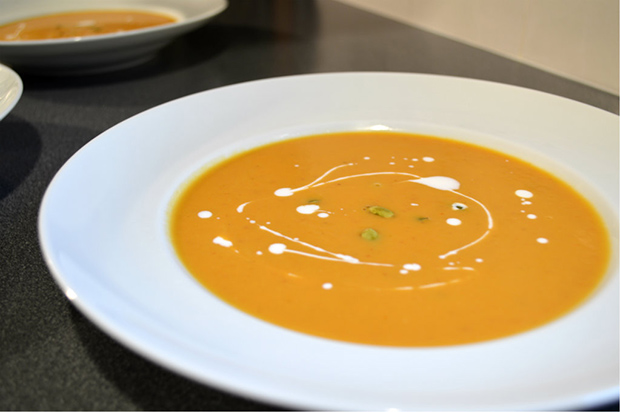 Hi I'm Mallory and I blog over at Because I Like Chocolate.
Today I am offering you a recipe for an easy pumpkin coconut soup, which also happens to be both gluten free and vegan.
To tell you a little bit about myself, I am a culinary student turned psychology major. Because I Like Chocolate is a way for me to combine my two passions; food and psychology. It's all about baking, eating and learning to accept food one bite at a time. I explore why we think about food the way we do, providing healthy recipes and a few indulgences along the way. We have to eat for the rest of our lives so we might as well enjoy it, right? I hope to share a healthier outlook on food… and life!

Prep time: 5 minutes – Cook time: 5-10 minutes – Serves 6

Gluten-Free Vegan Pumpkin Coconut Soup
Ingredients
1

796ml

can pumpkin puree

1

400ml

can coconut milk (reserve 3-4 tbsp. of coconut cream from the top of the can to garnish the soup)

4

cups

gluten-free vegetable broth (Carrie: I use Kitchen Basis)

2

tbsp

maple syrup

1/2

tsp

dried ginger
salt and pepper, to taste
pumpkin seeds, as needed to garnish the soup (allot approximately ½ tbsp. of seeds for each portion)
Instructions
This recipe could not be simpler to make.

Start by combining all of the ingredients from the pumpkin puree to the dried ginger in a medium to large size pot.

Place it on the burner and bring the soup to a boil over medium heat, stirring occasionally.

Once it starts to bubble you can turn the heat down to a simmer.

Season with salt and pepper to taste and serve.

Garnish with a drizzle of the reserved coconut milk and a sprinkle of pumpkin seeds on each bowl.

If you would like to contact me with comments/suggestions or regarding guest posts or working with me in any capacity, feel free to send me an email. Because I Like Chocolate explores the way we see food – and challenges all of the misconceptions we have about what we eat. We all have a life filled with food-related experiences, both positive and negative. Subscribe by clicking here.
Looking for other delicious gluten free Thanksgiving recipes your friends and family will love? Here are 36 other recipes to try!