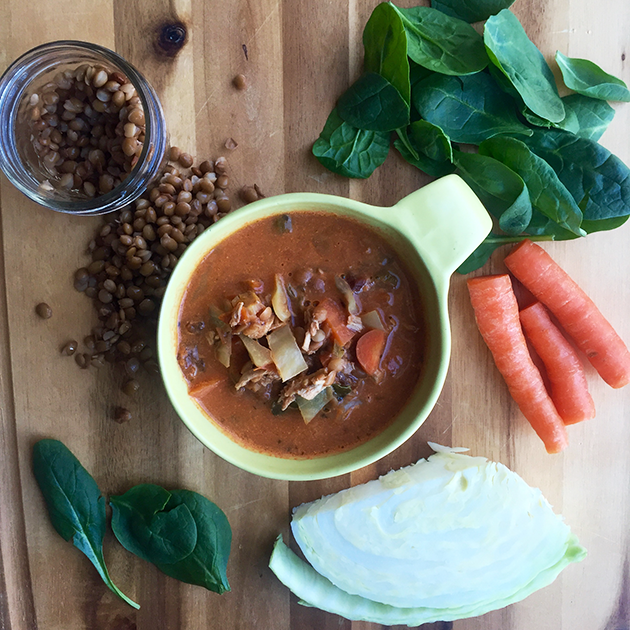 Hello January!
How is 2016 going for everyone? Did you make any new year resolutions and are you sticking with them or have you let the resolution subside already?
I have been sticking to mine EXCEPT one.
Which one is that?
Well, it was to blog more, not to procrastinate and avoid writing. As you can see this is my first blog of the year so I definitely did not keep that resolution.
But I am here, I am sitting at the table with a cold drink, my notebooks and loose papers with jotted recipes and ideas around me.
I am going to sit here and write out 5 new blogs which means 5 new gluten free recipes for you all.
Excited?
Truthfully I had all these new recipes ready the beginning of the year but I hit a mental block and just did not sit, type them out and share them with you.
I apologize for procrastinating but I resolve to try and get better at this stuff.
Deal?
So what is the first recipe I am sharing in 2016?
It is for soup. A soup filled with winter veggies, lentils and a bit of chicken.
It is a warm and comforting soup that is perfect for a chilly winter night.
If you are vegetarian you could omit the chicken and this soup with the lentils already has protein in it.
Do you eat lentils?
If you do not I would definitely start adding lentils into your meal plan. Lentils are a great source of protein, fibre, potassium, folate and iron and are also called pulses.
Did you now 2016 is International Year of Pulses?
You can find a ton of recipes for lentils on lentils.ca but I will also be adding more gluten free lentil recipes to my site this year.
Chicken and Lentil Soup
Ingredients
1

tbsp

olive oil

1

cup

carrots, chopped

1/2

cup

celery, chopped

1

boneless chicken breast, cut into 1 inch pieces

1/4

head of green cabbage, chopped

1

tsp

finely chopped fresh jalapeño

1

tsp

 minced garlic

1

tbsp

sun dried tomatoes, chopped

540

ml

canned lentils, drained and rinsed

1

cup

strained tomatoes

1

L

gluten free chicken stock

1

tsp

dried oregano

1/2

tsp

herbs de Provence

2

bay leaves

2

cup

baby spinach

1/2

cup

cream

Optional

shredded Asiago or Parmesan cheese as a topping for soup

Optional
Instructions
Sauté carrots, celery, jalapeño and garlic in olive oil in a medium soup pot.

Add chopped chicken and herbs and heat to medium.

Add cabbage, sun dried tomatoes and continue cooking for 5 minutes.

Turn heat to low and add chicken broth, bay leaves and strained tomatoes and let simmer, covered for an hour.

Add lentils and baby spinach and stir.

Cover pot again and let simmer for another 20 minutes.

Optionally add 1/2 cream to soup in the end.

Pour soup into individual bowls and top with shredded Asiago cheese.
Enjoy!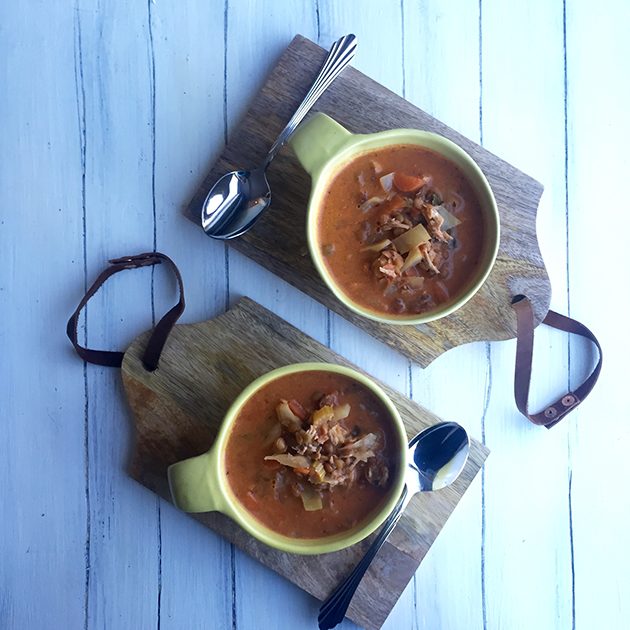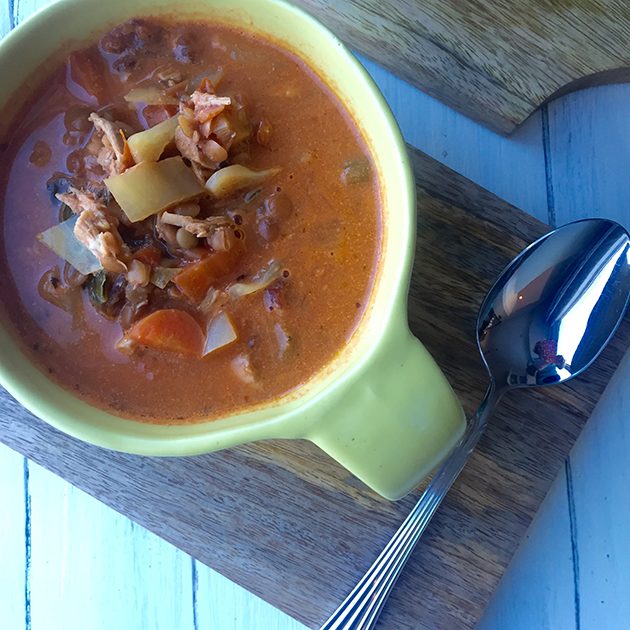 Looking for Delicious Salad Recipes?
In my Gluten Free Salads Cookbook you can find 27 other delicious recipes your friends and family will love, including: Cucumber Herb Salad, Roasted Strawberry Goat Cheese Salad, Sesame Noodle Salad and many more. Purchase yours today.