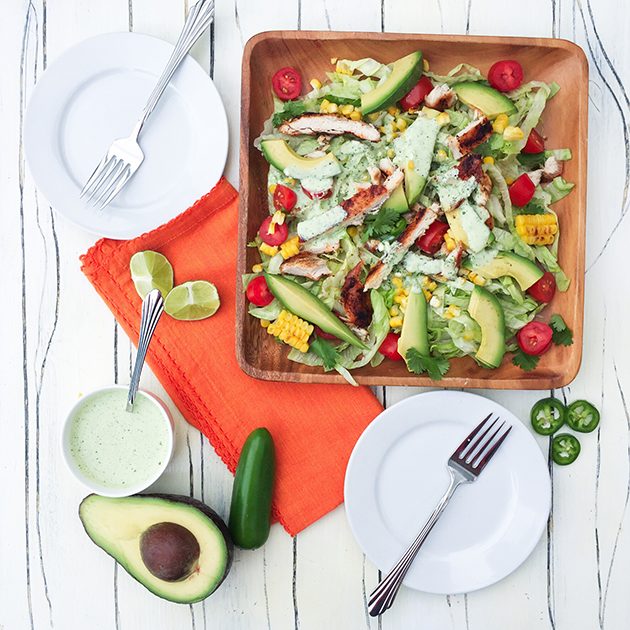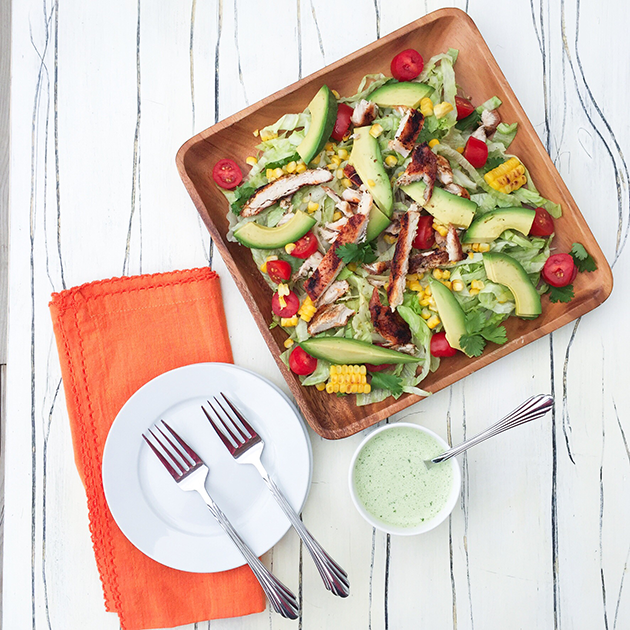 It is grilling season in Calgary right now and I am using every opportunity to use my barbecue.
I love that grilling adds an extra flavour to meats but also makes cleaning up my kitchen very easy. No pots to wash at all-I love that!
I am always looking for ways to jazz up my normal BBQ chicken salad and this Mexican chicken and corn salad does the trick.
Grilling up the corn is a must for the charring on the corn kernels adds an extra flavour boost to the salad.
One of the other things I do when grilling chicken is to pound it thin. This makes for an even thickness and your chicken then barbecues up quickly.
You could easily make the dressing dairy free too by switching up the Greek yogurt for Tofutti vegan sour cream and also Tofutti vegan cream cheese. The rest of the ingredients are naturally gluten and dairy free which I like.
I hope you give this salad a try and I would love to know what you think of it.
This recipe serves 2 as a main dish
Mexican Chicken and Corn Salad
Ingredients
4-5

cups

shredded iceberg lettuce

2

corn cobs, husks and silks removed

2

tbsp

olive oil

2

boneless chicken breasts

1

avocado, sliced and sprinkled with lime juice

2

limes (for dressing and avocado)

1/2

cup

fresh cilantro, chopped

10-12

baby tomatoes, chopped

Dressing

1/2

cup

fresh cilantro, chopped

1

tsp

minced garlic

2

tbsp

olive oil

1/2

cup

plain Greek yogurt

1/4

cup

plain cream cheese

2

tbsp

fresh lime juice

1/2 – 1

tsp

jalapeño

1

green onion, chopped
Instructions
Heat a gas barbecue to medium heat.

Place the corn cobs on a sheet of aluminum foil.

Pour 2 Tbsp olive oil over the cobs and then wrap them up with the foil.

Place in barbecue and grill for about 15 minutes, turning the cobs over at least once.

Remove from barbecue and cool.

Once cool enough to handle, cut kernels from the cobs.

Place one chicken breast on a sheet of parchment paper.

Top with another sheet of parchment paper.

Use a meat mallet to pound the chicken breasts flat to about 1/2 inch thick.

Pour some olive oil on a cookie sheet.

Place flattened chicken breast on the cookie sheet.

Repeat flattening process with the other chicken breast.

Place flattened chicken breasts on the barbecue and grill for about 12-15 minutes on medium heat.

Flip breasts over and continue grilling for another 5 minutes.

Remove from barbecue and slice into strips.

For dressing put all ingredients into a mini food processor and a magic bullet and process until smooth.

Pour into a jar and set aside.

To assemble salad spread shredded lettuce in a large bowl or onto 2 individual plates.

Top lettuce with chicken strips, sliced avocado, corn kernels, cut up tomatoes and chopped cilantro.

Pour dressing over salad and serve.