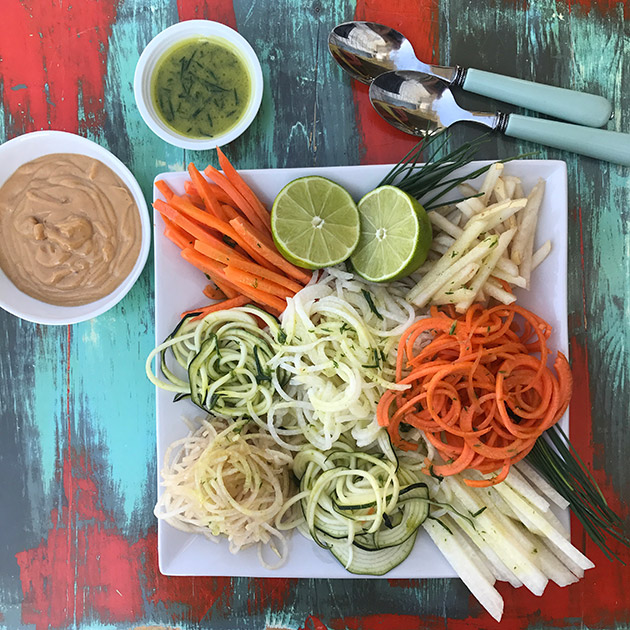 Jicama, Carrot and Apple Slaw
Ingredients
1

cup

jicama, spiralized into a zoodle

1

cup

jicama, cut up into small matchsticks

1

cup

carrot, spiralized into a zoodle

1

cup

carrot, cut up into small matchsticks

1

Asian pear 1/2 spiralized into a zoodle the other half into small matchsticks

1

cup

zucchini, spiralized into a zoodle

1

lime, cut in half
Lime Chive vinaigrette
1/2

cup

olive oil

1

tsp

maple syrup

Juice of 1/2 lime

1

tbsp

chopped chives
Spicy Peanut Dressing
1/4

cup

peanut butter

Juice from 1 lime

1/4

tsp

ground ginger

1

tsp

sriracha

1

tbsp

maple syrup

Pinch of salt
Instructions
Lime Chive vinaigrette
Combine all ingredients into a magic bullet or blender and blend.
Spicy Peanut Dressing
Combine all ingredients into a magic bullet or blender and process until smooth.
Jicama, Carrot and Apple Slaw
On a large plate or platter place individual zoodles and matchsticks onto mounds on the plate.

Place the lime halves on to the plate.

Pour half of the lime chive vinaigrette on to each of the ingredients.

Place a bowl of the remainder lime chive vinaigrette and the spicy peanut dressing on the side of the plate to serve.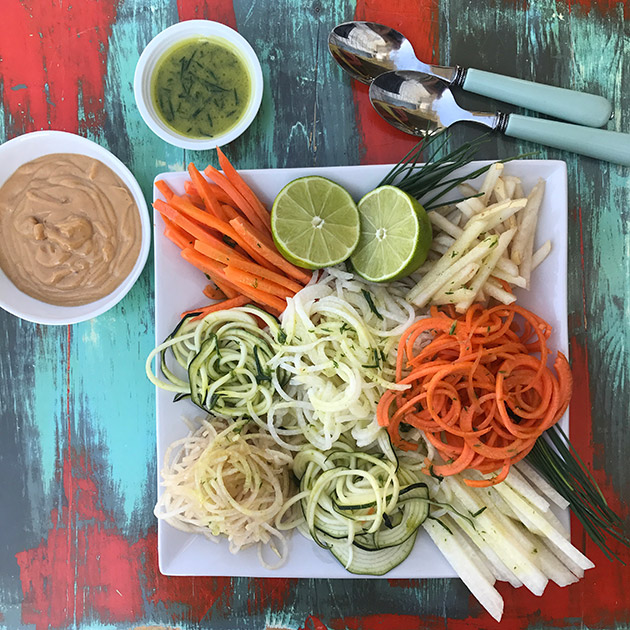 Do you have a spiralizer?
You know those kitchen gadgets that slices vegetables into noodles?
Well, I have had one for awhile and I highly recommend getting one.
Why?
There is something about eating vegetables as a noodle shape changes the taste of them-seriously.
I was never a big raw zucchini fan but spiralizing into a noodle shape I can eat gobs in my salads or at supper with my homemade meat sauce.
It is a really easy way to get your kids to eat more vegetables too. Nothing like thinly cut ribbons of cucumber or sweet and crunchy jicama to get a kid to eat them.
Instead of just lettuce and cut up cukes in my salads I now add carrot and zucchini zoodles which adds even more fiber to my salads.
So I am sharing a new slaw recipe with you all today but not just an ordinary slaw. One that has jicama, carrot, pear and zucchini zoodles in it plus matchstick pieces of those same ingredients.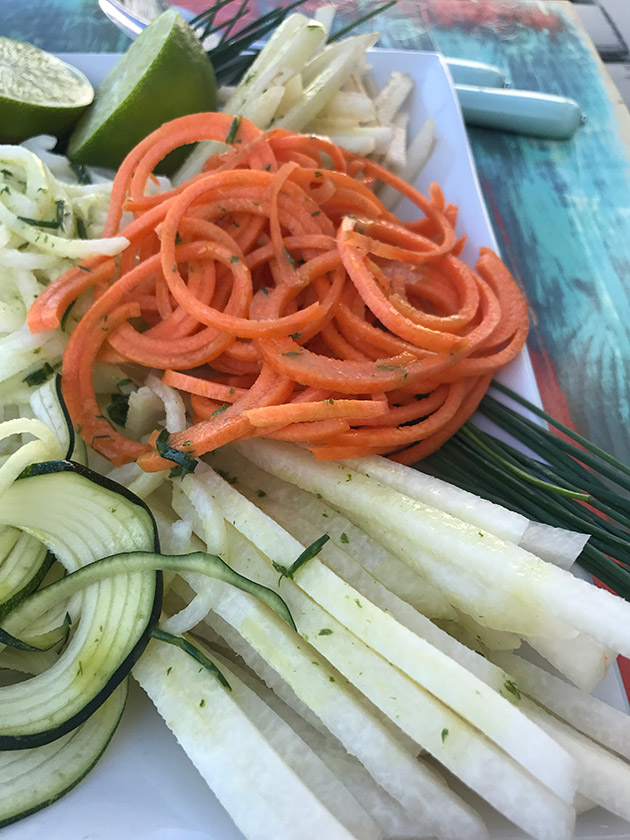 I like plating the slaw on a large plate or platter with individual mounds of the various ingredients. It makes for a fun and interesting serving experience.
Two dressings are included in this recipe. One is a lime chive vinaigrette that you can pour half over your slaw ingredients and serve the other half on the side, plus I have a a spicy peanut dressing that I love love!
Add a couple bbq chicken breasts or pork tenderloin to this and you have a low carb healthy meal.