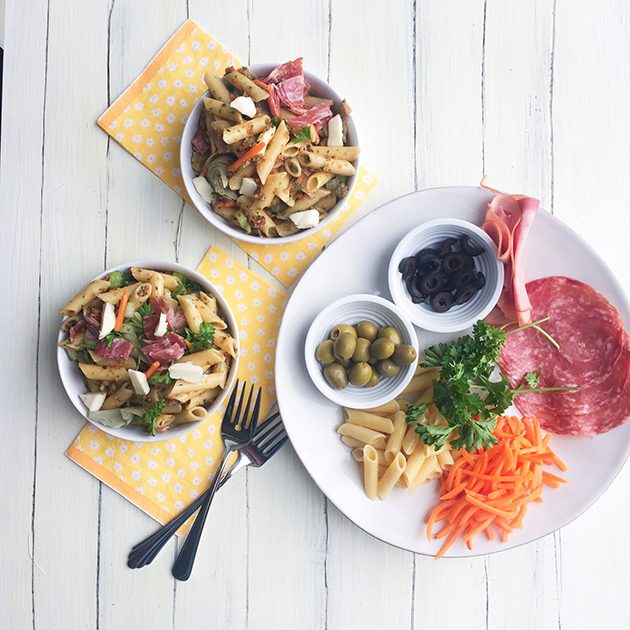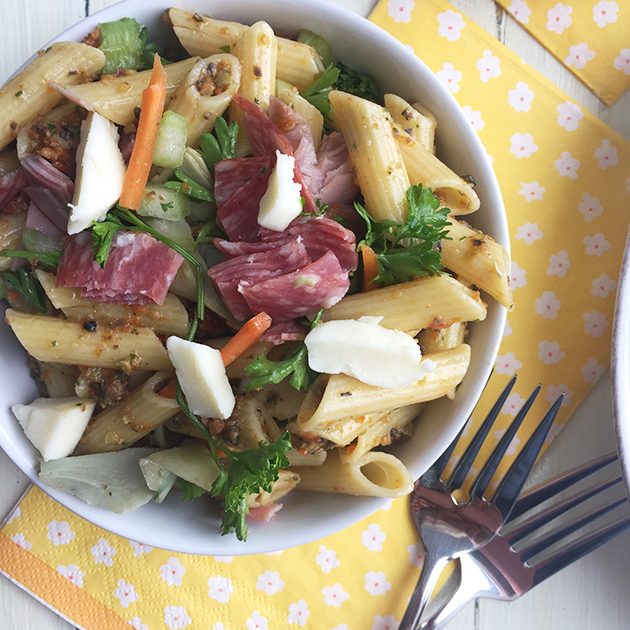 This past week I was sent a box of goodies that included gluten free Catelli pasta, a bottle of olive oil and a gift card to purchase extra ingredients.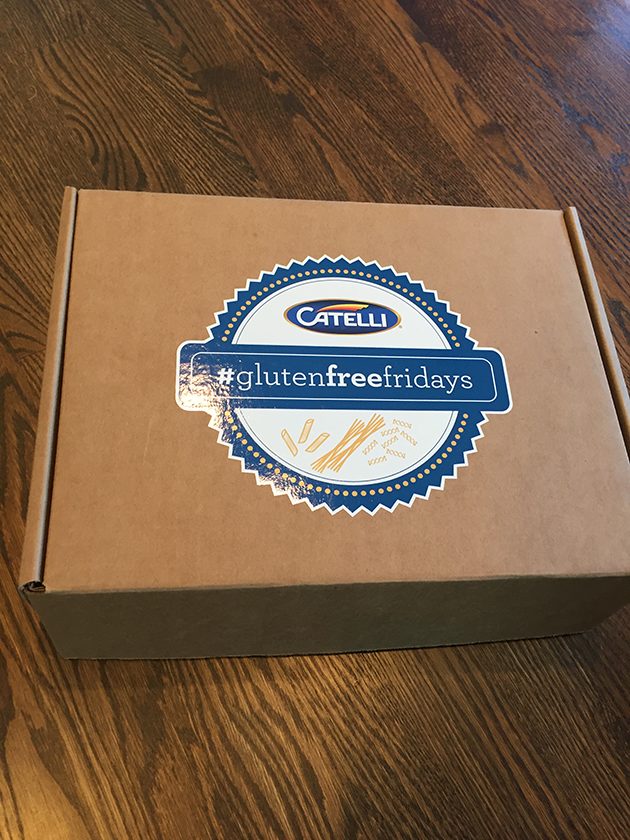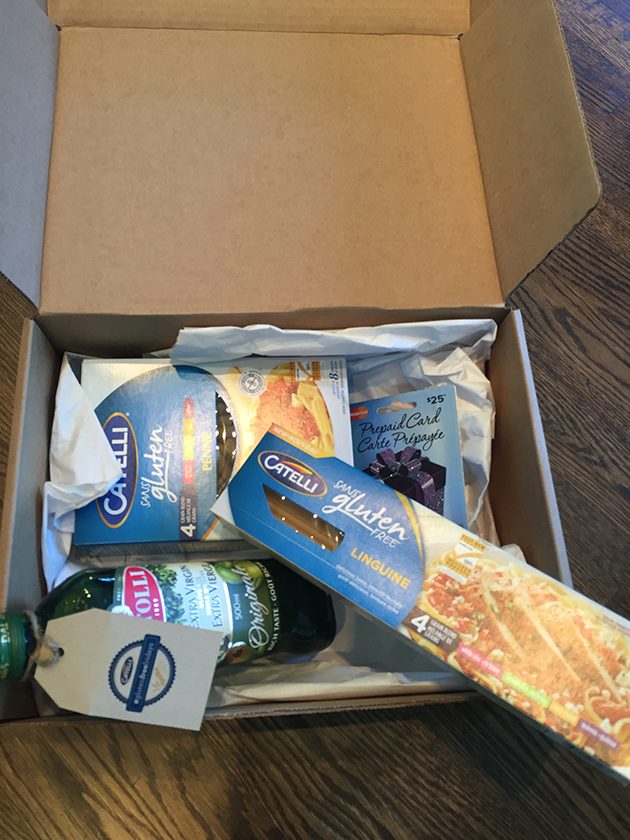 I was not only happy to receive the box but the challenge to come up with a new pasta recipe to share with you. I knew I wanted to come up with a cold pasta salad recipe and also a quick and easy hot pasta meal recipe so I started playing in the kitchen with ingredients.
New recipe ideas come to me in a variety of ways and this cold pasta dish came when I was upgrading my MacBook Pro and downloading all my 15,000 photos on it. It takes a long time to upload that many photos so while I was sitting in the Apple Store waiting for this to happen I caught an old photo that I had taken 20 years ago in New Orleans.
When I thought about New Orleans I remember my husband and I stopping at a local vendor and ordering a Muffletta sandwich. This was pre-celiac days, and hubby and I had never had such a combination of flavours in a sandwich. Truly I had never had olives before either so it was quite an adventure for my palette.
With this thought in my head I decided to come up with my version of a Muffletta sandwich but this one would be a cold pasta salad version.
What is a Muffletta sandwich?
It is a sandwiched layered with a marinated olive salad, provolone and mozzarella cheese, salami, mortadella and ham. It is very good!
In my recipe instead of an olive salad I made a thick olive dressing and added shredded carrots, ham, salami, fresh mozzarella and chopped artichokes hearts to the cold pasta.
This salad would be great for a summer barbecue or put in small jars and taken along on a picnic.
Try it and let me know what you think?
Thank you to Catelli for sending me the box of gluten free goodies too!
Gluten Free Muffletta Pasta Salad
Ingredients
1

Catelli gluten free penne (cook pasta according to instructions on box)

Dressing

1/2

cup

pitted green olives

2

tbsp

pitted black olives

1/4

cup

sundried tomatoes in olive oil

1/4

cup

red wine vinegar

1/4

cup

olive oil

1

tsp

minced garlic

1/4

cup

fresh parsley

1

tbsp

peperoncini peppers

1/2

tbsp

capers (optional)

1/4

cup

shredded carrots

1/4

cup

chopped celery

1/2

cup

deli ham, chopped

1/2

cup

salami, chopped

1/2

cup

fresh mozzarella, cut up into small pieces

1

can

artichoke hearts, drained and chopped
Instructions
Cook pasta according to directions on box, drain and place pasta on an oil lined cookie sheet to cool.

In a food processor add all dressing ingredients and process until everything is minced.

In a large bowl add the cooled pasta and the dressing.

Add the rest of the ingredients (carrots to artichoke hearts) and toss well.

Chill the pasta in the refrigerator until ready to serve.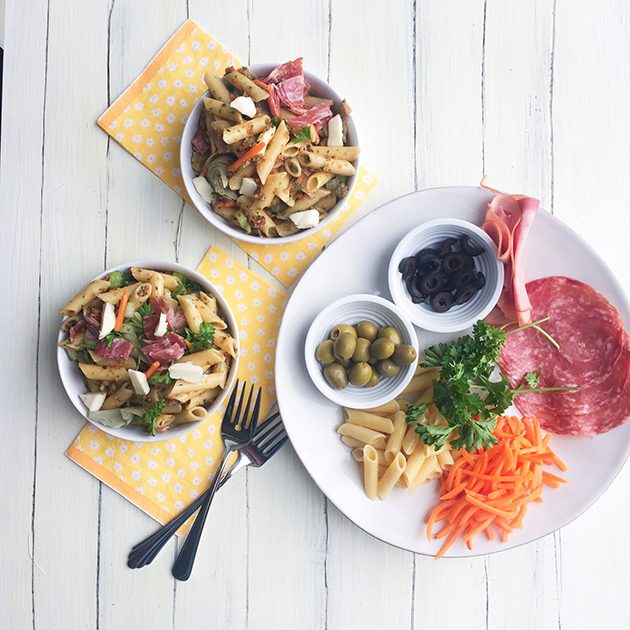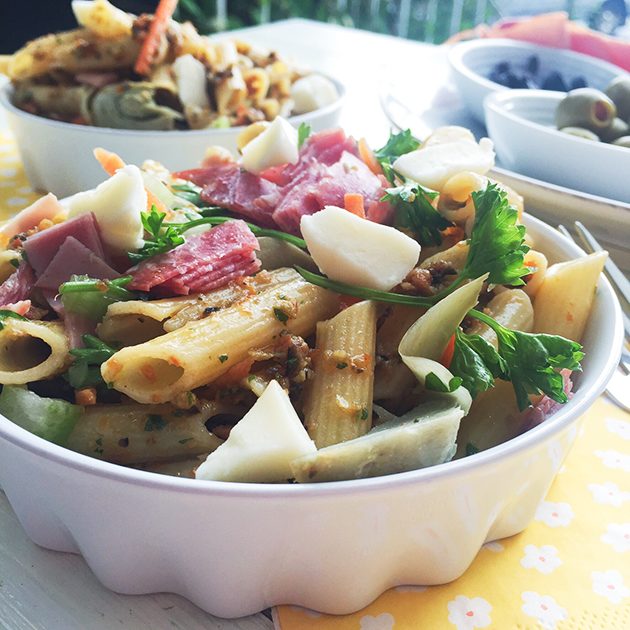 Enjoy!
Looking for Delicious Salad Recipes?
In my Gluten Free Salads Cookbook you can find 27 other delicious recipes your friends and family will love, including: Cucumber Herb Salad, Roasted Strawberry Goat Cheese Salad, Sesame Noodle Salad and many more. Purchase yours today.