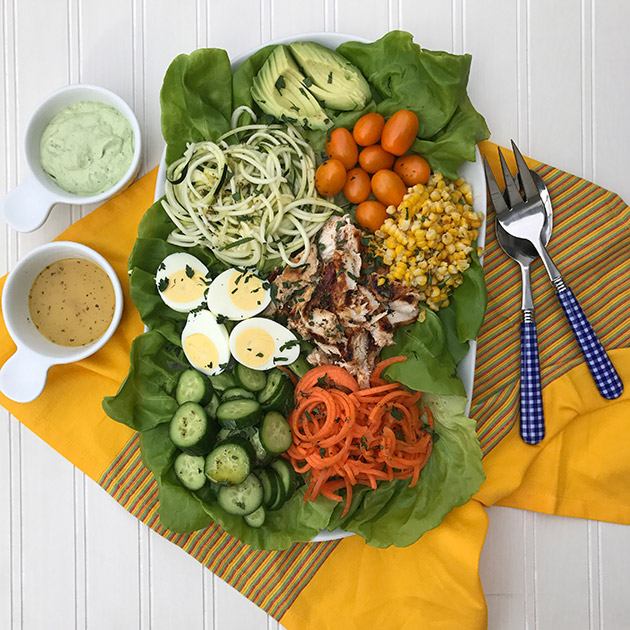 Avocado and Grilled Corn Cobb Salad
Ingredients
1

cup

spiralized zucchini

1

cup

spiralized carrots

1/2

head butter lettuce

2

cobs of corn bbq'd

2

hard boiled eggs, cut in 1/2

2

chicken breasts, bbq'd and sliced

1

cup

baby tomatoes

1

cup

cucumbers, sliced

1/2

avocado, sliced
Avocado Creme Dressing
1/2

avocado

Juice from 1 lime

1/2

cup

plain greek yogurt

1

tsp

jalapeno, chopped

Pinch of salt
Olive Oil Dressing
1/2

cup

olive oil

2

tsp

red wine vinegar

1

tbsp

maple syrup

1

tsp

fresh lime juice
Instructions
Add all ingredients to a magic bullet or small food processor and blend well.
Olive Oil Dressing
Add all ingredients to a small mason jar. Place the lid on and shake well to blend.
Salad Directions
To assemble salad first lay butter leaf lettuce onto a platter.

Place the other ingredients onto the platter, arranging the individual ingredients to fill the platter.

Pour 1/2 of the olive oil dressing on to the salad ingredients.

Serve the salad with the avocado creme and remainder of olive oil dressing on the side.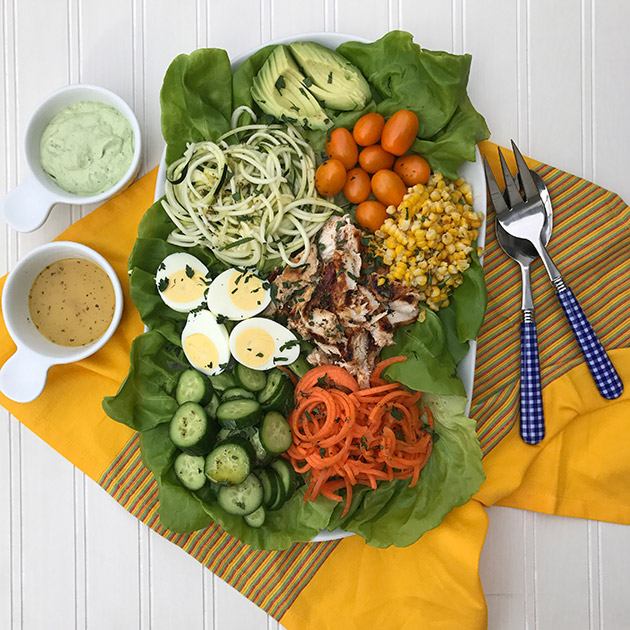 Hey everyone!
Sorry I have not posted a new recipe since July but I've been enjoying our gorgeous summer we have been having in Calgary since I got back from my trip to Toronto.
For everyone that has been following me on facebook you are aware that after recovering from a knee injury this winter I am back to walking a ton (20000 steps/day), have biked the Banff Legacy Trail a few times this summer and have been kayaking.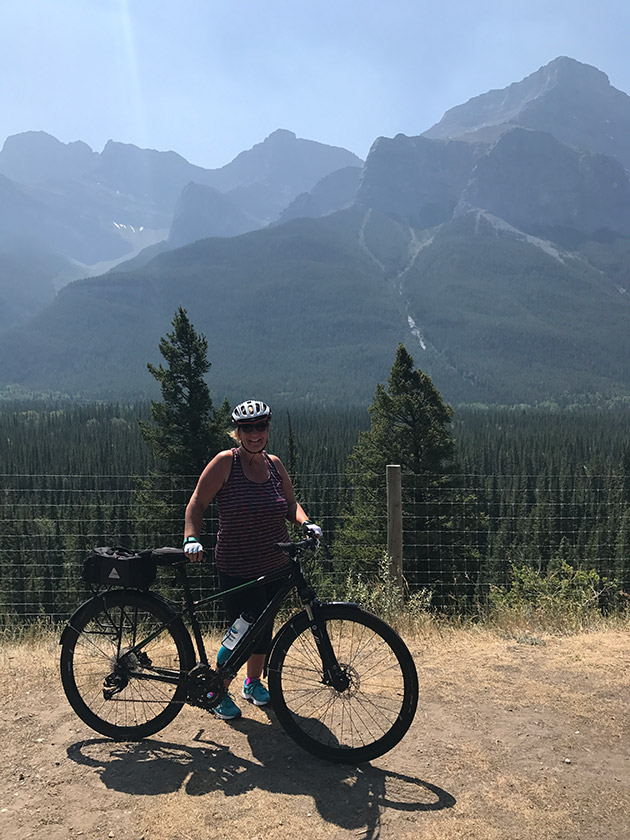 Normally hubby and I rent kayaks but a few weeks ago we took the plunge and bought 2 Delta Kayaks here in Calgary at Undercurrents.
Last weekend we took the kayaks out to Two Jack Lake for our first solo adventure. I was nervous for normally someone helps you into the water and out of the kayak at the end when you rent them but I think our trip was a success.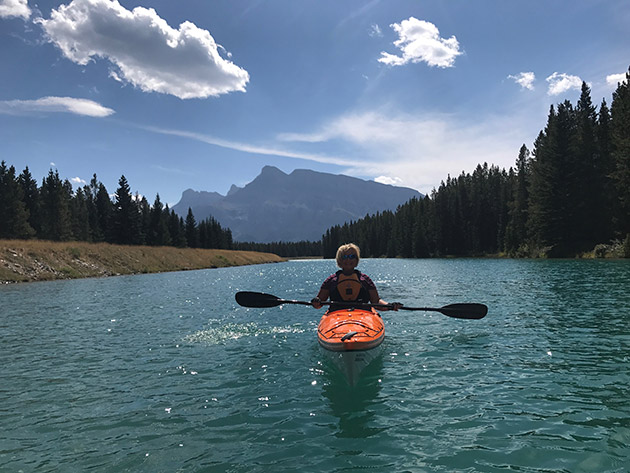 This summer has been full of activity and fun but I thought I'd better share a few new recipes with you since it has been awhile.
Right now in Calgary the markets have an abundance of fresh local corn and my favorite way to cook corn on the cob is to bbq it.
Its easy!
Drizzle the corn on the cob with a bit of olive oil, wrap it in aluminum foil and place in a medium heat bbq for 20-25 minutes.
That's it.
Normally I bbq 4-6 cobs of corn so that I have leftover bbq corn in the fridge for salads.
This recipe for Avocado Grilled Corn Cobb Salad is a great way of enjoying the fresh veggies you can get at the farmers markets right now.