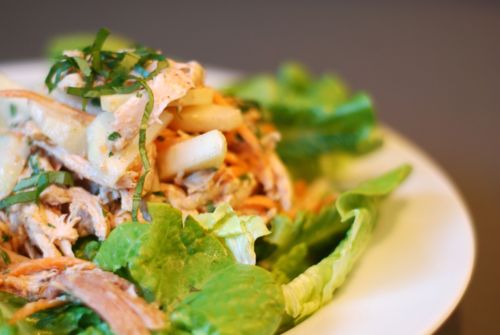 This is a guest recipe by Kendra Thornton. You can follow her on Twitter here.
My husband and I had a fabulous vacation when we went to the Hawaiian Islands. We stayed at the Halekulani Hotel, amongst some of the top hotels in Honolulu, right in Waikiki. It has evolved into a resort that has won tons of accolades. There is a beautiful pool with a Cattleya Lily mosaic design on the bottom. A pristine stretch of beach just steps away!
There are several boutiques and restaurants where you can have everything from just afternoon tea to drinks for a cocktail hour. The most amazing lunch we had was at Orchids, a casual yet elegant oceanfront restaurant. Not only is the view spectacular, the place is simply brimming with beautiful tropical orchids in bright colors.
We both decided to order the Asian almond chicken salad along with a carafe of an excellent white wine. The flavors mingled to provide a most unique dining experience. In fact, I couldn't wait (well, almost) to try and recreate this dish for friends back home on the east coast.
I was delighted to find this recipe online for an Asian almond chicken salad recipe from Nom Nom Paleo that rivaled the one we had at Orchids on Waikiki Beach.
Asian Almond Chicken Salad
Ingredients
3

tbsp

creamy almond butter

2

tbsp

Red Boat fish sauce

2

tbsp

freshly squeezed lime juice

1

tbsp

coconut vinegar

2

tbsp

unsweetened applesauce

1/2

tsp

crushed red pepper

3

cup

shredded cooked chicken

3

medium carrots, peeled and julienned

8

small kohlrabi roots, peeled and sliced (can sub jicama or sliced apples
Handful of basil, cut in chiffonade
Large head of romaine lettuce, washed and torn into bite-size pieces.
Handful of cilantro, roughly chopped.
Instructions
Combine all the ingredients and the sauce. Use a whisk to combine.

Slice the kohlrabi and shredded carrots with a julienne peeler and toss them in a bowl.

Add the dressing, the chicken and the herbs.

Toss everything once again. Serve on a bed of romaine lettuce.