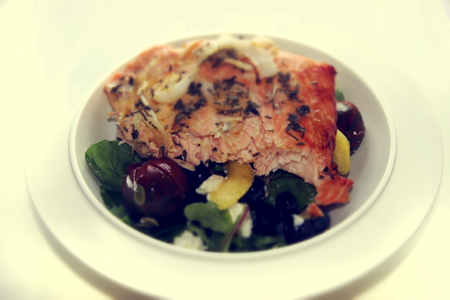 This summer has been very eventful and busy. My husband and I haven't gone on any adventurous holidays outside the city, but we sure have discovered lots here in the city.
We have been living, as so many of you know by now, through a large home renovation. I have been very surprised of how much of my identity has been tied to my kitchen. Not having one has been a challenge.
July was also the month our son moved out and we are officially empty-nesters. As crazy as the renovation can be sometimes, I am so, so thankful it is. The trades coming in and out, the noise in the house during the day, has kept me busy and not dwelling on missing my youngest. Yes, I know they grow up and move on-but a mom can still miss her boy.
It is the month that I also have found out that I have a lump in my armpit.
I couldn't get in to my family doctor so I decided to go to a walk-in clinic and have it looked at. Really, I wasn't concerned at all. In 2000, I had had surgery to get my sweat glands removed and felt I probably just had an ingrown hair or something. Seriously, no concern at all. Just a little voice telling me to get it checked out. So I listened.
Being a walk-in clinic in Calgary, it can be a long wait even with an appointment. I sat in the doctors office fully expecting her to snicker and say "oh, its nothing. you have an ingrown hair-go home. " That didn't happen.
The doctor took a look and a feel and asked me what my plans were for the rest of the day. I said "nothing, why?" She informed me that she was calling the ultrasound clinic and I was to immediately go for an ultrasound.
Inside I was starting to panic. Immediate ultrasound? That can't be good. I was handed the medical forms as she wrote in big letters that results were urgent and were to be faxed ASAP to her office. I was in her office late in the day and so she told me to come back the next day for the results.
I calmly walked out of the clinic, got in to my vehicle as my stomach started to bubble. Immediate ultrasound? This can't be good. I texted my hubby and of course he became concerned also. He wanted to leave work and come with me to the ultrasound, but really, what could he do there?
After the exam, I dressed and headed home. But truthfully, my mind was filling with possibilities and thoughts I wished to never have. I did not voice my concerns, but the expression on my husbands face, let me know, he was worrying also.
Let's just say, no sleeping went on that night. Kevin offered to accompany me to my appointment the next day, but I asked him not to come. Him being there would make this all to real. I promised to let him know the minute I knew. It took longer than a minute to wait. I actually waited 90 minutes after my scheduled appointment. If I didn't desperately need the results, I would have gone home. We have been having serious problems with shortages of doctors here in Calgary, and the consequences are long waits at doctor offices, clinics and hospitals. The waiting didn't lessen my anxiety level, and I am sure Kevin was as anxious to hear as well.
I finally got into the doctors office, who apologized for the wait. All I wanted was the results so thankfully she didn't try to chitchat. She also apologized for probably panicking me with the immediate ultrasound, but she said "You are a woman, you have breasts, and you have a lump. We don't take any chances". She then informed me that my lump was okay, just a cyst, and that there wasn't anything serious to worry about. I do have to have surgery to have it removed, but the fear of what it could be- thankfully did NOT materialize.
My husband and I could breathe again.
I feel truly blessed. Blessed that I am one of the lucky ones.
Anyways, I am REALLY hoping August will be calm and peaceful. July was crazy enough.
Today I am sharing a Blueberry Salmon Salad with everyone today for SALAD MONDAYS. I've now made this salad quite a few times, I love the refreshing quality of the ingredients-plus there is no salad dressing. Really, nothing to mix up.
I also found some great hot sauces at Nutter's in Airdrie. They are called Hot Mama's and I bought the Lime Splash and the Mango Pineapple Splash hot sauces. These sauces are Canadian made and contain no gluten, msg, carbs or salt. Perfect! Plus they have some heat to them-which I love.
I topped this salad with cedar plank salmon. Cedar planks add such flavor and smoke to salmon, while keeping the salmon still moist. Make sure to soak your cedar planks in water for a minimum of 30 minutes- or up to 4 hours to ensure the wood does not catch fire on the BBQ.
This recipe is again for 2 people as the full entree.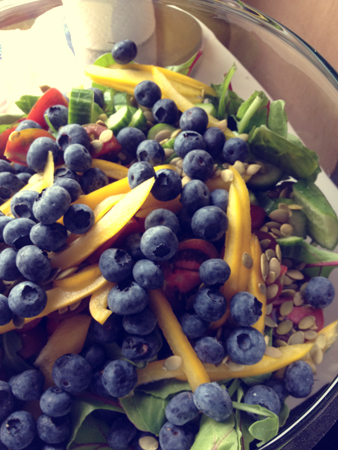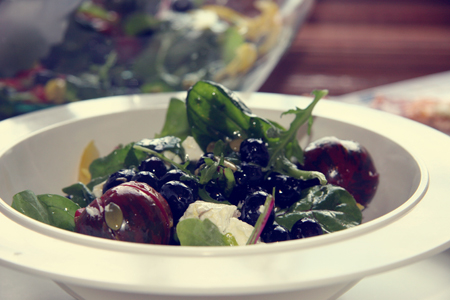 Blueberry Salmon Salad
Ingredients
4-5

cups

beet greens

1/2

small log of goat cheese, crumbled

10-12

baby tomatoes (I use a variety of organic tomatoes)

1/2

yellow pepper, thinly sliced

3/4 – 1

cup

fresh blueberries

1/4

cup

pumpkin seeds (raw)

Hot Mama's Lime Splash (link to www.hotmamas.ca)

1/8

cup

extra virgin olive oil

1

tsp

herbs de provence

1

Cedar plank ( soaked in water)

2

8 oz

fresh salmon fillets ( or 1 large piece)

2

thin slices of onion/salmon fillet

pinch of herbs de provence

Hot Mama's Mango Pineapple Splash
Instructions
In a large glass bowl add beet greens, tomatoes, yellow pepper, blueberries and pumpkin seeds.

Add crumbled goat cheese and herbs de provence.

Pour the olive oil into the salad as well as 10 good splashes of Hot Mama's sauce.

Place a large amount of tossed salad onto 2 plates.

Top each salad with the cedar plank salmon.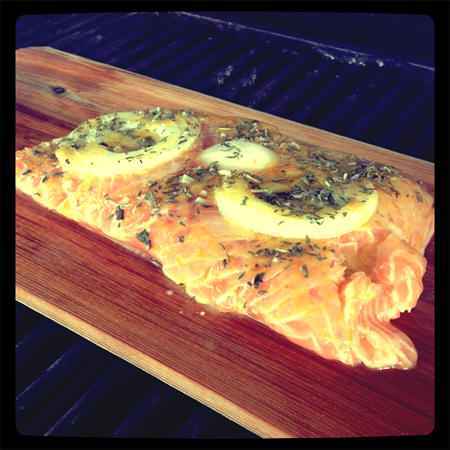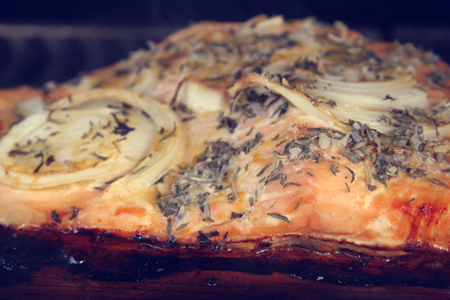 Cedar Plank Salmon
Instructions
Place salmon fillets onto a plate.

Top each fillet with 2 slices of onion, a pinch of herbs de provence and a couple splashes of Hot Mama's Mango Pineapple Sauce.

Let marinate until BBQ is ready.

Remove cedar plank from water and place it on a medium heat BBQ.

With tongs, place salmon fillets on the cedar plank.

Close the barbeque lid and cook fillets for about 12 minutes.

When salmon is done, remove the planks from the barbeque and transfer cooked salmon to a clean plate.

Place salmon fillets on the top of individual salad plates.

Enjoy this great tasting salad.