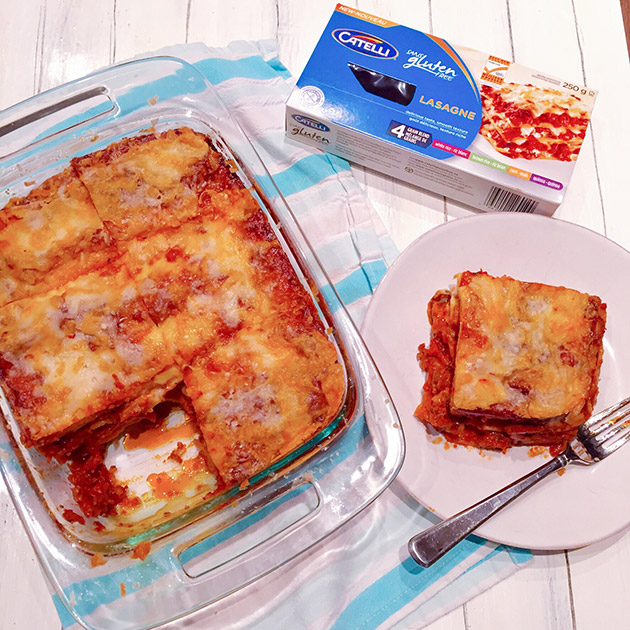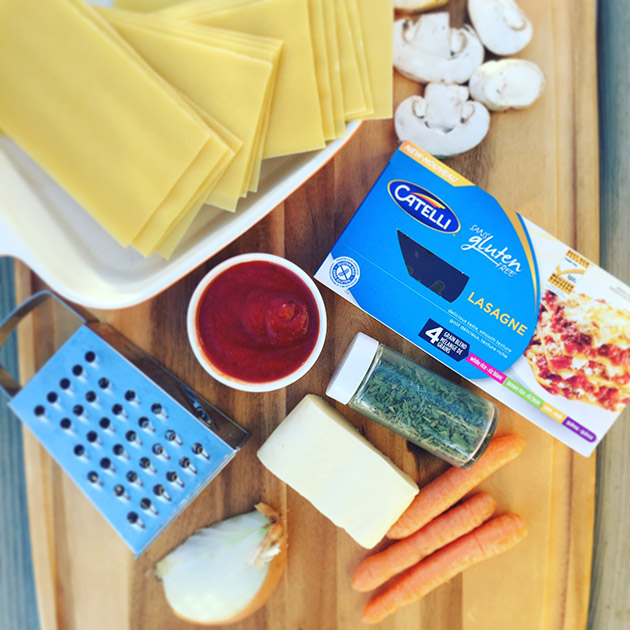 Catelli recently launched a new Gluten Free Lasagne as well as Catelli Gluten Free Linguine in Canada!
Not only is this a gluten free lasagna that tastes like white pasta it is an oven ready noodle. No need to boil the pasta first. It is also made from a unique 4 grain blend of white rice, brown rice, corn and quinoa.
I was sent a case of gluten free lasagna noodles to try and was also encouraged to come up with a new recipe. That was an easy assignment for me.
Who does not like lasagna?
Lasagna was also a family favourite when the kids were younger for it was a great way to fill up teenagers ever-empty stomachs.
Lasagna is also a sneaky way of getting your kids to eat more veggies.
Want to know how?
I call it shredding!
A food processor is fantastic at shredding veggies and is a great way of replacing half your meat in a recipe with veggies. In fact, when my kids were younger I used to shred up mushrooms and sauté them in olive oil and not use any meat at all in my lasagnas. Guess what?
No one knew. The mushrooms resemble ground beef when sautéed first and added to pasta sauce.
Maybe I should have called this recipe "A Sneaky Way to get your kids to eat more veggies lasagna."
I used shredded mushrooms and carrots in this recipe. Carrots add a nice sweetness to the lasagna too.
Not only am I sharing a gluten free lasagna recipe with you all I am also doing a contest too.
Catelli is offering to give away one full case (12 boxes) of Catelli gluten free lasagna to one of my lucky followers.
Contest is only open to Canadians (excluding Quebec) this time.

Gluten Free Sausage, Mushroom and Carrot Lasagna
Ingredients
1

pkg

Catelli gluten free lasagna

1

shallot, finely chopped

1

tbsp

olive oil

1

pkg

Johnsonville mild italian sausage meat

1

large container fresh white or brown mushrooms

4

carrots, peeled

750

ml

Antonella's gluten free tomato basil sauce

1

tsp

dried oregano and basil

1

tsp

sriracha

3

cups

shredded mozzarella cheese
Instructions
Shred carrots and mushrooms in a food processor.

Sauté chopped onion and olive oil in a large frying pan for 3 minutes.

Add sausage meat and increase heat to medium.

Break up meat with a wooden spoon while it is cooking so that you have small pieces.

Cook until sausage meat is no longer pink.

Add shredded carrots and mushrooms and stir.

Add dried herbs plus sriracha, stir and continue cooking for 10 minutes.

Add gluten free tomato basil sauce and stir to combine.

Turn heat to low and simmer for another 10 minutes.

Preheat oven to 350 degrees.

Use a very deep square baking dish or a shallow 9 x 13 pan for lasagna.

Layer 1/2 cup of the sauce on bottom of pan.

Add a layer of gluten free lasagna noodles.

Add 1/2-3/4 cup of shredded cheese on top of noodles.

Spread 1 cup meat sauce over shredded cheese.

Continue to alternate layers.

You want your last layer to be a topping of the shredded cheese.

Cover lasagna with aluminum foil and bake for 20 minutes.

Remove aluminum foil and continue baking for another 20 minutes.

Remove lasagna from oven and let cool 10 minutes before cutting.
Looking for Gluten Free Salad Recipes?
In my Gluten Free Salads Cookbook you can find 27 other delicious recipes your friends and family will love, including: Cucumber Herb Salad, Roasted Strawberry Goat Cheese Salad, Sesame Noodle Salad and many more. Purchase yours today.