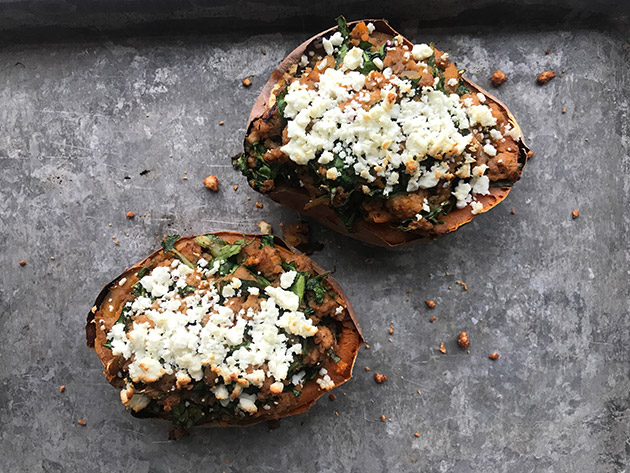 Spicy Chicken Stuffed Sweet Potatoes
Ingredients
1

tbsp

olive or avocado oil

1/2

lb

ground chicken

(just use 1/2 of a pkg you get in the grocery store)

1

small shallot, finely chopped

1

tsp

each dried oregano, basil, paprika and chile powder

(Optional 1 Tbsp sriracha)

1/4

tsp

nutmeg

1

large sweet potato

1-1 1/2

cups

fresh spinach, finely chopped

1/2

cup

crumbled feta cheese plus a bit more to crumble over the top of the sweet potato
Instructions
Preheat oven to 400 degrees.

Place the sweet potato on a cookie sheet and bake in the oven for 45-50 minutes or until tender.

Cut sweet potato in half and scoop out most of the flesh.

Place the halves back on the cookie sheet.

Place flesh in a medium bowl and mash with a fork.

Heat a frying pan to medium-high heat.

Add the ground chicken and olive oil.

Add the dried spices, chopped onion and optional sriracha.

Cook the chicken mixture, breaking up the large clumps with a wooden spoon for 10 minutes.

Add the chopped spinach and the mashed sweet potato flesh to the cooked chicken and stir together.

Add feta cheese leaving a bit of feta aside to use at the end.

Divide the stuffing mixture into the sweet potato halves.

Sprinkle feta over each one.

Return stuffed sweet potatoes to the oven and bake for 15 minutes.

Remove from the oven and serve.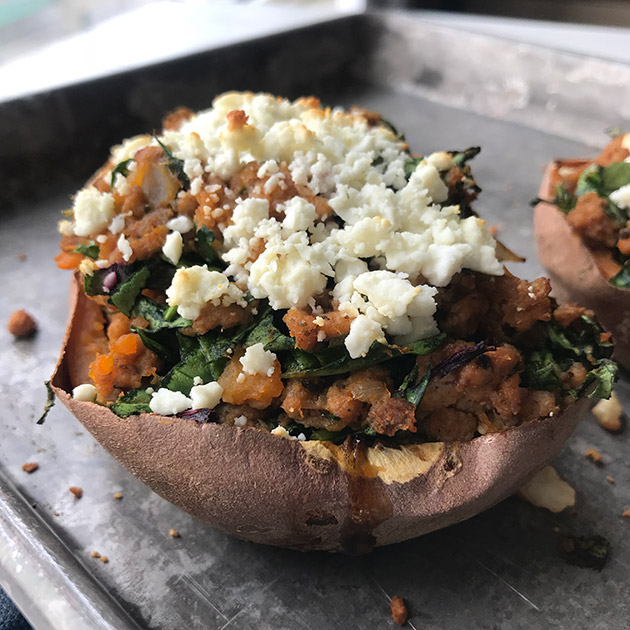 As I am writing this new recipe out for you all it is snowing again in Calgary. It is March and I can honestly say I am very tired of shovelling my driveway, wearing boots, down-filled coats and snow.
Oh so much snow we have had this year.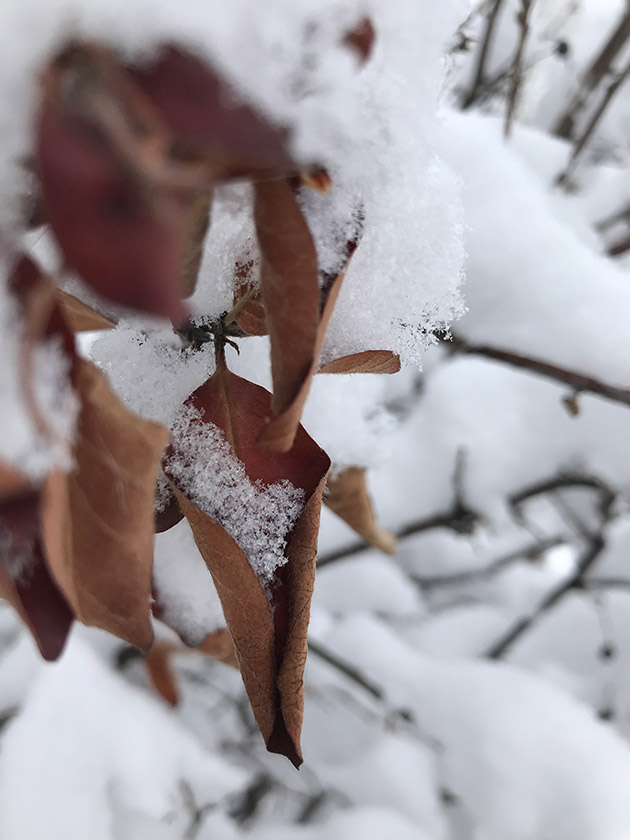 My thoughts are on spring. I am counting down the days until it is springtime in Calgary.
In the meantime I am inside staying warm and working on a ton of new gluten free recipes for you all.
This will be the first of 6 new recipes coming your way.
How does a stuffed sweet potato sound?