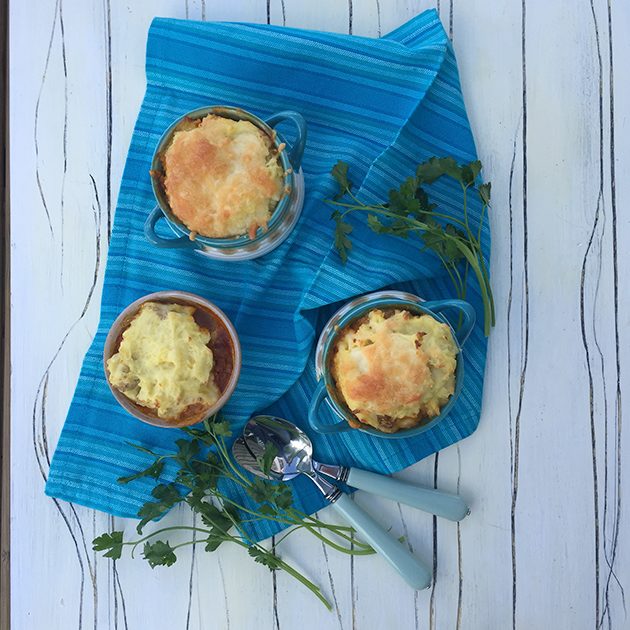 I've decided I really need to share more meal type recipes on this blog and will be starting with this new recipe for lentil veggie shepherds pie. If you are trying to get your kids to eat more veggies or another option for Meatless Monday this recipe will do the trick!
Warm spices, butternut squash, lentils and tomatoes simmered on the stove for awhile then spooned into oven proof dishes and topped with creamy mashed potatoes and then baked for 30 minutes.
How does that sound to you?
I am also planning on sharing more hosting tips and ways to entertain gluten free!
While this recipe does have a few extra steps it is not a complicated recipe. There are 4 steps to this recipe.
Chop all veggies and mix base ingredients and simmer on stove for about an hour.
Cook and then mash potatoes.
Spoon base mixture into small oven proof dishes and top with the creamy mashed potatoes.
Top mixture with shredded cheese if you like and bake in oven for 30 minutes.
That's it! Not too bad, right?
Lentil Veggie Shepherds Pie
Ingredients
1

small onion, finely chopped

1

tsp

minced garlic

2

cups

butternut squash, chopped into small pieces

1

can

lentils, drained and rinsed

1

cup

carrots, chopped

1/2

cup

celery, chopped

2

tbsp

olive oil

1

tsp

finely grated fresh ginger

1

tsp

ground cumin

1

tsp

turmeric

1/4

tsp

cardamon

1/2

tsp

cinnamon

1/2

tsp

fennel

1

tsp

red pepper flakes

1

tbsp

tomato paste

1

can (540 ml/ 19 fl oz)

diced tomatoes

1/2

litre

gluten free vegetable stock

6

potatoes, peeled, boiled and then mashed.

1

cup

shredded cheese (optional topping)
Instructions
Heat olive oil on low in a medium saucepan.

Add the onion, garlic and spices and sauté on low heat stirring occasionally for about 10 minutes.

Add butternut squash, carrots and celery and increase heat to medium.

Cook for about 10 minutes.

Add tomato paste, canned tomatoes, vegetable stock and lentils and cook on medium heat for 15 minutes.

Turn heat to low, cover pan and simmer for an hour.In a medium saucepan filled with water add potatoes, cover and cook until tender.

Add a Tbsp butter (or vegan "butter) and a bit of milk (or goats milk) to mashed potatoes and mix until smooth.

Preheat oven to 350 degrees.

Spoon lentil veggie mixture into oven proof dishes about 3/4 full.

Top with mashed potatoes and then optional shredded cheese.

Place dishes on a cookie sheet and place in the oven and bake for 30 minutes.
Makes enough for 4-6 servings depending on size of oven proof dishes