Recently I was sent a huge box of gluten free goodies from Udi's.
Not only did it include tons of gluten free baked goods it also included a warm blanket, cutting board and Udi's lunch box.

I am sure most of you have seen various Udi's gluten free baked goods in the freezer section of your grocery stores.
They offer a wide variety of baked goods including breads, buns, bagels and muffins.
In fact, Udi's mission is to provide the best gluten-free food on the planet.
I have enjoyed their breads, bagels and muffins.
Udi's is offering a contest to my wheat free mom readers.
Enter the contest on the bottom of the page to win a huge box of Udi's goodies. Your box will also include tons of gluten free baked goods, as well as the blanket, cutting board and lunch box. Prize package valued at $150 CDN.
Wouldn't you love this prize?
Udi's is raising awareness of the amazing range of Udi's gluten free products available to Canadians.
A recent study actually estimated that approximately 4.3 million Canadians have gone gluten free or have reduced gluten in their diets.
That's a pretty staggering number!
With so many consumers adopting the gluten free lifestyle, Udi's is hosting a "Fall Comfort" food challenge to gluten free bloggers like me and my readers.
I'm hoping my recipe for gluten free stuffing gets posted on Udi's facebook page.
Udi's encouraged me to make a gluten free recipe with anyone of the baked goods they had sent to me.
With Thanksgiving in Canada here I decided to make gluten free stuffing.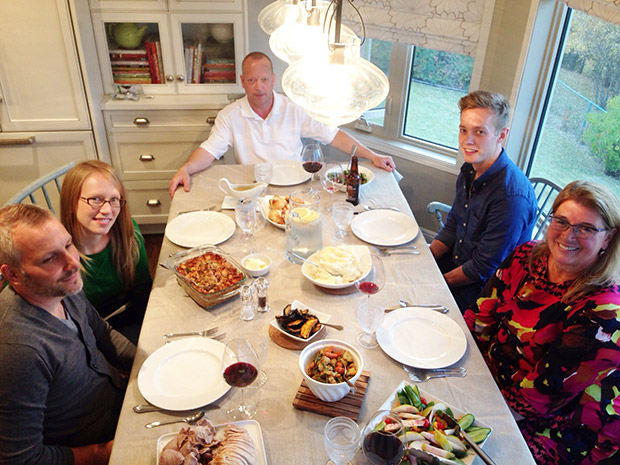 I am excited to play with the other Udi's gluten free goodies and share more recipes with you in the next couple of weeks.
Gluten-Free Stuffing
Ingredients
6

slices bacon, finely chopped

1/2

cup

chopped onion

1

large leek, finely chopped

4

stocks celery, chopped

3

fresh sage leaves

1/4

cup

brown sugar

1

L

Kitchen Basics gluten free chicken broth

1/2

tsp

dried sage

2

large eggs

1

pkg

Udi's gluten free hot dog buns
Instructions
Preheat oven to 350 degrees.

Cube, approximately 1 inch in size the entire package of Udi's gluten free hot dog buns.

Divide cubes between 2 cookie sheets.

Toast in oven until slightly brown. About 7-10 minutes.

Remove from oven and let cool.

This step can be done 1-2 days ahead.

Preheat oven to 350 degrees.

Sauté in large frying pan the chopped bacon and onions until slightly crispy.

Add the chopped leeks, celery and fresh sage leaves and continue sautéing until all veggies are soft.

In a large bowl add the cooled toasted bread cubes with the sautéed bacon mixture.

Add the dried sage and brown sugar and stir again.

In a small bowl, whisk the 2 eggs until frothy.

Add the whisked eggs to the bowl and stir well.

Slowly add 2 cups of chicken broth to the stuffing mixture.

Allow the bread to sit for 5 minutes to absorb the broth.

Add enough broth now to moisten the stuffing but not to make it soggy.

Transfer the gluten free stuffing to a baking dish.

Cover dish with foil and bake for 30 minutes.

Remove foil and check stuffing to see if you need to add any more broth. 

You can add another 1/2 cup broth if needed.

Place baking dish back into the oven and bake for another 30 minutes.

Remove from oven and enjoy!!!