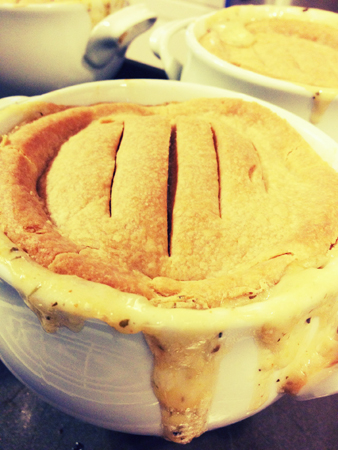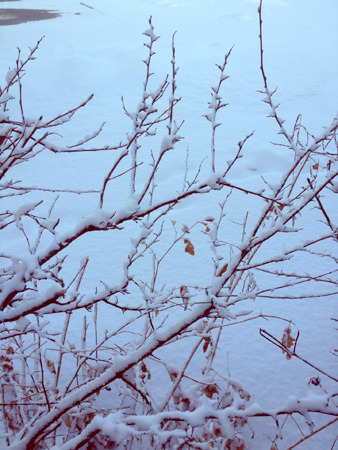 It's lightly snowing this afternoon, even though the sun is shining. Yep, Calgary has interesting weather some days.

With the friendly reminder this past week that it is indeed still winter here, I've been feeling like making warm and comforting foods for dinner. I had a couple of unthawed chicken breasts sitting in the refrigerator and one evening felt like a one-pot dinner.
I decided at last that I really wanted to make chicken pot pies, however I really didn't want to mess with a bottom and top crust. What's a girl to do? I made individual pies in my new white soup bowls I bought from Crate and Barrel. This way I only had to make a top crust.
It's always good to have have a plan!
The first thing you have to do is make a gluten free pie crust. The pie crust really should be refrigerated for 1-2 hours, so start it first.
Gluten Free Pie Crust
Ingredients
1 1/4

cups

white rice flour

1

cup

tapioca starch

1/2

tsp

baking soda

1/2

tsp

xanthan gum

1/2

tsp

salt

1

tbsp

white sugar

1/2

cup

vegetable shortening, cut into cubes

4

tbsp

cold butter, cut into cubes

1/2

cup

milk
Instructions
In a small bowl combine white rice flour, tapioca starch, baking soda, xanthan gum, salt and sugar.

Use a whisk to combine the dry ingredients.

Add dry ingredients to the bowl of your stand mixer.

With machine on low add cubes of shortening and butter to dry ingredients, until mixture resembles a coarse meal.

With machine on low slowly add milk until dough comes together.

Remove from bowl and form dough into a ball.

Cover ball with plastic wrap and refrigerate for 1-2 hours.

Roll out dough onto a piece of parchment paper, lightly dusted with tapioca starch.

Dust top of dough with tapioca starch to prevent dough from sticking to rolling pin.

Cut out circle shapes to fit top of soup bowls.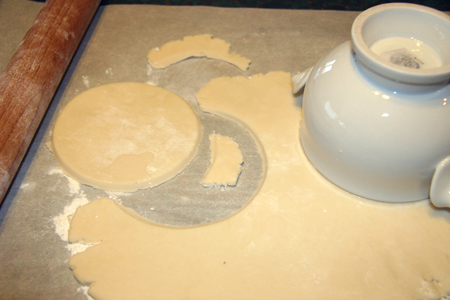 Chicken Pot Pie
Ingredients
Gluten Free pie crust

1

XL large

boneless chicken breasts cut up into small cubes OR

2

small

boneless chicken breasts cut up into small cubes

8

baby potatoes

1

cup

shredded carrots

1/2 – 1

cup

frozen peas

1/4

cup

chopped onion

1/2

tsp

dried basil, oregano and dill

1

tsp

chili powder

1/4

cup

arrowroot starch

1/4

cup

butter

2

cups

milk
Instructions
Preheat oven to 400 degrees.

Pour 1 tsp olive oil to frying pan and heat to medium heat.

Add chicken pieces, onion and spices and saute for 5 minutes.

In a small saucepan boil potatoes for 3-5 minutes.

Add shredded carrots and cook for 2 more minutes.

Drain potatoes and carrots.

Chop potatoes into small cubes.

In large pot melt butter on low heat.

Add arrowroot starch and whisk to combine.

Whisk continuously on low heat for a couple of minutes.

Add milk and increase heat to medium and whisk.

Watch closely for you do not want to burn gravy.

Once milk is hot, reduce heat to low.

Stir in potatoes, carrots, peas and chicken.

Cook on low for 5 minutes.

Ladle chicken mixture into 4 deep oven-proof soup bowls and top with pie crust circles.

Press crust lightly and then cut a few slits into the crust.

Place soup bowls onto a cookie sheet to prevent pies from spilling over.

Bake 400 degrees for 20-25 minutes.

Serves 4. Supper is served!