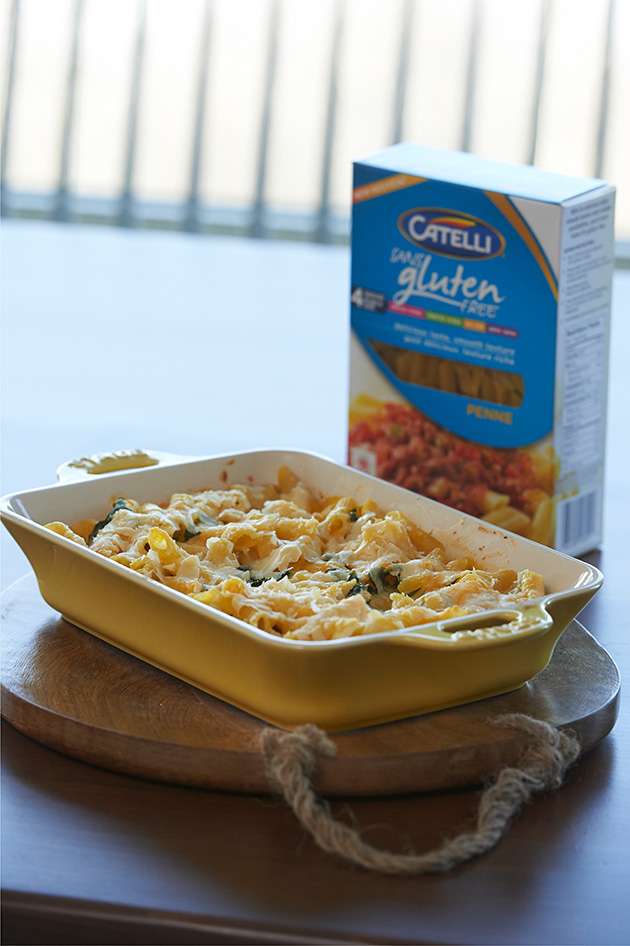 Gluten free pasta.
Do you make pasta for your family during the week? More than once a week? Are you happy with your gluten free pasta?
Catelli now offers gluten free spaghetti, penne and fusilli made with a combination of white rice, brown rice, corn and quinoa.
I was contacted recently by Catelli to try a box of their gluten free pasta and they also offered a prize of a year supply of Catelli gluten free pasta to one of my readers.
Yes, you read that right.
A year supply of gluten free pasta is my latest contest prize!
Enter to win at the bottom of this page!
I am so excited to offer this prize to my readers. Are you as excited as I am!?
Catelli then contacted me and offered to do a professional photo shoot at my house!
Again – excited! I was asked to make a gluten free pasta dish using Catelli pasta and then share the recipe with my readers. Instead of one recipe I worked on 2 recipes and will be sharing the other recipe with you in the next few days!
The first recipe is a gluten-free roasted butternut squash spinach baked penne and then I will be sharing a gluten-free 3 mushroom Alfredo spaghetti dish.
All the recipes are easy to make, gluten-free and vegetarian.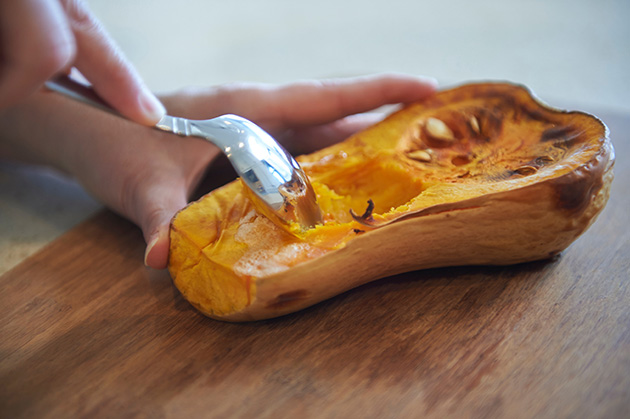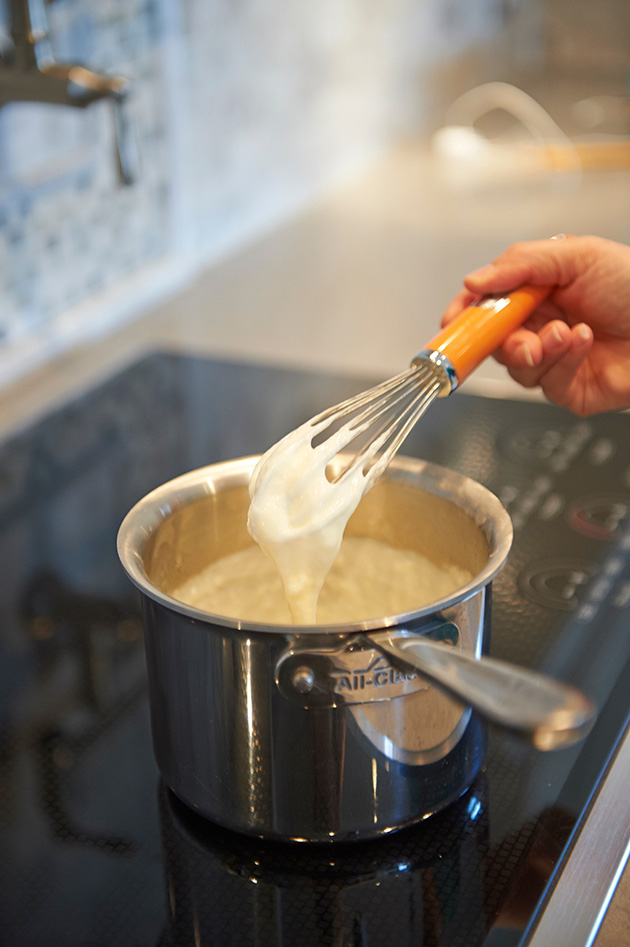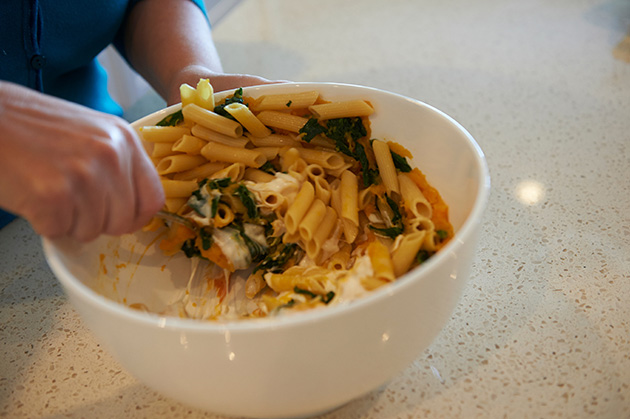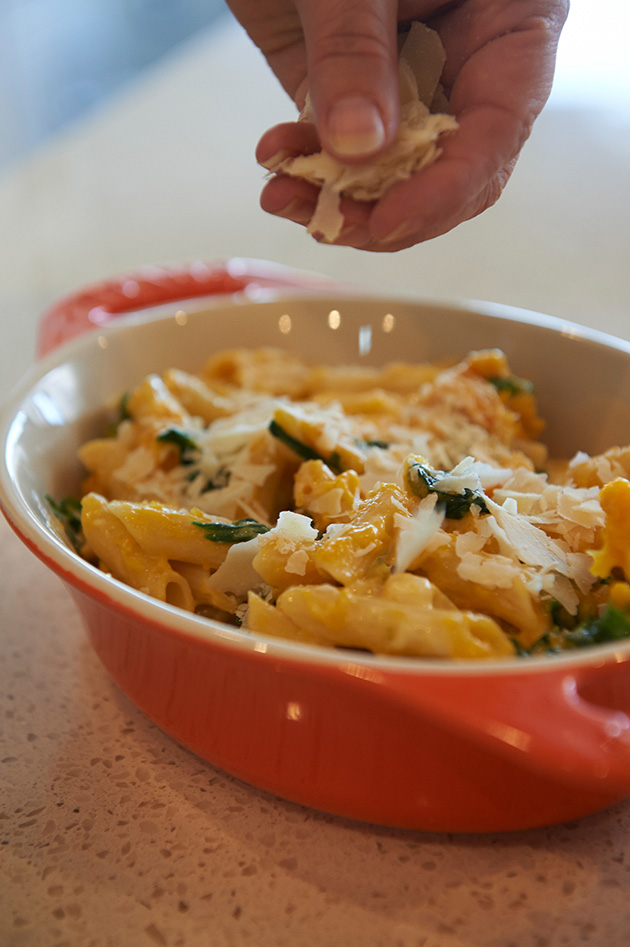 Butternut Squash Spinach Baked Penne
Ingredients
1/2

butternut squash roasted *

1/2

frozen spinach (unthawed)

1/4

cup

butter

1/4

cup

finely chopped onions

1/4

cup

arrowroot starch

3

cups

milk

1

cup

shredded sharp cheddar cheese

1

cup

shredded parmesan cheese

1/2

tsp

salt

1

box

Catelli gluten free penne pasta
Instructions
* Preheat oven to 400 degrees.

Cut butternut squash in half and place squash cut side up on a parchment paper lined cookie sheet.

Remove from oven and scoop out the seeds.

Scoop the roasted squash into a small bowl.

Preheat oven to 350 degrees.

In a small saucepan melt the butter.

Add onions and sauté on low until onions are soft.

Add the arrowroot starch and stir to combine.

Slowly add the milk and whisk to combine.

Increase heat to low-medium and cook until sauce thickens.

Once thickened, add shredded cheddar cheese.

In a stockpot cook gluten free pasta according to package directions.

In a large bowl add the thawed spinach, roasted butternut squash, pasta and cheese sauce.

Pour mixture into a baking dish.

Sprinkle the shredded parmesan over the top of the pasta dish.

Bake pasta in oven for 30 minutes.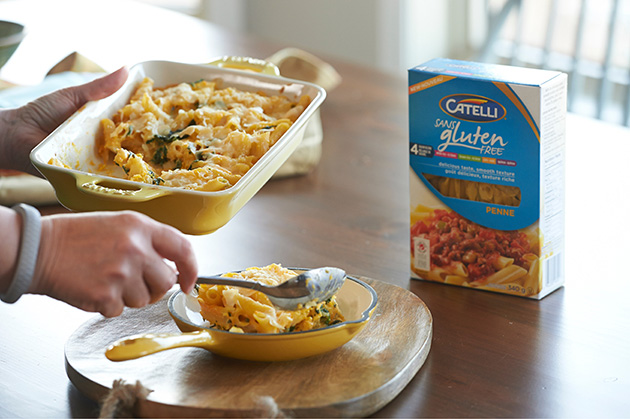 Enter to Win