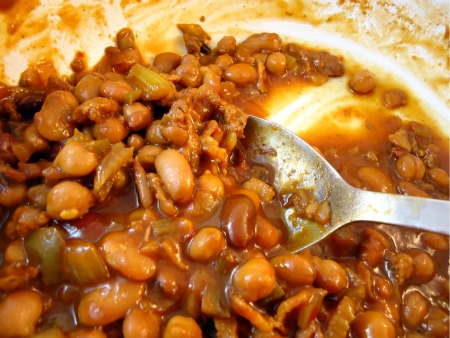 What is a standard side dish for you when you barbecue?
Especially in the summer when you are barbecuing almost every night. Summertime also brings people together more often for backyard BBQs and shared dinners.
I make baked beans. I have for years, and one of the nice things about baked beans is that the recipe is naturally gluten-free. Well, it is for my recipe.
My baked beans could literally be a whole meal on their own for beans are only one part of the dish – these have spolombo spicy sausages, jalapenos, bacon, chili paste, and molasses.
I cannot wait for you to try these. Yum!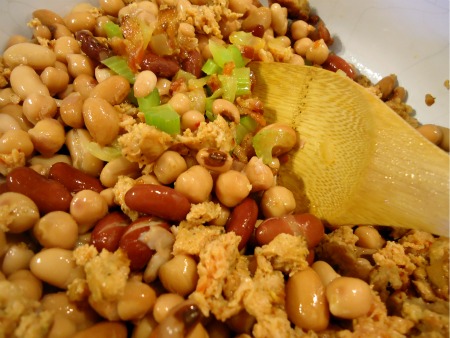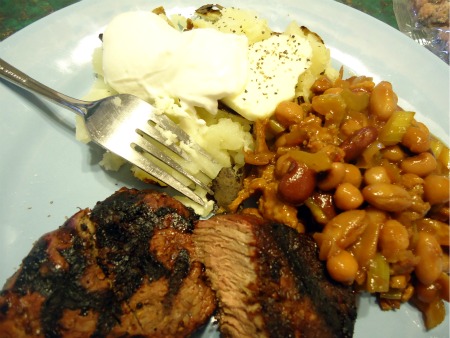 Baked Beans
Ingredients
5

slices bacon, chopped up

1

spolombo spicy sausage, de-cased, and chopped

1

Large

jalapeno, chopped

2

cans

mixed beans (I use the safeway brand, each can 540 ml)

1

cup

ketchup

1/2

cup

water

2

tbsp

molasses

1/2

onion, chopped

3

stalks celery, chopped

1/4

cup

brown sugar

2

tbsp

vinegar

1

tbsp

sambal oelek (fresh chili paste)
Instructions
In a frying pan, cook up bacon until crispy. Remove from pan, drain fat and cook up sausage. Remove sausage, and add onion and celery to pan and cook until tender.

**this recipe could also be made in a slow cooker. Fry up the bacon, sausage, onions and celery-add to rest of ingredients and cook low in slow cooker for 4-6 hours.

We barbecued steaks, baked potatoes and served this with my fabulous baked beans.