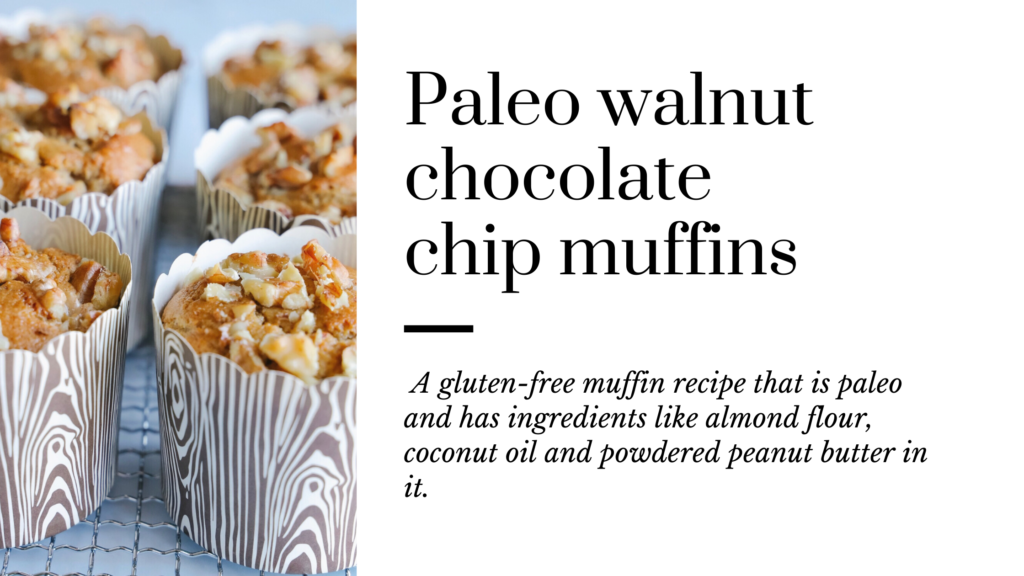 These easy to make paleo muffins are made without refined sugar or dairy and use simple ingredients: almond flour, eggs, powdered peanut butter and chocolate chips. Bake them on the weekend and you'll have a grab-and-go breakfast alternative during the week. They are both gluten-free and grain-free.
Paleo walnut muffins are terrific for a quick breakfast or a healthy afternoon snack. I enjoy them with a dollop of Fatso creamy MCT peanut butter.
Made with almond flour, these muffins are an easy way to add grain-free baking to your kitchen. You can easily find almond flour in most grocery stores now, but make sure you buy the finely ground variety as it works best for baking.
WHAT IS A PALEO BAKING RECIPE?
In paleo baking you want to replace all white grain flours and refined sugars in the recipe with healthy alternatives. Use flours made with nuts like almonds or cashew ,or flours like coconut, tapioca or arrowroot starch. Replace refined sugar with honey, maple syrup, dates or, one of my favourites, Swerve sweetener made with erythritol.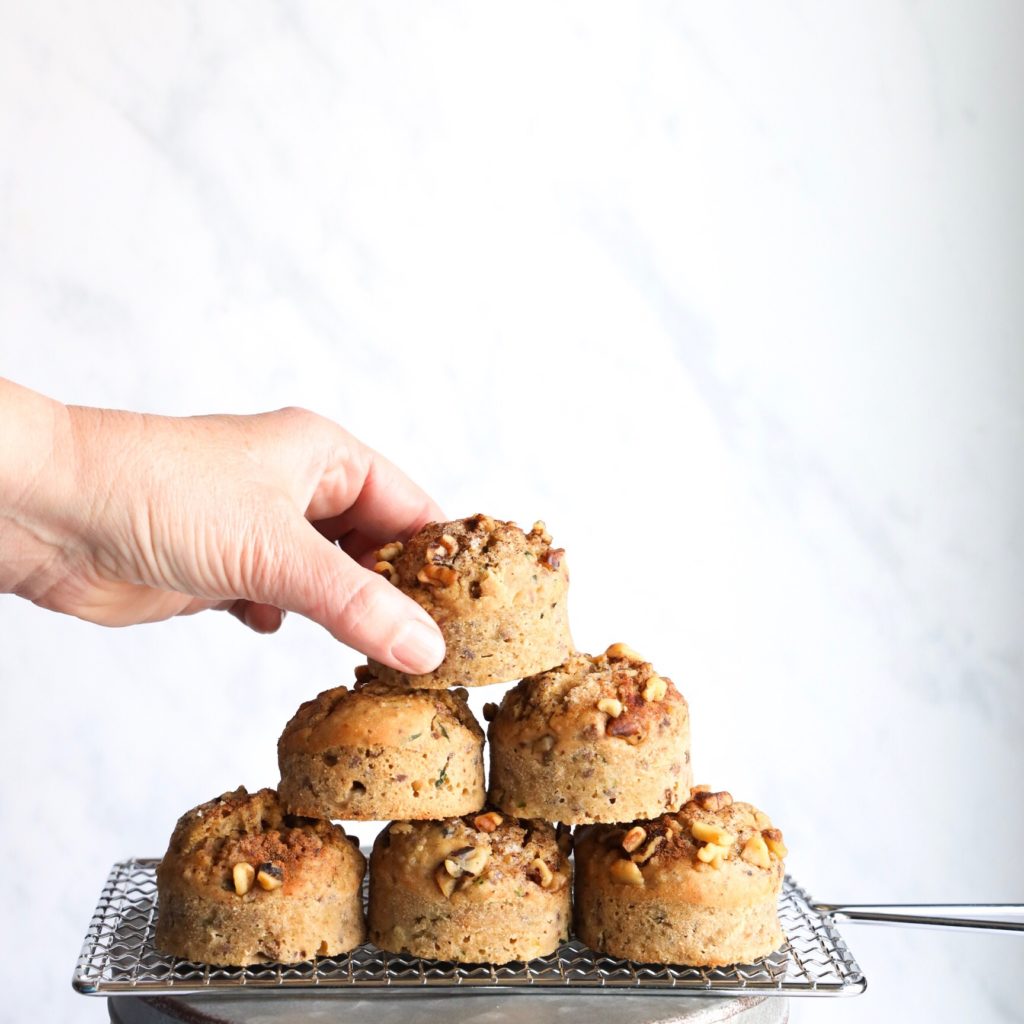 I'm a huge fan of muffins and one of the first recipes I tried to make when I was diagnosed with Celiac Disease was a gluten-free version. My early attempts were not very good, but with perseverance I'm thankful that I can now easily whip up a batch of gluten-free muffins from one of the many recipes on the blog.
In the morning I like to have a muffin with my soy earl grey tea latte. It is a great way to start my day. If you are a muffin fan you've come to the right place for inspiration. Today I am sharing a gluten-free, grain-free, dairy and refined-sugar-free muffin recipe. What I didn't leave out of the muffin was great TASTE by the way!
Here are some gluten-free muffin recipes on the blog:
Grain-Free Mini Raspberry Muffins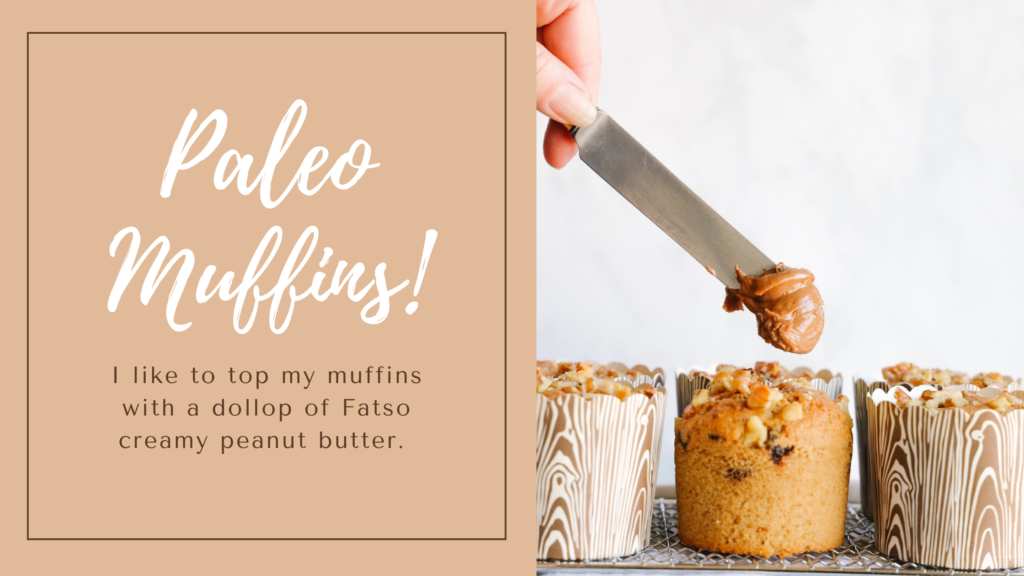 These paleo walnut chocolate chip muffins are moist and delicious. They are gluten and grain-free and are a good low-carb option. Quick and easy to make these paleo muffins are a perfect fit for a simple breakfast or healthy snack.
HOW TO MAKE THE MUFFINS:
Preheat oven to 325 degrees and line a muffin pan with 6 paper liners.
Combine almond flour, baking powder, soda and sweetener to a medium bowl and whisk.
Add eggs, melted coconut oil, oat milk and peanut butter powder to a medium bowl and use a hand mixer to beat well.
Mix the dry ingredients to the wet on low speed until smooth.
Stir in the chocolate chips.
Pour batter into the 6 lined paper cups.
Sprinkle chopped walnuts on each muffin and bake in oven for 20-25 minutes.
Remove from oven and cool.
You should get roughly 6 muffins out of this recipe. You can double or even triple the recipe if you need to feed more people. These paleo muffins are very tasty and if you're looking for something healthy to snack on, or you need a grab-and-go breakfast option, this recipe is for you.
Walnuts and chocolate chips were used in this recipe but you could easily substitute pecans or use sunflower or pumpkin seeds. Substitute the chocolate chips with dried cranberries, raisins or dried cherries as they all work very well.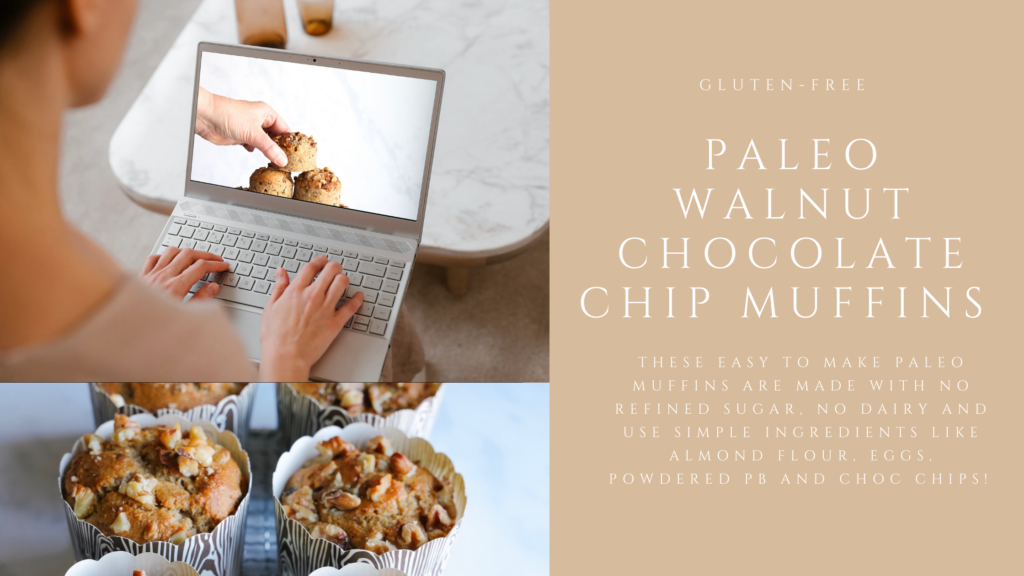 Want more recipes? Subscribe to get new recipes delivered straight to your inbox. And be sure to stay in touch on Facebook, Instagram, Twitter or Pinterest. Tag me using #wheatfreemom on social media. I really would love to hear from you!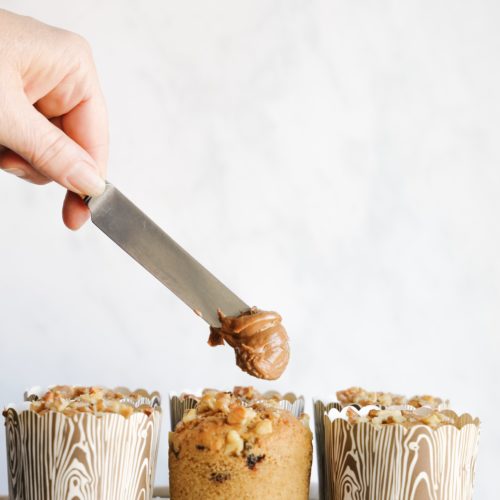 Gluten-Free Paleo Walnut Muffins
These gluten-free paleo walnut muffins have no refined sugar, or dairy and use simple ingredients like almond flour, eggs, powdered peanut butter and chocolate chips.
Instructions
Preheat oven to 325 degrees.

In a medium bowl add the almond flour, baking soda, baking powder and swerve sweetener and whisk.

Add the eggs, melted coconut oil, oat milk and dried peanut butter and mix with a hand mixer until batter is combined.

Add dry ingredients to wet and mix well.

Fill muffin cups. Sprinkle walnuts over each muffin.

Bake in oven for 20-25 minutes.